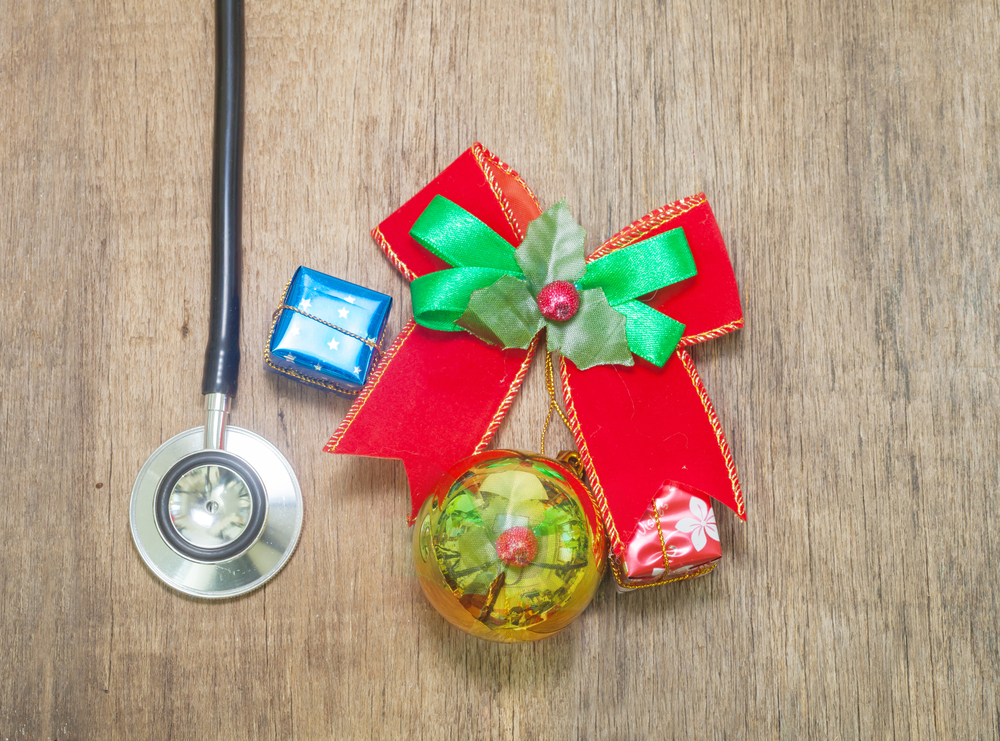 Each year as the holidays approach, countless medical families prepare for the dreaded release of the holiday schedule. Will the physician spouse be home this year? Will the non-physician spouse be packing up three kids under the age of five and traveling across the country alone to visit family they may only see once a year? It can be stressful. It can also be a blessing in disguise.
Recently my husband and I attended a retirement luncheon for a fellow surgeon who has not only become a mentor for my husband academically but really an amazing example of what it means to be a physician family. I want to make sure before I move forward I acknowledge the physician spouse as well, as she has also played a large role in making me feel welcome, supported and a part of the training process as she and her family have been wonderfully supportive to us. Throughout my husband's time as a general surgery resident, we have been fortunate enough to be invited to many special events by this mentor and his wife, including award dinners, conferences, and most recently his retirement luncheon.
I want to spend some time reflecting on my thoughts after attending the retirement luncheon for this particular surgeon.
It was just a few short weeks into the fall and my husband and I were fortunate enough to attend his mentor's surprise retirement luncheon at a beautiful mansion (yes, my husband was on call and thank goodness the pager only went off a handful of times and we even got to stay for the entire lunch!) where the details were endless. We were placed at the end of a very long table that included this surgeon's children, family, friends, close colleagues and even a few past patients. The talk of the table was the awe of the fine detail in the carvings of each piece of furniture, the paintings on the ceilings and of course the bittersweet ending of this physician's career.
As the luncheon came to a close there were a few people who wanted to say a word or two and give their farewells and wishes for a happy retirement. Despite the beauty of the mansion we were all occupying, in my opinion the most beautiful thing about that day was the patient who stood up to speak that could barely get a few words out through all the tears. This particular patient was burned on 80 percent of his entire body and stood before everyone close to this surgeon and thanked him for many things, but one thing really stood out, especially as the holidays approach us all: He thanked this doctor for "missing that Christmas with his family" so that he could spend many more Christmases with his children.
I'm not sure there was a dry eye in the room. His children were all under the age of 10 when this accident happened and they are all now in their early twenties/late teens and he still remembers that Christmas that this surgeon spent saving his life, checking in on him and delivering three "Santa bags" full of gifts for his children to his hospital room. The tears were flowing then, and just typing this they are flowing all over again. Just a gentle reminder (not that any of us need it) of the important work that our husbands/spouses can do in a work day, even if that day is a special holiday, birthday, or even a soccer game. He may just be giving many more birthdays, holidays or soccer games to that dad or mom on the OR table.
Just a few weeks later another holiday took place and I know for a fact I'm not the only physician spouse that spent Thanksgiving alone but this year I had a renewed perspective. This year my family, albeit small still, spent Thanksgiving in the ICU lounge as we joined my husband and his fellow co-workers in a potluck style Thanksgiving meal for all those working the holiday. We are expecting our second child in just a few short weeks and traveling to see family was not an option this year so we chose to make the best of it.
Our son and I joined my husband for all of 10 minutes on Thanksgiving before his pager went off to head to the OR for a trauma. Our son chose to take advantage of the moment and just eat dessert before we said our goodbyes to daddy and headed home. When my husband arrived home, he told me how his holiday went … the surgery he had to do that took him away from having a Thanksgiving meal with his own son and wife saved another 19-year-old boy's life.
There are no words as a mother, or as a wife of just how proud and humbled I am that he gave that young man a chance to spend many more Thanksgivings and holidays with his family. While we miss daddy/my husband, its always important to remember that what took away one holiday from our family will give countless more holidays back to another family.
Rochelle Bach is a counselor who blogs at Physician Family, where this article originally appeared.
Image credit: Shutterstock.com