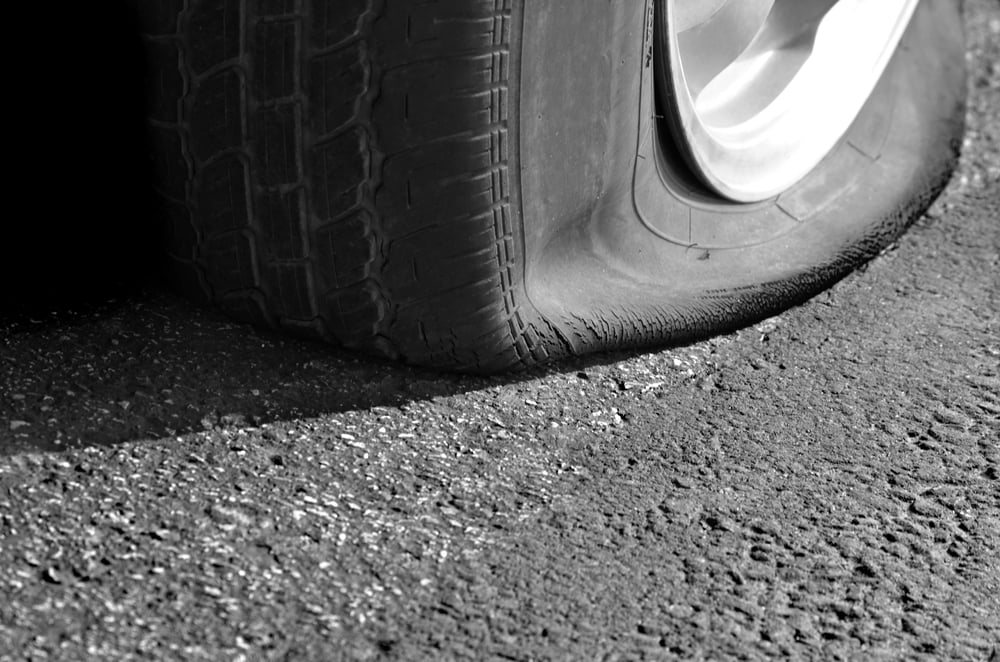 "Daddy, I think we have a flat tire."
I just rolled out of the garage with my 4th grade daughter. It was Tuesday morning. Usual daily routine. Drop her off at school then go to work. A little different today as I was to lead an important meeting.
How could she possibly know what a flat tire sounds like? Now? Right now? She's probably mistaken. It can't be a flat tire.
"Whopp, whopp, whopp." The car was tilted down towards the passenger side.
Rats! Not good. Never a good time to have a car problem.
Get out of the car. Yep, flat tire.
Ask daughter to get out of the car. Wife hasn't left for the office yet. Can she take her to school instead? Call the auto club for help in changing the tire. If quick enough, I might still make the meeting without getting dirt and grime all over my clothes.
Daughter and wife roll out of the garage. Auto club truck appears about 30 minutes later. Tire replaced. Marvel how quickly he changes the tire. He notes that our spare tire is a full tire, unlike other car companies which now have a smaller spare tire. Thank you Toyota! Appears that the flat was due to a nail. How did that get there? I make the meeting.
The question is what to do now? I've had a flat time one other time.  Patch? Replace?
How safe it a patched tire? I had this discussion with my wife in the past. As a doctor, she has high expectations on everyone and everything. Given a choice, isn't newer better and safer? After all, don't the kids deserve the best? Are you absolutely sure it is safe? Chance of blowout? Don't you commute an hour daily on the freeway? Is it a good idea to take a chance?
If you Google "safety of a patched tire," you get 316,000 results in 0.33 seconds. Which link to read? Didn't know there was a debate between plugging and patching. The number one search hit from About.com notes "there is legislation pending in New York State that would make all plug repairs illegal. Certainly a patch is by far the best way to repair any hole in a tire, but are plugs really unsafe?" MotorWeek says the ideal thing is a plug patch. Add two more words to my Google search — "Consumer Reports" — and now 8.5 million results in 0.41 seconds have been found. First three hits are about tire sealants, the safety of worn tires, and how owners tire of run-flat tires.
Redo a Google search with "consumer reports flat tire repair." 791,000 results in 0.42 seconds. Repairing flat tires is heating up the industry from December 2011. Not exactly reassuring:
… repairing tires is not an air-tight practice.

Tire manufacturers take different positions on the "repair-ability" of various types of tires. Plus, there are many different products available claiming to repair tire punctures. An improperly repaired tire may fail or blow out.
Probably should get a new tire to be on the safe side. Called a couple tire stores. Did I purchase from you? No. The other, yes. We have you in our computers. It was three years ago. Did I purchase the extended warranty plan? Couldn't remember.  What did Consumer Reports say about that? Definitely good for laptops and smartphones, but tires? It was a pricier set but highly recommended tires by Consumer Reports. They were special ordered. I could have easily reasoned that to pay more to get extra coverage was a good thing. I easily could have declined because I had paid enough already for these tires. After all, how often does a nail pierce a tire? Rummaging through my stuffed glove compartment, I find every imaginable piece of paper detailing insurance, vehicle registration, and work orders from the mechanics. I think I've found it.
Yes you did. We have it on file.
So you'll replace the tire?
No. We would recommended plugging it first. If it can't be fixed by plugging it, then we'll replace it.
Is it safe?
Yes.
Really?
What if I bought a replacement tire which is not the same brand? The original tire brand and type would take a little while to order.
We don't recommend that. It might be a safety issue. The car may pull more to one side or the other.
Why is that?
The tread and grip are different.
Hmm. Need to look that up later. Schedule appointment for later that day.
Pick up daughter and first-grade son from school. Take them to the tire store. It will be a while. Walk out to get some ice cream. Talk about how school went and our summer plans. As we talk, I think that perhaps it might be worth spending more. Replace the tire even if they can repair it.
Walk back. Our car is in the parking lot with the spare tire still mounted on the passenger rear side.
What happened?
It appears that the nail punctured the side wall which means we cannot repair it. It isn't safe.
So you'll replace it?
How long will that take?
We need to special order the tire. I will take about a week to arrive.
But I need to drive to San Diego, about 8 hours away in a couple days. That means I'll have no spare tire. I'll be gone for 10 days.
Now I'm silently wondering: What are the odds another nail will pierce any of the four tires on a 500-mile journey?
Suddenly feeling not so safe.
Don't worry. We'll give you a loaner tire.
Wait, isn't the loaner tire a different brand and grip than my tires?
Yes.
Hmm.
Change flat tire to chest pain. Alter visit by auto club to evaluation by EMS and emergency medicine. Consider tire store and advisor as a primary care office and doctor with continuity of care and electronic medical record. Replace repair versus replace to medical management versus a cardiac stent. A commonality is asking loved ones or spouse for advice. Use of Google to sort through different options.
Flat tires in general are low risk problems for the average person. Chest pain? Medical costs? Perception that newer is better when medical evidence has not shown a difference? To do chemotherapy or not?
Sir, by the way, did you want to purchase warranty insurance on the new tire?
Yes. I think I will purchase the warranty.  Can you have the tire sent to San Diego? I'll pick it up there.
Davis Liu is a family physician who blogs at Saving Money and Surviving the Healthcare Crisis and is the author of The Thrifty Patient – Vital Insider Tips for Saving Money and Staying Healthy and Stay Healthy, Live Longer, Spend Wisely.
Image credit: Shutterstock.com