In an effort to save on human resources costs, some hospitals have decided to make locum tenens* doctors and nurses line items in a supply list.  Next to IV tubing, liquid nutritional supplements and anti-bacterial wipes you'll find slots for nurses, surgeons, and hospitalist positions.
This depressing commoditization of professional staffing is a new trend in health care promoted by software companies promising to solve staffing shortages with vendor management systems (VMS). In reality, they are removing the careful provider recruiting process from job matching, causing a "race to the bottom" in care quality. Instead of filling a staff position with the most qualified candidates with a proven track record of excellent bedside manner and evidence-based practice, physicians and nurses with the lowest salary requirements are simply booked for work.
In a policy environment where quality measures and patient satisfaction ratings are becoming the basis for reimbursement rates, one wonders how VMS software is getting traction. Perhaps desperate times call for desperate measures, and the challenge of filling employment gaps is driving interest in impersonal digital match services? Rural hospitals are desperate to recruit quality candidates, and with a severe physician shortage looming, warm bodies are becoming an acceptable solution to staffing needs.
As distasteful as the thought of computer-matching physicians to hospitals may be, the real problems of VMS systems only become apparent with experience. After discussing user experience with several hospital system employees and reading various blogs and online debates here's what I discovered:
1. Garbage in, garbage out. The people who input physician data (including their certifications, medical malpractice histories, and licensing data) have no incentive to insure accuracy of information. Head hunter agencies are paid when the physicians/nurses they enter into the database are matched to a hospital. To make sure that their providers get first dibs, they may leave out information, misrepresent availability, and in extreme cases, even falsify certification statuses. These errors are often caught during the hospital credentialing process, which results in many hours of wasted time on the part of internal credentialing personnel, and delays in filling the position. In other cases, the errors are not caught during credentialing and legal problems ensue when impaired providers are hired accidentally.
2. Limitation of choice. The non-compete contracts associated with VMS systems typically prevent hospital physician recruiters from contacting staffing agencies directly to fill their needs. This forces the hospital to rely on the database for all staffing leads. At least 68% of staffing agencies do not participate with VMS systems, so a large portion of the most carefully vetted professionals remain outside the VMS, inaccessible to those who contracted to use it.
3. Extra hospital employee training required. There are hundreds of proprietary VMS systems in use. Each one requires specialized training to manage everything from durable medical equipment to short term surgical staff. In cases where hospital staff are spread too thin to master this training, some VMS companies are pleased to provide a "managed service provider" or MSP to outsource the entire recruitment process. This adds additional layers, further removing the hospital recruiter from the physician.
4. Providers hate VMS systems. As anyone who has read a recent nursing blog can attest, VMS systems are universally despised by the potential employees they represent. VMS paints professionals in black and white, without the ability to distinguish quality, personality, or perform careful reference checks. They force down salaries, may rule out candidates based on where they live (travel costs), and provide no opportunity to negotiate salary vis-a-vis work load. When a hospital opts to use a VMS system as a middle man between them and the staffing agencies, the agencies often pass along the cost to the providers by offering them a lower hourly rate.
5. Provider privacy may be compromised. Once a physician or nurse curriculum vitae (CV) is entered into the VMS database the agency recruiter who entered it has 1 year (I can't confirm that this is true for all systems) to represent them exclusively. After that, the CV is often available for any recruiter who has access to that VMS to view or pitch to any client. There is a wide variety of agency quality in the health care staffing industry, with some being highly ethical and selective in choosing their clients (only quality hospitals) and providers (carefully screened). Others are transactional, bottom-feeders with all the scruples of a used car salesman. When your data is in a VMS, one minute you might be represented by a caring, thoughtful recruiter who understands and respects your career needs, and the next (without your informed consent) you'll be matched to a bankrupt hospital undergoing investigation by the Department of Health by a gum-chewing salesman who threatens you with a lawsuit if you don't complete an assignment for half the pay you usually receive.
6. No cost savings, only increased liability. In the end, some hospitals who have tried VMS systems say that their decreased hiring costs have not resulted in overall savings. While they may see a downward shift in salary paid to their temporary work force, they get what they pay for. Just one "bad hire" who causes a medical malpractice lawsuit can eat up salary savings for an entire year of VMS. Not to mention the increased costs associated with a slower hiring process, attrition from poor fits, and the inconvenience of having to re-recruit for positions over and over again. Providers also lose out on career opportunities while they're "on hold" during a prolonged hiring process. And for those who layer on a MSP, they lose control of the most important hospital quality and safety line of defense – choosing your own doctors and nurses.
In summary, while the idea of using a software matching service for recruiting physicians and nurses to hospitals sounds appealing at first, the bottom line is that reducing care providers to a group of numerical fields removes all the critical nuance from the hiring process. VMS, with their burdensome non-competes, cumbersome technology, and lack of quality control are an unwelcome new middle man in the health care staffing environment. It is my hope that they will be squeezed out of the business based on their own inability to provide value to a health care system that craves and rewards quality and excellence in its staff.
Job matching requires thoughtful hospital recruiters in partnership with ethical, experienced agencies. Choosing one's hospital gauze vendor should involve a different selection algorithm than hiring a new chief of surgery. It's time for physician and nurse groups to take a stand against this VMS-inspired commoditization of medicine before its roots sink in too deeply and we all become mere line items on a hospital vendor list. So next time you doctors and nurses plan to work a temporary assignment, ask your recruiter if they use a VMS system. Avoiding those agencies who do may mean a much better (and higher paying) work experience.
*Locum tenens (filling hospital staffing needs with part time or traveling physicians and nurses) is big business. Here is a run down of the estimated market size and its key industry leaders (provided by CompHealth Group):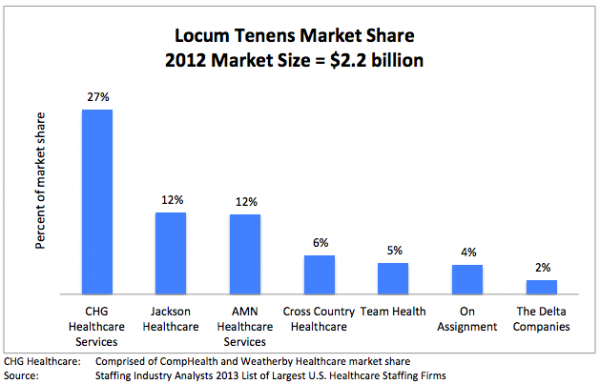 Val Jones is founder and CEO, Better Health.