Next in a series.
The art of healing is very important in medicine. There is a difference between being a modern day physician and being a healer. All societies have healers — wise men and women, shamans, medicine men and people of other names. The "old time practitioner" was almost always a healer but many physicians today are not. It is an issue of interest, training, time and prioritization. Most individuals who aspire to be physicians (and other health providers for that matter) probably aspire to be healers.
Healing means to make whole or re-establish harmony and wholeness. It comes from the same root as holiness — a connection infrequently recalled in today's medical practice. The healer is the guide in the process. He or she can be a healer without necessarily curing a disease. To paraphrase Sir William Osler, a good doctor tends to the person who has a disease rather than just the disease itself.
Healing requires training just as much as it takes training to learn how to do an examination or an endoscopy. It requires good mentors but they seem to be in short supply in most medical schools, and the standard postgraduate training programs or residencies seem to "train out" rather than "train in" the healing skills.  And it takes time to be a healer. Time is the one commodity that the primary care physician with 20-24 patients visit per day can little afford to offer.
A report in the Annals of Internal Medicine suggested eight characteristics of the physician healer: He or she does the little things like make eye contact with you; takes time and listens to you; is open (shed a tear if appropriate); finds something to like or love in each patient ("walk the wounded path with them"); removes barriers (doesn't sit behind a desk); lets you explain ("an essential part of healing is allowing patient's understanding of their illness to be spoken and received"); shares authority (remembers you are ultimately in charge); and is committed and trustworthy in the your eyes. This article was commented upon in a lovely essay "What Makes a Physician a Healer" by Dr. Sharon Orange, a PCP in California.
One can be a physician yet not a healer and not all healers need to be physicians. A mother's kiss "heals" a child while the child's body slowly resolves the skinned knee. Many complementary medicine practitioners have the attributes of the healer; they take time to listen deeply.
If you have been following this series you might remember the opening patient story of Monica. She was offered specialist upon specialist upon specialist and multiple tests, procedures and surgeries and yet none of these physicians took the time to understand the underlying issue. Each was competent in their field but each left her in a sort of limbo, never focusing on what actually had brought her to medical attention in the first place. No one was a healer for her.
Dr. Mimi Guarneri in her book The Heart Speaks recalls the teaching of one of her professors. He was elderly, seemed to take forever talking to each patient and was not to be rushed. The residents were frustrated that time was wasting. At the end of rounds one day he said that he wanted to teach the residents and students something that they would otherwise never learn during their training. He said that it was important to "let your patients tell their stories and if you really listen, they will give you the diagnosis. If you don't listen, you will miss the answer that is right in front of you."
Her professor's point was that a symptom is often a "downstream" manifestation of a body's unconscious crying out for help. So, as described in Healers on Healing, a hemorrhoid may not be just a hemorrhoid. It may be a manifestation of liver cirrhosis which in turn is the result of years of alcohol excess which in turn is the product of unresolved psychological issues. A careful history may illicit that guilt persisting from long ago yet hidden from the patient's consciousness has been the cause of the alcohol abuse. Helping the patient with self-discovery of the underlying guilt and working through it will be true healing. It may result in less alcohol abuse but the cirrhosis may nevertheless very well be permanent. The point is that just sending the patient for surgical removal of the hemorrhoids, appropriate as that might be, misses the real illness and the opportunity to truly heal. Of course, the physician will need to be a careful listener and non-judgmental in order to be effective.
The message is that nearly all diseases occur in a patient who has a narrative to offer. The PCP's role (and that of any doctor) — if he or she desires to be a healer — is to listen to that narrative and through it uncover the deeper issues. Once found these may be not only a surprise to the physician but to the patient as well.
Hopefully the delivery of primary care will transform itself sufficiently in the coming years with new models of reimbursement such that PCPs will once again have adequate time with their patients to engage in the art of healing.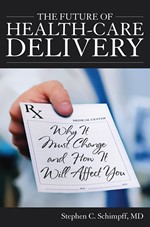 Stephen C. Schimpff is a quasi-retired internist, professor of medicine and public policy, former CEO of the University of Maryland Medical Center, senior advisor to Sage Growth Partners and is the author of The Future of Health-Care Delivery: Why It Must Change and How It Will Affect You.