I am very fortunate to have never been sued. That is not necessarily because of my amazing ability as a physician. I always practiced in Veterans Affairs medical centers, where my status as a federal employee meant I would not get sued by my patients. I also had an incredibly appreciative patient population.
But I know that most of my physician peers have been sued, successfully or unsuccessfully, at least once in their careers. And I know that these lawsuits take an emotional toll upon them. To make matters worse, malpractice lawsuits have a nagging tendency to drag themselves out for months upon months.
Consider this figure, from a study led by an economist at the RAND Corporation. It shows that malpractice claims related to temporary injuries take a median of a year to resolve, while those dealing with fatalities or permanent injuries take a median of 18 months: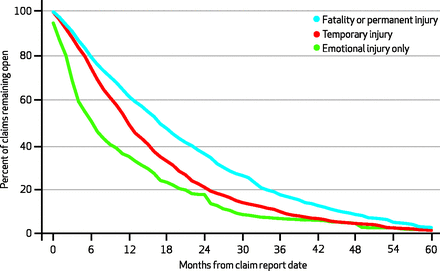 Indeed, in those cases involving fatalities or permanent injuries, a fifth of claims take 3 years or longer. The result of this dragged out process is that physicians not only have to deal with being sued, but also have to cope with the fact that those suits hang over their heads for years at a time. A typical neurosurgeon, for example, can expect to spend more than a quarter of his or her career with an open malpractice claim: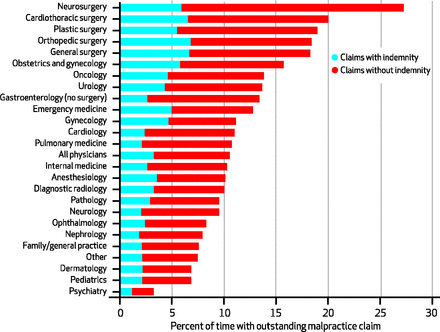 Our malpractice system is badly broken. Research from the Harvard malpractice study suggests that lawsuits are essentially distributed randomly, and do not successfully target poor health outcomes that are the result of medical mistakes, although some more recent studies question that finding.
But however successful or unsuccessful lawsuits are at targeting bad medical practice, no one I have spoken with believes that neurosurgeons deserve to spend a quarter of their careers waiting to find out if they will be determined to have practiced negligently. Moreover, it is quite plausible that having a lawsuit hanging over their heads causes physicians to practice defensive medicine, a factor most people think contributes to high healthcare expenditures.
It is a tragedy that political discussions about healthcare reform have become so polarized. If Republicans and Democrats had been willing to work together, they might have been able to agree on a way to reform our malpractice system. But they haven't, so our deeply horribly flawed system persists.
How do you like that thought hanging over your head?
Peter Ubel is a physician and behavioral scientist who blogs at his self-titled site, Peter Ubel and can be reached on Twitter @PeterUbel.  He is the author of Critical Decisions: How You and Your Doctor Can Make the Right Medical Choices Together.