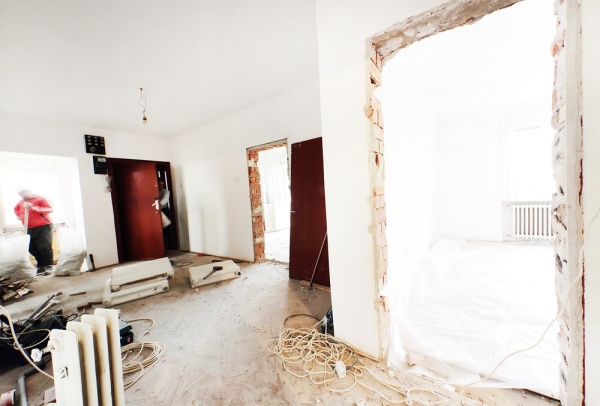 In 2006, as I was starting my geriatrics fellowship, we started renovating our home.
This took almost two years from start to finish. It was a long, arduous, expensive, and often stressful process. And this experience ended up profoundly influencing my philosophy as a primary care physician, and my approach to practicing medicine.
To this day, I've had minimal experiences as a primary care patient — I'm in my mid-thirties, and am lucky to have always been pretty healthy.
But I've been an inexperienced homeowner trying to muddle my way through a major home renovation, and that, I will submit, has many interesting parallels with being a primary care patient.
For instance, although my life and overt health wasn't at stake, we were investing a lot of money and time into a very complicated undertaking in which we had no previous experience. (We ended up entirely changing the layout of our flat, including moving the entire kitchen.)
We had to identify professionals to work with, trust in their expertise and ability to get the job done well, yet keep an eye on how things were going and make sure to occasionally advocate for ourselves. And when the project would be completed, we would be the ones living indefinitely with the consequences of our choices and our experts' choices.
So when I think about physician-patient relationships, I end up thinking back to my renovation experience, remembering our experience struggling through those two long years. I think about how we negotiated trust and control with the professionals involved. And I especially remember who felt helpful to us, who didn't, and why.
Here's what happened with two of the key professionals we encountered, and the lessons I learned for practicing medicine.
Two professionals, two approaches
Now, a renovation was a something neither my spouse nor I had experience with, and we thought hard before deciding to go for it. But it seemed to be the best of our options: we'd decided to renovate our flat because although it was spacious, the layout was truly terrible and the kitchen finishings were uninspiring to say the least. (We would've moved, but couldn't find anything else that we could afford. These were the boom years in SF real estate, so it was cheaper to refinance our existing flat and remodel than to move and double the mortgage.)
So we told ourselves that our hard work and investment would result in a much better space for living and would surely improve the overall value of our home. We checked out some books on home renovation, and then we started looking for help getting the project done.
The first important decision we had to make was choosing an architect. We needed someone to help us envision how we might change and improve our flat, and then create the plans for a contractor to follow. In other words, the architect was going to be the linchpin of our entire experience.
But how to choose the right architect? None of our friends had worked with any local architects. Somehow we found a few to interview, and ending up choosing one who I'll call Sam (not his real name), in part because he charged an hourly rate rather than a percentage of the entire project.
Sam, we realized over the next few months, was a big mistake. Although he was capable and experienced as an architect, we repeatedly clashed over details of the emerging design, and the experience of working with him was stressful. He pooh-poohed our request for a pantry, since that interfered with the elegant visual balance of his proposed kitchen design, and rolled his eyes when we asked for a hallway door to separate the bedrooms in the back from the noisier front part of the house.
Sam, in other words, was more interested in realizing his vision for our home than he was in helping us figure out how to create a comfortable space that met our needs. He also didn't have much patience for discussing little things, like our making sure there were lots of electrical outlets conveniently placed.
Sound like any professionals you know?
As things got rockier with Sam, we started to consider the unthinkable: terminating our relationship with him, and having someone else supervise the construction based on Sam's plans. This was a scary proposition to us: we didn't like working with Sam, but how to make sure we found someone better?
After all, we needed someone to keep guiding us through the renovation. Despite my doing constant research in online forums and through books, we were overwhelmed by the complexity of the project, and I was terrified that we'd make more wrong choices and end up with a mediocre outcome after investing so much in the project.
Then we took a look at our contract with Sam, and realized that although we had been paying him for his time drawing the plans, the contract stipulated that plans are "instruments of service" which remain property of the architect. In other words, if we terminated the relationship, no plans to keep working with.
It was, of course, a contract provided by the American Institute of Architects. And as such, all the boilerplate heavily favored the interests of the architect, not of the homeowner.
Luckily for us, Sam himself proposed we terminate the relationship, and agreed to give us the right to the plans, in exchange for our paying him for his time thus far.
As the strictly architectural work on the project had been completed, we opted to replace Sam with a more affordable interior designer. This time, we were lucky enough to find a very good person to guide us through the gazillion design choices we still needed to make: Gale Melton.
Like Sam, Gale charged an hourly rate, had years of experience, and had a good sense of design.
But unlike Sam, Gale made an effort to get to know our tastes and priorities, and then applied her skills to help steer us towards designs that we liked. Instead of asking us "What do you want?" and looking impatient when we couldn't respond, she took time helping us discover and then articulate our preferences. And throughout the following year, she helped us effectively process and finalize a truly staggering number of design choices.
In short, one expert professional performed a core part of his job but left us stressed and frustrated. Whereas the other helped us navigate a dizzying array of decisions and was instrumental in our creating a living space that is comfortable, appealing, and a good fit for our needs.
Primary care physician as consultant
Would I be the doctor I am today if I hadn't gone through this renovation experience? I'm not sure, especially since it took place during a formative time in my clinical geriatrics training.
In fact, as we were struggling with Sam in the fall of 2006, I completed two months on the palliative care service. This was probably the most valuable and concentrated clinical learning experience I had as a trainee, and included a lot of teaching on communication skills. And of course, teaching on discussing goals and adapting to people's preferences.
These two overlapping experiences prompted me to think long and hard about how physicians help patients, especially in primary care.
My conclusion was that how we practice as professionals isn't just about having sufficient depth of knowledge and the requisite technical skills.
It's also about our fundamental assumptions regarding how those skills should be applied.
From my renovation experience, we discovered that as homeowners we really wanted to work with experts who:
Made an effort to understand our preferences, and helped us articulate them
Educated us so we could more effectively participate, and helped us understand likely downstream consequences of certain choices
Respected it when we prioritized things differently from the expert
Appreciated that we had much more at stake in the project than the expert did
Were understanding when we occasionally sought an extra opinion from a third party, or otherwise tried to double-check something
Were patient with multiple questions or attention to details
Could explain how recommendations were linked to a certain understanding of our preferences or priorities
And of course, we discovered that we didn't want to work with experts who acted as if they knew what was best and were annoyed when we didn't agree.
We also realized that we wanted to be able to switch experts, and if we ever have to go through a renovation again, we'll be sure to negotiate terms that allow us to easily take our business elsewhere if we discover that an expert isn't a good fit for us.
So in my own work as a primary care physician, I've tried to think of myself as a consultant to the patient. My job is to serve the patient, usually by helping him or her understand the medical situation and the options, and then working out a feasible plan to move towards the person's health goals.
Different patients, of course, want different things. Some ask a lot of questions, others don't. Some are directive – in which case part of my job is to speak up if I think the direction they're taking is unlikely to lead them where they said they wanted to go — whereas others really want direction (in which case the clinician still needs to ask where they want to go).
Am I as successful as I'd like to be in implementing this approach? I don't really know. I've gotten some nice feedback from patients and families over the past several years, but ideally I'd have some more objective method of getting feedback. (Or feedforward, as it were.)
Still, I think this approach is overall sound, and is consistent with medicine's ongoing transition away from its historic paternalism, and towards approaches that are more respectful, collaborative, engaging, empowering, and individually tailored towards patients' needs.
Now, can anyone recommend a favorite tool or technology that allows providers to quickly learn whether they are properly adapting to their patients' needs or not?
And what metrics will ACOs use to encourage providers to act more like excellent consultants? Or will ACOs even care, as long as utilization is controlled?
Fodder for future blog posts.
Summing it up
My approach to practicing primary care has been strongly influenced by my experience slogging through an extensive home renovation, a process which required my husband and I to depend on professionals for guidance and to actually implement this major project.
We discovered that some professionals were much more stressful to work with than others, and found that we needed to work with those who were willing and able to use their expertise to help us meet our goals. This meant we needed professionals who were not only technically competent, but also had the skills to solicit our goals and preferences, and then effectively collaborate with us.
Healthcare is making a much-needed transition towards organizing around patients' needs and preferences. For me, it's been helpful to think of my primary care role as being a medical consultant there to help patients understand their medical situations, and then assist them in reaching certain healthcare goals. However, I haven't yet identified a robust way of getting feedback on my performance.
Leslie Kernisan is an internal medicine physician and geriatrician who blogs at GeriTech.
Image credit: Shutterstock.com