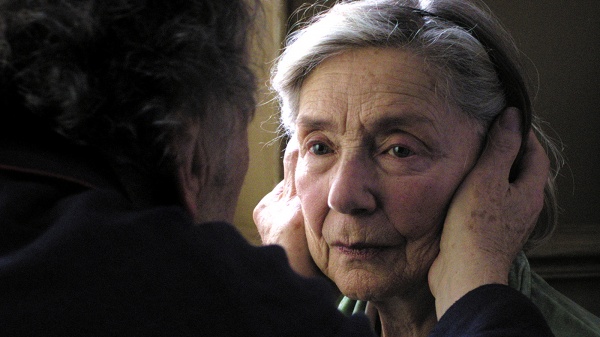 If you haven't seen the movie, "Amour", but are planning to, you might want to skip this commentary – but by all means do go!
It starts and ends with love, but not in Hollywood's usual youthful romantic fashion.  It also starts and ends with death after much caring, love and suffering.  The agonizing toll on the patient and caregiver are equally dramatized in the stark manner of Michael Haneke the Austrian director.
The setting is mundane in the apartment of two aging French musicians.  The scenes are quiet, domestic, loving and free of a background music score.  As the wife suffers from a series of strokes, her mind and will to live erode. Was it reasonable that she tried to commit suicide?  Was it OK for her to make her husband promise never to take her back to the hospital?  Could the daughter have been more supportive?  What happens as the loving caregiver is finally at his wits end?
Some common measures hoping for improvement were tried:  rehab, second opinions, home health aids (one fired), a hospital bed, etc.  But both the loving husband and wife had to endure the agony of progressive physical decline – no doubt with accompanying situational depression.
The ending is stark and sad.  The husband could see no other way out.  How often is the act he committed actually carried out by the loving spouse?  We'll never know.  .  "Amour" portrays this in what feels like real-time to the viewer.
I felt so sad in seeing death handled basically by two aging individuals on their own.  There was no home hospice care, no palliative care consultation, and no discussion of death by voluntary cessation of fluids and nutrition (VSED). Dying by VSED deserves more understanding and discussion. Quill and Byock have proposed clinical and ethical guidelines with the caveats to be aware of – coercion, abuse, lack of informed consent, depression, etc. Also, they point out the need for patients, families and providers to have continuing and clarifying discussions – all to allow wishes and dignity of the patient to be honored. "Amour" tackles these in a way that leaves us with lingering doubts and frustration. We have questions about the choices made, yet we're left with undeniable admiration for the loving and dying couple.
A more common scenario happened to my father at the end. I remember him at age 94 basically slowing eating, beginning to losing weight and becoming partially delusional.  He then slowed fluid intake but would accept sips of fluids plus mouth care.  It seems to me that this was simply old age at its pinnacle with the body wearing out and dying – not really an example of VSED.  There would have been no benefit for providing fluids or tube feeding, a means of prolonging dying rather than prolonging life.  He died peacefully without the need for diapers or messy body care.  We played bridge in his room keeping him company in his peaceful coma.  I heard his last breath from the cot beside his bed.
VSED need not be the slippery slope toward euthanasia some might think, but with the care outlined by ethicists and palliative care experts like Quill and Byock, there is hope that many options will be available to us at the end.  After all, it is our life, our body, and we all have a time to die.
Jim deMaine is a pulmonary physician who blogs at End of Life – thoughts from an MD.