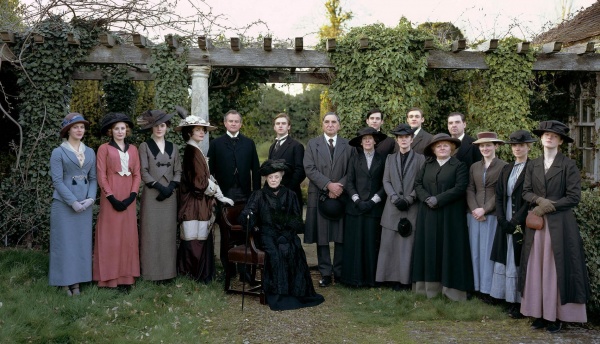 If you have not yet seen the fourth episode of the third season of Downton Abbey and wish to be surprised by it, read no further. And if you aren't watching PBS's addictive costume drama currently set in 1920–and, seriously, why aren't you?–read on anyway.
This is about medicine, then vs. now.
First, to recap the medically relevant aspects of the story: Lady Sybil, age 24, the youngest daughter of Lord and Lady Grantham, is about to deliver her first baby, a little prematurely. It's assumed that she'll have the baby at home, in the family estate, but there's some controversy about who should attend her. Her mother favors the local family doctor, Richard Clarkson. while her father wants a specialist, Sir Phillip Tapsell, obstetrician to the aristocracy.
Both men are summoned, Sir Phillip as a houseguest, and they argue about Sybil's condition. Clarkson thinks that Sybil's confusion and swollen legs are signs of eclampsia, also called toxemia, a potentially lethal condition in which a woman has seizures during pregnancy or soon after delivery. He feels her only hope of survival is to have a cesarian section at the hospital–itself a high risk procedure in the pre-antibiotic era. Sir Phillip thinks the local doctor is overreacting, and that Sybil is fine. She indeed seems to be so, and delivers a healthy baby girl. But the next day, as her horrified family and the two doctors watch helplessly, she begins having seizures and dies.
Once I stopped bawling about poor Lady Sybil–oh, c'mon, you know you did, too–I got to thinking about how medicine has and hasn't changed since 1920, as portrayed in this well-researched show.
What seems unfamiliar, at least in the developed world, thankfully, is Lady Sybil's fate. In the early 20th century it was not at all uncommon for women to die in childbirth (from infections, hemorrhage, and eclampsia). Today, due to prenatal care, including screening for eclampsia's precursor pre-eclampsia (all those blood pressure and urine checks during the third trimester) and the availability of treatments for eclampsia, infections, etc., pregnancy and delivery are much safer. In the developing world, however, the World Health Organization estimates that approximately 800 pregnant or peripartum women still die every day.
What seemed, to me, very familiar in this episode was the conflict between the family doctor and the specialist. While, as a primary care doctor (a modern-day Clarkson, so to speak) I enjoy a collegial relationship with the many specialists to whom I refer patients, there is, at times, a certain tension between our perspectives. Often, it can be summed up like this: I know more about the patient, while the specialist knows more about the disease. Usually we pool our knowledge, but once in a while we clash. A surgeon may be puzzled, or even irritated, by a patient's reluctance to have a particular operation which he knows will be helpful. What I may know, with equal certainty, are the reasons for the patient's hesitation. When Sir Phillip pooh-poohed Sybil's swollen legs ("some women have thick ankles!") and Dr. Clarkson countered that he'd known the young woman her whole life and was sure that she did not have thick ankles … you know for whom I was rooting.
Perhaps the most striking aspect of the episode, from a medical point of view, was both doctors' inaction once Sybil started seizing. There was nothing to be done, so they did nothing. CPR would not be invented until 1960, there were no effective treatments for eclampsia, there was no point in rushing to the hospital. The doctors did play a role, though–one which I think is undervalued today: that of companion, and witness to death and suffering.
With health professionals and patients alike now re-evaluating whether it's wise or desirable to spend 25% of Medicare resources during the last months of life, often on invasive treatments that decrease the quality of a patient's life without increasing it's length, we doctors may find ourselves more often in a palliative rather than "do everything at any cost" mode.
We'll never again stand by and watch a woman die of eclampsia–thank goodness–and we won't wear dinner jackets or silk dressing gowns (alas), but we may be more like our professional ancestors than we acknowledge.
Suzanne Koven is an internal medicine physician who blogs at In Practice at Boston.com, where this article originally appeared. She is the author of Say Hello To A Better Body: Weight Loss and Fitness For Women Over 50.