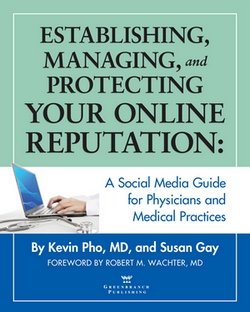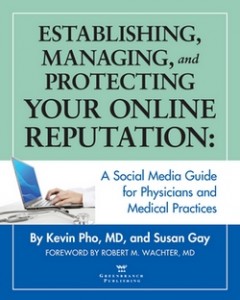 I'm proud to announce my new book, co-written with Susan Gay: Establishing, Managing, and Protecting Your Online Reputation: A Social Media Guide for Physicians and Medical Practices. 
The Foreword is written by Robert Wachter, MD, with endorsements from Eric Topol, MD, Abraham Verghese, MD, Jerome Groopman, MD, Pamela Hartzband, MD and many others.
Online reputation is critically important for doctors to manage, with more patients using online tools to find their doctors.  This comprehensive guide will show you how.
Drawing from my social media experience since 2004, the book includes the following features:
step-by-step guides to establish, manage, and protect an online reputation using popular social media platforms: Facebook, Twitter, LinkedIn, YouTube, Google+, and blogs
instructions to optimize your profile on 12 popular physician review sites
how to respond to patient reviews on the web
guidelines to online professionalism
I've always believed that we learn best through stories, so not only have I included notable events from my personal social media journey, but also dozens of case studies and anecdotes from social media leaders that I've had the pleasure of connecting with over the years, including Vineet Arora, MD, Katherine Chretien, MD, Natasha Burgert, MD, Dave deBronkart, Susannah Fox, Kerri Morrone Sparling, Wendy Sue Swanson, MD, and Bryan Vartabedian, MD.
Their perspectives provide a window into how patients are using online tools to find their physicians and how an online reputation can be managed by busy, practicing doctors.
I invite you to explore this definitive guide for doctors and medical practices on how to use social media and establish, manage, and protect an online reputation.
Praise for Establishing, Managing, and Protecting Your Online Reputation
"For the physician contemplating the use of social media, this lovely volume is a precious and invaluable guide."
Abraham Verghese, MD, author of Cutting for Stone
"As the digital era inevitably invades the medical cocoon, there is a vital unmet need for physicians to adapt, especially to new challenges such as dealing with one's online reputation. Kevin Pho, a leader in the convergence of social media and healthcare, with Susan Gay, provide a comprehensive and extremely useful roadmap for doctors. Instead of default, sitting duck status, this information and perspective enables physicians to take charge."
Eric Topol, MD, author of The Creative Destruction of Medicine
"An insightful and thought provoking examination of the changing landscape of medicine, filled with practical advice for clinicians."
Jerome Groopman, MD and Pamela Hartzband, MD, authors of Your Medical Mind: How to Choose What Is Right for You
"As one of the most prolific practitioners in the world of social media, Kevin Pho's insights for doctors and other health professionals are soundly based on experience. His ability to demystify this arena for others comes from a clear and concise exposition of what is fact and what is fear."
Paul F. Levy, Former CEO, Beth Israel Deaconess Medical Center