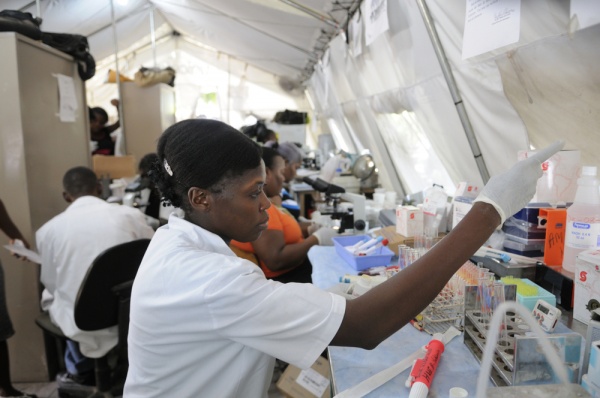 For the majority of physicians in the U.S., taking their skills abroad and providing care via medical missions in undeveloped countries is usually not an option. For me, that was always an option.  I am an OB-GYN who works as a locum tenens, a traveling physician who temporarily fulfills the duties of another. This has provided me the flexibility to have a career while fulfilling my passion to serve volunteer missions in undeveloped countries such as Haiti and Ghana.
Last year, I went on a two-week medical mission with the International Health Care Volunteers (IHCV) to Ghana, a small country in West Africa, where I provided women's healthcare and trained midwives in cervical cancer screening without the benefit or resources of the Pap test. Upon the arrival of my team at the Kwamé Nkrumah University of Science and Technology (KNUST) in Kumasi, Ghana, patients were lined up waiting to be seen by the "American doctors," so needless to say, we were busy from the minute we arrived. We had many women patients who were also surgical candidates, which kept the doctors very busy in the operating room. The need to train nurse midwives in cervical cancer screenings would allow more trained providers to see this large volume of women. While I was in Ghana I came to realize how scarce the resources were and started contemplating ways in which I could help.
Shortly after, I took a ten-month assignment at Bingham Memorial Hospital in Blackfoot, Idaho. This, I can honestly say, was one of the most rewarding experiences I've had working as a locum tenens.
It wasn't long after I arrived at Bingham Memorial Hospital that I learned the hospital was replacing its functional analog mammogram machine with a new digital machine. That was when the idea came to me – send the old well-functioning, analog mammogram machine to the facility in Ghana where I previously volunteered.
The donation was an extremely generous gesture on the facility's part.  My hopes were that this will help to provide early detection for breast cancer in Ghana and that the number of breast cancer deaths will decrease.
Through the coordination of IHCV, the machine arrived in Ghana before the end of last year. Since then, I have not been back to Ghana, but plan to visit this winter/spring to help coordinate use of the mammogram machine and create a comprehensive breast cancer screening program. I am still working to receive a grant to implement and expand an education program there.  Breast cancer and cervical cancer are the top two cancer causes of death in females in Ghana, so there is much work to be done.
Working at various locations throughout the U.S. as a locum tenens has given me the opportunity to fulfill my passion and figure out how I can provide the best care in places that need it the most, such as Ghana.  It has also given me a broader cultural and medical perspective and has forced me to challenge myself as a doctor.
Renée Volny works as a locum tenens physician with Weatherby Healthcare.
Image credit: arindambanerjee / Shutterstock.com