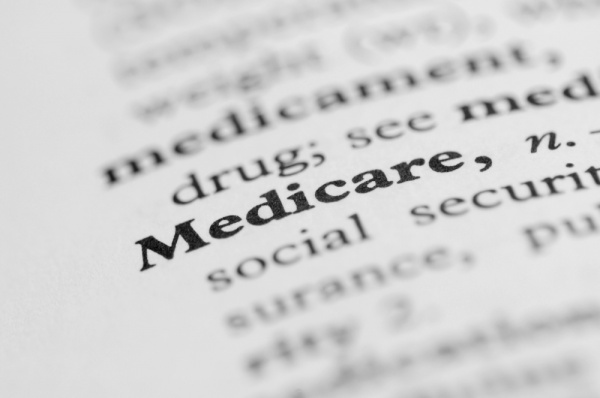 There's a lake in Northern Arizona where I jog. I call it "my" lake. It used to be filled to the brim, a playground for ducks, geese, Monarch butterflies, rabbits, and squirrels. Over the years when I'd jog in the cold mornings, my lake dried away from drought, measured by bathtub rings on the boulders that surrounded it. Today, rust-colored grass fills the space where clear water once lay. The rings on the boulders are uncountable. Soon, my lake will be gone.
When I drove home last night from the clinic, I decided to set ourselves free from the drought which is drying us. I decided to opt out of Medicare as a provider.
Here's a brief account of what's been happening.
Medicare patients come into our little urgent care clinic in Northern Arizona, sick with multi-system disease. They hobble in from their cars or taxis, clinging to the arms of their loved ones (if they're lucky) or all alone if they're not, a plastic bag full of medication in their knobby hands. They're told at the front desk to choose Option 1, 2 or 3. If they choose Option 1, they will have to pay for any additional services provided in our clinic before they leave.
People used to complain about our new policy. But when all the other primary care physicians in this rural area stopped taking any new Medicare beneficiaries, their offices filled to the brim like that lake used to be, charging their patients 6, 7, or 8 hundred dollars a year before they would see them, our patients stopped complaining. They had nowhere else to go.
The number of Medicare patients we see has increased noticeably. Their primary care doctors, now scarce, can't see them for weeks. And the only other place left is the over-stuffed emergency room down the road.
So they come to us.
At the end of a billing cycle, our net reimbursement for most Medicare patients is about $130.00 for a new patient, $80.00 or less for an established. That's not too much to ask, considering the difficulty in making some of those complex decisions on very sick patients who we've never seen before, inside the span of a short visit. But it takes 30 – 45 days for us to get that desperately needed money back into the business, after a mound of paperwork, time and cost, a 6% billing fee and the constant fear of Medicare hold-backs. Embedded inside this is the fear of missing something clinically important in that short visit; an elderly patient whose family has abandoned him and who can't remember why he came to see us in the first place, let alone the names of his complex list of medications.
Our billing company keeps telling me that Medicare is cutting back, again. They tell me Medicare won't pay for this, and for that, and for this, or that. It becomes difficult to tell a trembling patient straight to their face that they have a fractured ankle, and then watch them hobble out of the clinic on a broken leg, knowing that we won't be reimbursed for the cost of giving them an expensive boot and crutches. It becomes difficult watching a chest pain patient make the decision to drive himself to the emergency room against medical advice because he's afraid of the cost of an ambulance, knowing he could never pay it.
It's tough, knowing that at the end of a billing cycle of 30- 45 days; we may or may not be paid our $40 or $50 balance, depending on Medicare's new rules. That $40 or $50 is sorely needed to keep the lights on these days.
It becomes difficult to know that the provision of services by a nurse practitioner or physician assistant will come at 80% of what a physician would bill, and that $40 or $50 gets drained down to $32 – $40.
We have a great cash pay option for people who don't have insurance. For $75, anyone can come to see us any time if they have a loyalty card, purchased at a nominal fee. They can receive any additional services of their own choice, each charged separately for very reasonable costs. For example, an x-ray of any body part is $50. An injection of an antibiotic that has the potential to save an extremely expensive visit to the emergency room and possible hospitalization is $40. Our net, after treatment of those same Medicare beneficiaries, would be around $130, collected immediately at the time of service.
There would be no additional fees to be paid to a billing company so they can play games with our government. There would be no additional fees in bad debt or collection agencies. There would be no worries about committing fraud, incident-to billing, or the miscellany of other punitive rules, policies and regulations that have become exponential as America's health care crisis spins out of control.
There would just be a doctor and her patient and no one else in between.
Like that lake where I jog in the mornings, I'm watching our Medicare program run dry. Nothing will be left of it soon but a bunch of crusty old bathtub rings, and no one else to care.
It's the hardest thing as a doctor, a humanitarian, a human being to watch others hobble in for help that you could give, clutching their plastic bags and know that you can't give them what they need. Providing what they need would lead to your own financial demise, and the lights in the building would go out.
It's the hardest thing to know that very soon, all that will be left of that beautiful lake will be a field of rust-colored grass, with no living creature around for miles. The rabbits, butterflies, ducks and squirrels will be gone.
Doctors should be angry. Patients should be angry. You should be angry, too. But, it's in these small acts, one by one, as hard as they are, that together through our pain, we can change this world.
Natasha Deonarain is the founder of The Health Conscious Movement. She is the author of the upcoming book, The 7 Principles of Health and can be reached on Twitter @HealthMovement.
Image credit: Shutterstock.com