KevinMD.com continues to break traffic records, with October 2010 being the busiest month on record.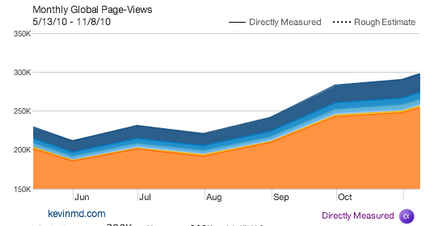 I'm deeply appreciative of your continued readership and support, not only on the blog, but also on Twitter and Facebook — which now have over 31,300 combined followers.
I'd also like to thank the over 150 regular guest bloggers, who each contribute a diverse and poignant health care voice that deserves to be read by the hundreds of thousands of readers who visit KevinMD.com.  Please let me know if you're interested in guest posting.
Over the past month, I have invested in solidifying the technical backend, by moving to a dedicated server, and hiring an advisor to speed up the site and improve your user experience.  We're now poised to handle future traffic growth for years to come.
Once again, thank you for making KevinMD.com social media's leading physician voice.