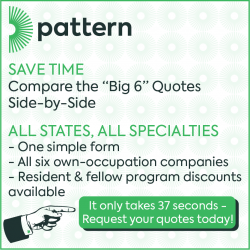 This article is sponsored by Pattern. We simplify disability and life insurance for busy doctors so they feel confident they have the right policy and that their income is protected.
As a physician, you dedicate your life to helping others and providing for yourself and your loved ones. But what happens if an unexpected injury or illness suddenly prevents you from working? This is where disability insurance comes in – it's designed to protect you from financial risk in the event that you lose your income. However, not all disability insurance policies are created equal, and it's essential to pay attention to the definition of disability in your policy to make sure you're getting the coverage you need.
When selecting a policy, the most crucial aspect for physicians to consider is the definition of disability. This is what separates good policies from those that should be avoided. To qualify for disability insurance benefits, you must meet the definition of disability outlined in your policy.
There are several different types of definitions of disability, including true own-occupation, transitional own-occupation, modified own-occupation, and any occupation. As a physician, you want the definition to be as broad as possible to cover any type of disability.
The best definition of disability is "own-occupation," also known as "true own-occupation." This provides the strongest definition of disability and the most protection for physicians. With this definition, you will be covered if you are unable to perform the material and substantial duties of your specific occupation, regardless of whether you can perform other types of work.
For example, let's say you're a cardiovascular surgeon who can no longer perform surgery but can still work as a general cardiologist or teacher. Even though you're still working, the fact that you can't work as a surgeon means you would get paid the full benefit.
To ensure that you're getting the protection you need, make sure to choose a policy with the broadest definition possible, such as "own-occupation." Don't waste your money on a policy that won't protect you when you need it most. As a physician, disability insurance is an investment in your future – make sure you're getting the best coverage for your needs.
There are a few different definitions that can be confusing or even mistakenly sold as true own-occupation to doctors. One important thing to note is that these policies will not continue to pay you your full benefit if you can perform other jobs, even if they are lower-paying.
Transitional own-occupation is one definition to be aware of. With this definition, your policy will pay benefits similar to a true own-occupation policy with one important caveat. If you can't work in your specialty and you start earning an income doing something else, your total net income (including benefits) cannot exceed the total original earned income of your former job.
For example, let's say prior to your disability you were making $11,000 a month, and after your disability, you began working as a teacher and earned $6,000 a month. Your transitional own-occupation policy would then pay you a $5,000 monthly benefit and you would continue to receive your $6,000 monthly income from teaching, making an $11,000 monthly income.
Modified own-occupation is another definition to be aware of. With this definition, a person receives benefits when they can't work in their own-occupation and are totally disabled. However, benefits do not continue if that person wants to work in another profession. The options of a totally disabled person with modified own-occupation coverage would be to either live off their benefit check or to go back to full-time work in a different occupation without their disability benefit.
Lastly, it is important to note that we do not recommend that doctors get an any-occupation policy. This is the most common disability definition and is usually found in employer group plans and low-cost individual policies. Under an any-occupation policy, you're only considered disabled if you can't work in any occupation that you could be considered reasonably suited for based on education, training, or experience. This is the least beneficial type for you, and also gives the greatest leverage to the insurance company.
When it comes to disability insurance, it is important to understand the different definitions and what they mean for your coverage. Make sure to read the fine print and fully understand the terms of your policy to ensure you have the coverage you need in case of a disability.
Read more:
Why every physician needs disability insurance
The doctor's guide to disability insurance: short-term vs. long-term
Why own-occupation disability insurance is a must for doctors
Group vs. individual disability insurance for doctors: pros and cons
Navigating the world of disability insurance can feel overwhelming, but at Pattern, we understand the struggles of insurance shopping and the frustration of getting ripped off. That's why over 20,000 doctors have trusted us to help them compare and buy insurance.
Our team of specialists will work with you every step of the way to find the best coverage at the most affordable price. The process is simple: Request quotes, compare options, and secure your policy. We'll even handle the boring paperwork for you.
Don't let disability insurance stress you out any longer. Trust the experts at Pattern to find the best coverage for you.

Pattern simplifies disability and life insurance for busy doctors so they feel confident they have the right policy and that their income is protected. Request your quotes today.