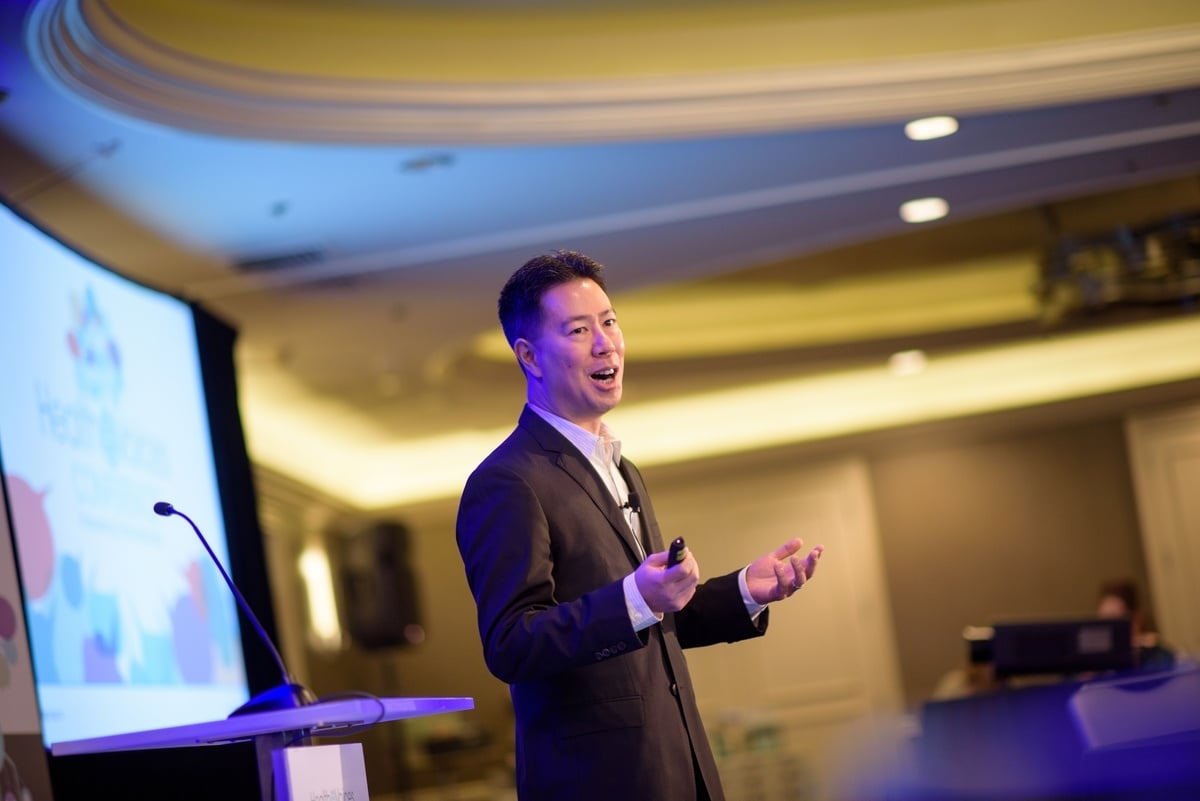 What separates Kevin from the typical coach?  He is also a practicing, board-certified internal medicine physician. He understands the nuanced issues that clinicians face when they prepare a high-stakes keynote speech, expand into the social media space, or manage their online reputations.
Kevin shares his extensive experience through personalized, 1-on-1 coaching in the following areas:
Be a dynamic keynote speaker. Kevin is an acclaimed physician keynote speaker, speaking in front of audiences ranging from 100 to thousands.  He will share wisdom from the medical keynote circuit, teach you contemporary keynote techniques, and fine-tune your speech and visuals so you can generate more speaking business and bring the audience to their feet.
Grow your social media platform. Kevin built the KevinMD platform from scratch in 2004.  It now receives over 3 million monthly page views, and exceeds 250,000 followers on Facebook and Twitter.  Many posts have proverbially gone viral, with select videos and posts exceeding 1 million shares.  Whether you are a social media beginner or advanced health care marketer, Kevin will share his secrets so you can take your platform to the next level.
Define your online reputation. Kevin literally wrote the book on physician online reputation.  More patients than ever Google their clinicians, so it's imperative for health professionals to establish, manage, and protect their online reputations.  Kevin will analyze your online presence, teach you how to proactively define yourself online, and guide you through the world of online reviews.  He does this all through the lens of a practicing physician.
They don't teach this stuff in medical school.
Why hire Kevin?
There are many doctors who are practicing, board-certified internal medicine physicians.
There are some doctors who are influential keynote speakers.
And there are a handful of doctors who built an online social media platform from scratch that reaches millions.
But there is only one doctor who is all three.
With personalized, 1-on-1 coaching, Kevin will share his singularly unique experience, expertise, and skill set. Just with you.
What others are saying
"Over my twenty-year career as a neurosurgeon and leader of a busy practice, I have utilized many vendors and coaches to help me develop my practice's platform and my voice. Some of those consultants were highly valuable while others are not as strong. While I learned something from each of them, none were perfectly matched for me as a doctor. Some were great marketers, but didn't really know medicine or patients. Others knew medicine, but weren't savvy on social media or more modern platforms needed to serve my patients.
Kevin Pho is the perfect mix of both worlds. He is a media expert AND a practicing physician. He has built his gargantuan online reputation singlehandedly from the ground up. His experience is one of a kind. He knows what really works, not just gimmicks or flash in the pan campaigns. Plus he teaches with the class of a revered physician — one who I want to emulate in media — who represents both authority and service.
After having a one on one session with Kevin I felt like not only had I spoken to an expert, but I had learned from someone who exactly knew how to help me better serve my patients. I have already signed up for another session."
Mark McLaughlin MD
"I was reading a blog post on KevinMD when I noticed that the founder, Dr. Kevin Pho, was a speaker coach! Frustrated with how to use social media to promote my speaking business, I contacted him. After a FaceTime chat, I thought 'He is just what THIS doctor (me) ordered!'
As a fellow physician and keynote speaker, he quickly identified 'how-tos' for me to achieve social media success as a physician-storyteller.
Are you a physician speaker? Do you want to build a social media presence? Do you need a coach who 'gets' you? Look no further than Dr. Kevin Pho!"
Lynette Charity, MD, anesthesiologist, storyteller, and humorist, Dr. Charity Speaks
"Kevin Pho is a terrific coach and provides great value before, during, and after a coaching session. I asked for help to get a better handle on how to increase the visibility of my ideas.  In preparation for the Skype meeting, I answered some questions which allowed him to zero right in on my primary concerns. The session was relaxed, customized, and jam-packed with useful critiques, ideas, and recommendations (including connecting me to some super resources).  As a direct result of our session, I had an article published in a print journal this year. Thanks Kevin!"
Patty Fahy, MD, founder, Fahy Consulting
"Kevin Pho has been a valuable coach in the confusing world of online media. He is an incredibly patient and knowledgeable as well as an experienced practitioner, coach, and speaker. Kevin has been able to offer much-needed advice on taking my online presence to the next level. If you are looking for a coach who has navigated the waters of social media, look no further than Kevin Pho. Thanks, Kevin."
Harry Karydes, DO, founder, Medicine Revived
To find out more about Physician Coaching by KevinMD, please fill out the form below or contact Kevin: