An excerpt from Pharmacy on a Bicycle.
One of the more impressive success stories in health improvement in a low-income country is Rwanda. This small landlocked country of 11.37 million was devastated by genocide in 1994 that left 800,000 people dead, affecting everyone in the country. The tragedy occurred over a month, leaving hundreds of thousands of orphans, broken families, raped women infected with HIV, and maimed and injured people. All of this happened in a country already struggling with high rates of disease, illiteracy, and other social problems.
However, when our backs are against the wall, we become innovative and entrepreneurial. Rwanda did just that. In 2000, Rwanda had a maternal mortality rate of 1,071 per 100,000 live births — almost 20 percent higher than in Africa as a whole. And Africa had the worst maternal mortality rate in the world — more than double the world average. Child mortality was no better. In 2000, on the worst continent for health, Rwanda was near the bottom.
But what a difference a decade makes! By 2010, maternal mortality had been cut by 60 percent, and child deaths had dropped by the same percentage.
So what did Rwanda do? To combat its high rates of maternal and child deaths, Rwanda in 2000 began improving its health facilities and began task-shifting basic services to the community through an exciting all-volunteer CHW program, Animateurs de Santé (Table 9). In the program, each community selects three CHWs, including one who focuses on pregnant women and children under a year old. Because the CHWs are selected by the community, they are also responsible to the community.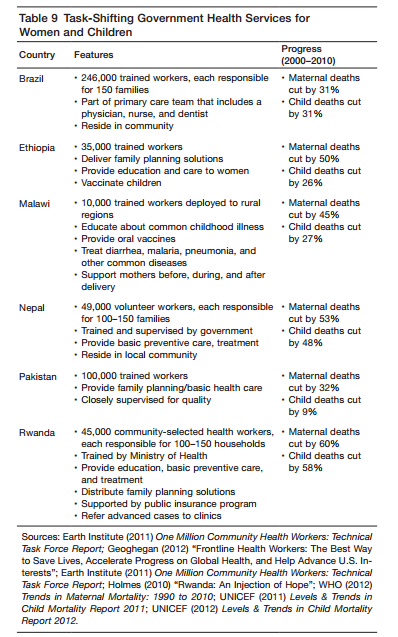 Community health workers monitor child milestone attainment and distribute family planning supplies, including condoms, contraceptive pills, and injectable contraceptives. They are able to give antibiotics for some illnesses, but for the most part they refer patients to nearby clinics for care. For pregnant women, the CHWs ensure that women attend prenatal visits, sleep under insecticide-treated bed nets to prevent malaria, deliver their babies in a health facility, and receive and understand information on proper nutrition, contraception, pregnancy, HIV, and malaria.
Rwanda had a clear target to achieve. However, by 2006, despite the potential of the CHW program, death rates were not dropping fast enough for the government to achieve its target. In response, it implemented both demand (directed toward mothers and valued at $10) and supply-side (directed toward the CHWs) non- cash incentives for pregnancy, delivery, and postnatal care. Within the first nine months of this program, 86 percent more women accessed prenatal services, and 16 percent more women delivered in the hospital!
Complementing the CHW program to stimulate demand and supply is Rwanda's health insurance program, which started around the same time. Consumers can select their plan, ranging from a very basic plan to one that covers all services and drugs provided by the health center as well as ambulance transport to a district hospital. Premiums and copayments do vary based on income. The average premium is $1.80 per family member; the very poor, approximately 20 percent of the population, pay nothing. The health insurance scheme has also created incentives for the private sector to increase the supply of health services. Child and Family Wellness (CFW), a maternal and child health franchise that originated in Kenya, began operating in Rwanda partly in response to the incentives that the negotiated health insurance brings.
To promote high-quality care, the government of Rwanda implemented a pay-for-performance scheme as a financial incentive for government-sponsored health care facilities. The scheme pays bonuses to primary health care centers based on fourteen maternal and child health indicators, including the reason for patient visits and the type of services delivered. These performance indicators are then paired with facility quality factors to determine the payment bonus rewarded.
A World Bank study showed that the incentive program was associated with an increase in the quality and number of maternal and child health services provided. In fact, providers began encouraging women to deliver in facilities because of the associated financial rewards. Some even had health workers conduct community outreach to find pregnant women to deliver at the health facilities.
Many other government-sponsored community health programs have been similarly successful (see the summary in Table 9). Many of these programs provide a salary to the workers (for example, Ethiopia, Malawi, Brazil, and Pakistan), while others provide nonfinancial incentives, such as recognizing the CHW as a community leader. Ongoing training and supervision of these CHWs, as well as linking them to backup support for more advanced needs, is critical for task shifting to work well in these programs.
 Eric Bing . Reprinted with permission of the publisher.  From Pharmacy on a Bicycle, copyright© 2013 by Eric G. Bing and Marc J. Epstein, Berrett-Koehler Publishers, Inc., San Francisco, CA.  All rights reserved.