As a non-traditional student who entered medical school in my early thirties, I was aware that sacrificing prime earning years would impact my finances. Now in the third year of medical school and considering various career options, I paused to evaluate the financial implications of my student debt and my life goals.
The common refrain from attending physicians and the school administration was "follow your heart, it will all work out in the end." Perhaps, but in my guarded skepticism, I prefer Reagan's approach: "trust but verify." Failing to find a reasonable financial planning analysis for balancing educational debt, career earnings, and the necessities of life, I created my own and then reviewed it with medical school financial advisors and private financial planners. My criteria were simple: a middle class income, payment of taxes, a 2,000 square foot home in a decent school district, and an appropriately funded retirement account.
While any analysis is predicated upon a set of assumptions, a reasonable analysis for a traditional student financing their education with free-market means (100% financed private medical school tuition and no loan forgiveness) suggests that a minimum yearly salary of $292,000 is required to have a take home pay of $75,000. Costs for attending the University of Rochester School of Medicine and Dentistry, as well as their stipends for a 3-year residency are used in the calculations below.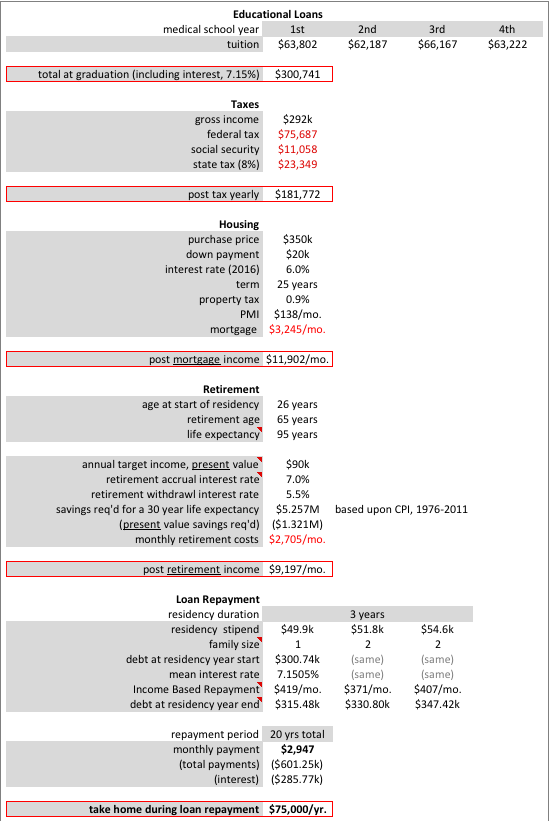 In short, there is no private market demand for hospitalists, primary care physicians, or any other field with an earning potential less than $292k. While physicians may still enter these fields and be financially sound, this requires educational subsidies that are not available to every student and may be predicated upon promised, but not contractually obligated future debt reduction programs (should one bet their solvency upon the Public Service Loan Repayment program existing unchanged in the 2020s?).
In my case, using the above goals, but reentering the workforce at 41 years old and then retiring at 70 years old, I will need to earn a minimum of $340k per year. From one perspective, there is no shortage of primary care physicians, the market it getting precisely the amount that it is willing to pay for.
Russell Japikse is a medical student. 
Submit a guest post and be heard on social media's leading physician voice.