The following is part of a series of original guest columns by the American College of Physicians.
by Steven Weinberger, MD, FACP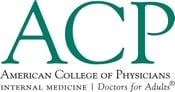 The New England Journal of Medicine's March 11 issue included an interesting "Clinical Decisions" article. Looking at a hypothetical case of an endocrinologist with time-unlimited board certification, the editors posed the question of whether he should voluntarily enroll in the American Board of Internal Medicine's Maintenance of Certification (MOC) program, presented pro and con opinions, and encouraged readers to vote on the question.
This case has generated strong opinions, not only through the votes and comments collected and presented online by the Journal but, based on the many informal conversations that I have heard in a variety of other settings as well.
However, above and beyond this focused question is an issue that includes, but is broader than, voluntary MOC: to whom and through what mechanism are physicians accountable for keeping their knowledge current and for the quality of care they provide? I believe it is fair to say that physicians are ultimately accountable to the public, i.e. their patients, for the currency of their knowledge and skills and for the quality of care they provide. But because the public has no direct and valid way to assess the quality of their physicians, they are dependent upon external regulatory bodies to serve as their surrogates through a variety of certifying, credentialing, and reporting requirements.
A major concern, however, is that such regulation has become a growth industry that now includes certifying boards, state licensing bodies, quality assurance organizations, insurers, and the federal government. At the same time, the accountability processes have become increasingly expensive, complex, and burdensome, particularly to primary care physicians whose time and financial resources are already heavily challenged.
As physicians buckle under the weight of proliferating regulations and entities to which they are being held accountable, there is the risk that the physician's assumption of direct responsibility and accountability to patients becomes eroded. This sense of direct responsibility to patients and to high quality care is an essential component of professionalism, and should be at the core of a physician's professional values. As physicians complain about the time, expense, and redundancy of their accountability requirements, the responsibility to do what is best for individual patients as well as for the population they serve is usurped from them. The standard of "How can I best serve my patients?" unfortunately becomes replaced by "How can I best meet the requirements of the regulatory bodies?"
What is the solution? Although I do not have a simple answer, I would posit that the most effective form of accountability is that assumed by the physician as a component of his or her professional responsibility. However, I also recognize that this framework may work for the majority of physicians, but it cannot guarantee high quality care from each and every physician.
Given that concern, I believe that a reasonable compromise is that the process of accountability could and should be designed jointly by physicians (as a component of their professional responsibility to patients) and a single external body to which physicians are held accountable. This process cannot be unduly burdensome or replace the physician's voluntary commitment to professionalism as the standard-bearer for quality of care.
And finally, the system of accountability must be subjected to the type of critical scrutiny and outcomes analysis that will provide evidence about whether it is actually improving the care we deliver to our patients.
Steven Weinberger is Deputy Executive Vice President and Senior Vice President, Medical Education and Publishing, of the American College of Physicians. His statements do not necessarily reflect official policies of ACP.