We witnessed a digital health explosion during the pandemic, marked by significant investments in telehealth and other sectors. However, the market could not maintain its pace in the post-pandemic era. However, the year 2023 is showing clear signs of market emergence.
Though the last two quarters have shown a reduction in funding and deal volume, the third quarter is satisfactory for investors and startups.
So, what is the state of digital health in Q3 of 2023? Let's explore the current state of digital health and innovation, including the challenges and opportunities for investors and health care organizations.
Insights from digital health funding in Q3 2023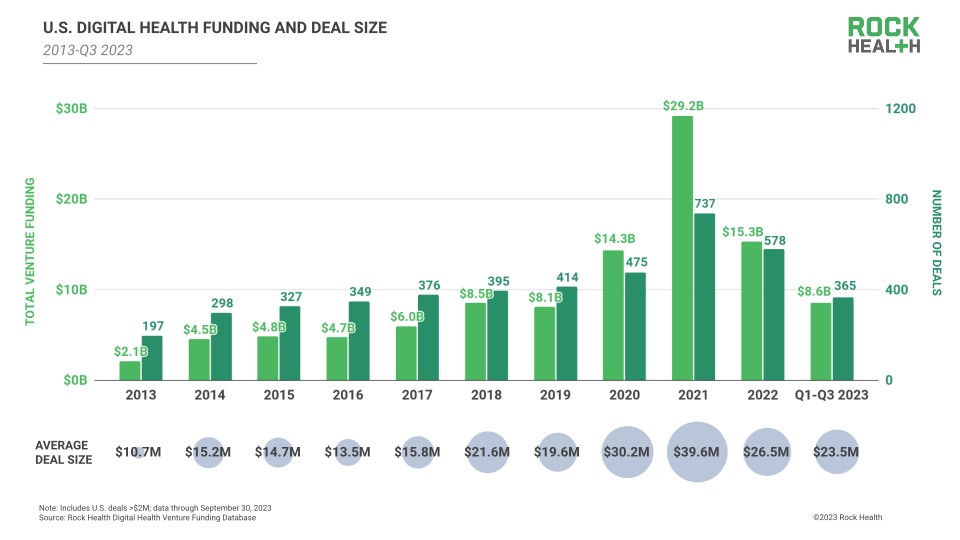 Source: Rockhealth
The global digital health funding dropped down 3% QoQ, from $3.5B in Q1 of 2023 to $3.4B in Q2 of 2023. In Q3 of 2023, the U.S. digital health sector raised $2.5B across 119 deals. These statistics show the second-lowest funding totals since the end of 2019, continuing a trend that began in the previous year.
Evidently, the market is still not impressive, but we are seeing positive quarterly trends. In Q3 of 2023, the digital health sector experienced positive development and a stabilized funding pace. Besides, investors are keenly interested in critical areas like value-based care and workflow support. The confidence of the public market is also notable.
However, we must acknowledge that fundraising and commercialization transition challenges will haunt the digital health sector. However, there is an immense hope that investors and entrepreneurs will adapt to the evolving market dynamics and establish a more predictable pattern for future investments.
New norms in the funding cycle
Though resilient and innovative, the digital health sector finds itself in a changing landscape as it enters Q3 2023. The past five quarters have established new norms, with funding consistently in the $2 billion range and deal counts stabilizing around the low 100s, reaching 131 deals in Q1 2023.
These developments can be attributed to a complex interplay of factors, such as:
Rising interest rates. The anticipation of a slower economy and the impact of rising interest rates have made it harder for venture funds to secure capital. As a result, startups need help to collect funds.
Lower startup valuation. Furthermore, lower valuations and a lackluster IPO market have led to delayed distributions to limited partners. Consequently, the sector is witnessing a reduced pool of capital for new investments.
A conservative approach by investors. Investors have adopted a more conservative approach in response to these challenges. They are engaging in fewer deals and negotiating more strenuously on deal terms. However, this cautious approach has resulted in a further reduction of funding in the digital health sector.
Increasing down rounds. Amid these funding dynamics, startups face a challenging fundraising environment. Down rounds, where a company's valuation decreases in subsequent funding rounds, remain a looming concern.
This scenario forces startups and their investors into tough conversations regarding financing subsequent growth stages while grappling with the dilution of the founders and prior investors.
To mitigate dilution risks, some founders, particularly those in their businesses' early- to mid-stages, have explored alternative funding routes, such as extension or unlabeled rounds.
These unique financing methods offer a lifeline to startups adapting to the evolving financial landscape. The new funding cycle might succeed in establishing an equilibrium where investors and startups can prosper.
Clear funding shifts 
During the pandemic era, we have witnessed a clear focus on on-demand health care and life science R&D catalysts. But in 2023, new and clear patterns deviated from the pandemic era.
For instance, there is a growing emphasis on digital health products and services. The highlights are disease treatment, nonclinical workflow, and managing complex conditions like kidney disease.
Disease treatment secured the top position by digital health value proposition, with $1.64 billion raised from Q1 to Q3 2023. Virtual clinic Vivante Health has $31 million in funding to integrate telemedicine, nutrition coaching, and self-guided modules for digestive health.
The nonclinical workflow funding is a runner-up in the arena. Around $1.6 billion was raised from Q1 to Q3 2023 on non-clinical workflow solutions. Companies in this space address tasks ranging from managing durable medical equipment to revenue cycle management, patient scheduling, and communication.
Mental health is also a top-funded clinical indication among digital health startups, with $0.9 billion deployed year-to-date. Notably, nephrology has gained prominence, raising $0.7 billion in 2023, a significant increase from the $54 million raised the previous year.
So, the value-based care (VBC) arrangements are making rounds in the digital health sector. For instance, Better Life Partners has landed $26.5M in equity as a value-based leader in substance use disorder, harm reduction, and mental health.
Digital health's public market performance
The digital health sector 2023 has experienced its share of challenges in the public market, exacerbated by the bankruptcy of two publicly traded players, Pear Therapeutics and Babylon Health. The sale of NextGen Healthcare to a private equity firm has also fueled the fire.
But instead of getting intimidated by such bankruptcy cases, we should also assess the individual circumstances of these firms. Why had Pear gone bankrupt? It failed to secure payer reimbursement for its prescription digital therapeutics.
What happened to Babylon? Unfortunately, the company lost significant contracts. NextGen Healthcare has decided to go private in pursuit of more strategic flexibility. Despite these challenges, digital health's overall public market performance trajectory could be much better.
Looking forward
Q3 of 2023 brought some hope for the digital health sector, stability in funding, investment shifts toward value-based care,  and budding confidence in the public market. Though these steps could be more encouraging, we anticipate that investors and startups will adapt to tighter market demands.
Jorge Sanchez is an internal medicine physician. Nirav Shah is a neurologist.