Subscribe to The Podcast by KevinMD. Catch up on old episodes!
We sit down with Robert Raschke, a critical care physician and the author of One Hundred Prayers: God's Answer to Prayer in a COVID ICU. We explore the power of prayer in the midst of a health care crisis. Robert shares profound insights and experiences, revealing the role of prayer in providing hope, comfort, and strength to patients, families, and health care professionals during the COVID-19 pandemic. Discover how faith and spirituality intersect with critical care medicine, offering solace and inspiration in challenging times.
Robert Raschke is a critical care physician.
He discusses his book, One Hundred Prayers: God's answer to prayer in a COVID ICU.


Careers by KevinMD is your gateway to health care success. We connect you with real-time, exclusive resources like job boards, news updates, and salary insights, all tailored for health care professionals. With expertise in uniting top talent and leading employers across the nation's largest health care hiring network, we're your partner in shaping health care's future. Fulfill your health care journey at KevinMD.com/careers.
VISIT SPONSOR → https://kevinmd.com/careers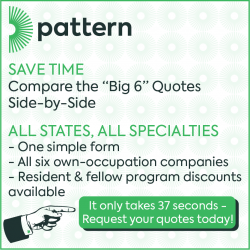 Discovering disability insurance? Pattern understands your concerns. Over 20,000 doctors trust us for straightforward, affordable coverage. We handle everything from quotes to paperwork. Say goodbye to insurance stress – visit Pattern today at KevinMD.com/pattern.
VISIT SPONSOR → https://kevinmd.com/pattern
SUBSCRIBE TO THE PODCAST → https://www.kevinmd.com/podcast
RECOMMENDED BY KEVINMD → https://www.kevinmd.com/recommended
GET CME FOR THIS EPISODE → https://earnc.me/M4xSEa
Powered by CMEfy.