Subscribe to The Podcast by KevinMD. Catch up on old episodes!
Join Amy Baxter, a clinical associate professor of emergency medicine and CEO of Pain Care Labs, to unravel the complexities of this critical topic. We'll explore the interconnectedness of pain and reward areas in the brain, genetic factors influencing addiction susceptibility, and the distinct feeling of euphoria in the context of opioids. Discover how the brain responds to prolonged opioid exposure and how liver metabolism genes play a role. Join us to gain valuable insights into the science behind addiction and treatment approaches for opioid use disorder.
Amy Baxter is a clinical associate professor of emergency medicine at Augusta University, federally funded for neuromodulation research to reduce needle pain, multimodal low back pain, and opioid reduction. After attending Yale University and Emory Medical School, she completed her residency and a child maltreatment fellowship at Cincinnati Children's Hospital Medical Center, an emergency pediatrics fellowship in Norfolk, Virginia, and a K30-NIH Clinical Research Certificate at UT Southwestern Medical Center. She is also CEO, Pain Care Labs, and can be reached on Twitter @AmyBaxterMD.
She discusses the KevinMD article, "Misunderstandings about opioid use disorder."


Careers by KevinMD is your gateway to health care success. We connect you with real-time, exclusive resources like job boards, news updates, and salary insights, all tailored for health care professionals. With expertise in uniting top talent and leading employers across the nation's largest health care hiring network, we're your partner in shaping health care's future. Fulfill your health care journey at KevinMD.com/careers.
VISIT SPONSOR → https://kevinmd.com/careers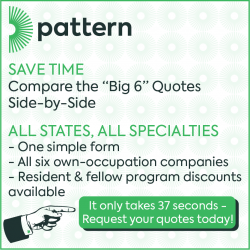 Discovering disability insurance? Pattern understands your concerns. Over 20,000 doctors trust us for straightforward, affordable coverage. We handle everything from quotes to paperwork. Say goodbye to insurance stress – visit Pattern today at KevinMD.com/pattern.
VISIT SPONSOR → https://kevinmd.com/pattern
SUBSCRIBE TO THE PODCAST → https://www.kevinmd.com/podcast
RECOMMENDED BY KEVINMD → https://www.kevinmd.com/recommended
GET CME FOR THIS EPISODE → https://earnc.me/hq3ELr
Powered by CMEfy.