Subscribe to The Podcast by KevinMD. Catch up on old episodes!
Join L. Joseph Parker, a research physician, as we delve into the evolving definitions of addiction, particularly in the context of chronic pain management. Explore the historical shifts in diagnostic criteria, the challenges faced by chronic pain patients, and the potential impact on their treatment. Discover how Joseph envisions a more patient-centered approach in future diagnostic frameworks.
L. Joseph Parker is a distinguished professional with a diverse and accomplished career spanning the fields of science, military service, and medical practice. He currently serves as the chief science officer and operations officer, Advanced Research Concepts LLC, a pioneering company dedicated to propelling humanity into the realms of space exploration. At Advanced Research Concepts LLC, Dr. Parker leads a team of experts committed to developing innovative solutions for the complex challenges of space travel, including space transportation, energy storage, radiation shielding, artificial gravity, and space-related medical issues.
He can be reached on LinkedIn and YouTube.
He discusses his KevinMD article, "Vague criteria can lead to misdiagnosis and prison."


Careers by KevinMD is your gateway to health care success. We connect you with real-time, exclusive resources like job boards, news updates, and salary insights, all tailored for health care professionals. With expertise in uniting top talent and leading employers across the nation's largest health care hiring network, we're your partner in shaping health care's future. Fulfill your health care journey at KevinMD.com/careers.
VISIT SPONSOR → https://kevinmd.com/careers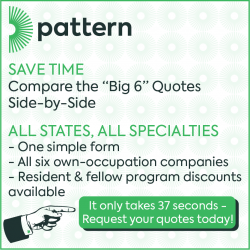 Discovering disability insurance? Pattern understands your concerns. Over 20,000 doctors trust us for straightforward, affordable coverage. We handle everything from quotes to paperwork. Say goodbye to insurance stress – visit Pattern today at KevinMD.com/pattern.
VISIT SPONSOR → https://kevinmd.com/pattern
SUBSCRIBE TO THE PODCAST → https://www.kevinmd.com/podcast
RECOMMENDED BY KEVINMD → https://www.kevinmd.com/recommended
GET CME FOR THIS EPISODE → https://earnc.me/IcUuMa
Powered by CMEfy.