Rural health for children is in trouble. Don't take my word for it, just ask the CDC.
"The Centers for Disease Control and Prevention (CDC) has just offered further evidence that American children — and rural children in particular — are in trouble. Previously, the CDC had noted that poor U.S. children 2 to 8 years of age have higher rates of parent-reported mental, behavioral, and developmental disorders (MBDDs) than their wealthier counterparts. Now, in the latest of a series of reports, the agency documents the finding that rural children from small communities are more likely to have MBDDs than those living in cities and suburbs."
And just take a look at these maps highlighting the vast deserts for children in rural America.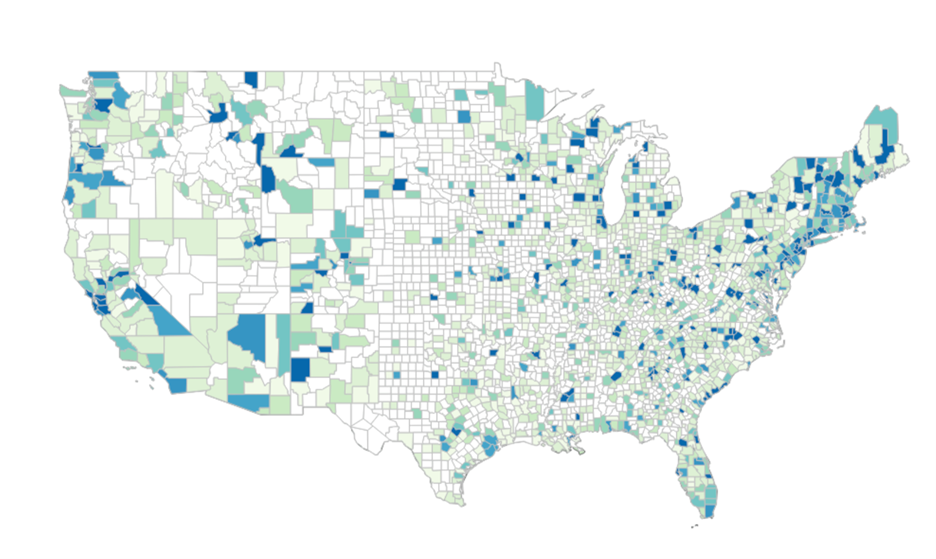 Pediatricians per 100,000. American Board of Pediatrics map link.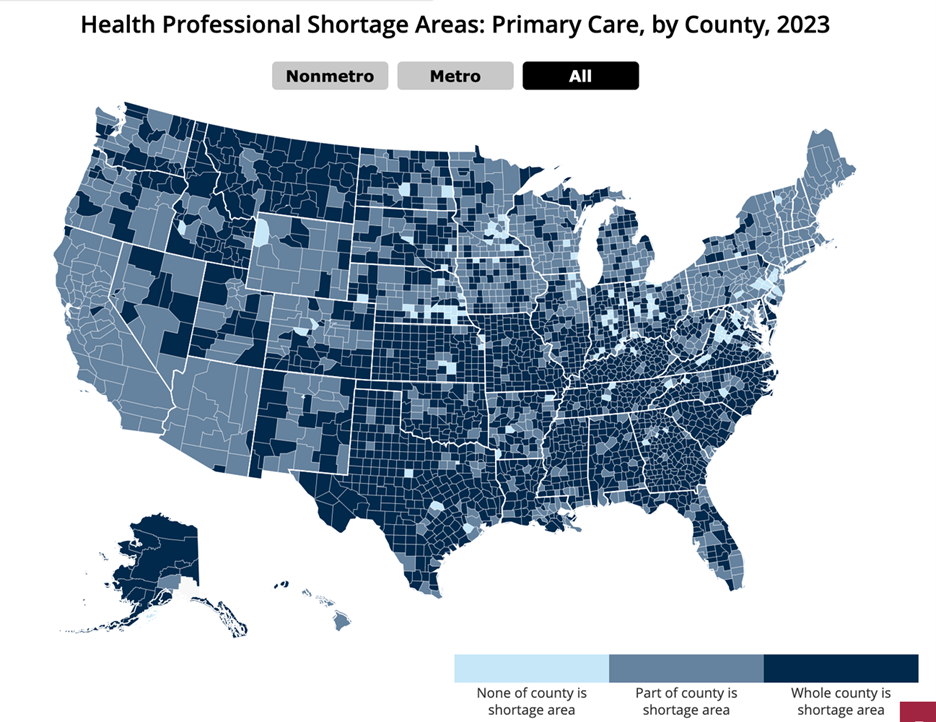 Health care shortage areas by county. Shortage area map link.
Over the past half-year, I've been engrossed in understanding the challenges faced by children relying on Medicaid and the persisting disparities in their health care. As a pediatric emergency physician, it's a constant reminder of the difficulties these children encounter in accessing both standard pediatric care and, even more critically, specialized care. The unfortunate reality is that sick visits for Medicaid patients often find their way to the emergency department. When it comes to mental health, the situation is even more dire, with visits typically happening only in the aftermath of a significant crisis. There's well-documented evidence of the disparity in early screening and the detection of developmental disorders within this population as well.
Here are five compelling reasons why pediatricians should be actively engaging with this critical problem:
1. The scale of the issue. This is an immense problem that demands attention. As advocates for equity in pediatric care, we must question why the most vulnerable children are left without access to a pediatrician. The stark reality of health care deserts is laid bare by the above maps, underscoring the urgent need for intervention.
2. Beyond urban centers. Why do our trainees shy away from or feel unequipped to serve beyond urban strongholds? Creating an environment where pediatricians feel supported and at ease in rural areas is vital for effectively addressing this issue.
3. Comfort and connection. How can we enhance the comfort, connection, and support for pediatricians working in rural regions? Building an environment where they feel empowered and well-supported could significantly improve access to care.
4. Collaboration with family practitioners. Collaboration between rural pediatricians and their counterparts in family practice is crucial. Recognizing that the challenge cannot be solved by any single entity, mutual support becomes an imperative.
5. Harnessing nurse practitioners. Exploring the expanded role of nurse practitioners could dramatically extend the reach of pediatric care into underserved areas. Their involvement can be a transformative step toward addressing this issue.
These are fundamental questions that demand thorough discussion. It's disheartening that these topics often don't receive the attention they deserve. Addressing these challenges requires a unified effort from the entire medical community.
Now, speaking of rural areas, let's delve into a lesser-known fact: the rural health clinic model. Though specifics vary from state to state, it's designed to ensure robust payment for services rendered. Pediatricians can anticipate an "all-inclusive rate" that bolsters the state Medicaid rate with federal funds and often aligns payment with that of our adult counterparts. It's a rare scenario where a $150 payment from Medicaid for a well visit isn't out of the question – a reality in rural health for pediatrics.
But wait, there's more! In many states, mental health visits are often covered at the same rate. Imagine seamlessly integrating mental health services into your practice and receiving compensation for this critical service. No need to divide the visit fee with the LCSW – you can actually bill for both their visit and the medical consultation, even on the same day and within the same encounter. The prospect of delivering holistic care to those who need it most is truly remarkable.
Moreover, rural health clinics are mandated to include nurse practitioners in their care teams. This presents an incredible opportunity for pediatricians to extend their reach by providing oversight and building teams necessary for incorporating nurse practitioners into primary care. Embracing a team-based mindset is essential to meet the demands, and rural health can pioneer this innovative approach.
And don't overlook telehealth – it's often part of the rural health clinic package, paid at parity. Imagine utilizing and being compensated for telehealth visits, ensuring your patients access your care without the need to rush to an emergency department. You can offer follow-up visits for behavioral health concerns and acute appointments for illnesses, all at parity. Consider expanding your presence in these health care deserts to local school districts and daycares to better serve your patients' needs.
The path forward is ripe with potential, and these transformative opportunities are ready to be seized. I would strongly suggest you explore experts from The National Rural Health Association, The Compliance Team, and folks with decades of experience like Kate Hill RN and Mark Lynn, who can guide you to resources within your state.
Mick Connors is a pediatric emergency physician.