Subscribe to The Podcast by KevinMD. Catch up on old episodes!
Join Richard A. Lawhern, a patient advocate. We delve into the critical issues surrounding U.S. policy for the regulation of prescription opioid pain relievers and the challenges faced by clinicians managing chronic pain patients. Explore the controversial CDC guidelines, the impact on both patients and medical professionals, and the need for evidence-based policymaking in this contentious field.
Richard A. Lawhern is a patient advocate.
He discusses the KevinMD article, "Rethinking U.S. opioid policy."


Careers by KevinMD is your gateway to health care success. We connect you with real-time, exclusive resources like job boards, news updates, and salary insights, all tailored for health care professionals. With expertise in uniting top talent and leading employers across the nation's largest health care hiring network, we're your partner in shaping health care's future. Fulfill your health care journey at KevinMD.com/careers.
VISIT SPONSOR → https://kevinmd.com/careers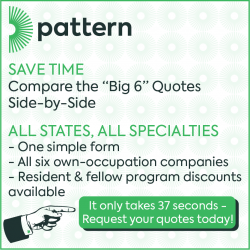 Discovering disability insurance? Pattern understands your concerns. Over 20,000 doctors trust us for straightforward, affordable coverage. We handle everything from quotes to paperwork. Say goodbye to insurance stress – visit Pattern today at KevinMD.com/pattern.
VISIT SPONSOR → https://kevinmd.com/pattern
SUBSCRIBE TO THE PODCAST → https://www.kevinmd.com/podcast
RECOMMENDED BY KEVINMD → https://www.kevinmd.com/recommended
GET CME FOR THIS EPISODE → https://earnc.me/qngT2o
Powered by CMEfy.