Subscribe to The Podcast by KevinMD. Catch up on old episodes!
Join Ken Blaker, a health care and technology consultant, and Cuong Do, a health care executive, as they shed light on the latest developments in combating these challenging conditions. From the recent FDA approval of Leqembi to promising anti-neuroinflammation drugs and genetic approaches, we uncover the cutting-edge strategies that could change the future of Alzheimer's care.
Ken Blaker is a Los Angeles-based health care and technology consultant focused on medical devices and FDA compliance. As an author, Ken has written on a variety of topics, including treatments for neurodegenerative diseases, cancer research, and the opioid epidemic.
Cuong Do is a health care executive.
They discuss the KevinMD article, "Rising longevity and cognitive health: Navigating dementia and treatment."


Careers by KevinMD is your gateway to health care success. We connect you with real-time, exclusive resources like job boards, news updates, and salary insights, all tailored for health care professionals. With expertise in uniting top talent and leading employers across the nation's largest health care hiring network, we're your partner in shaping health care's future. Fulfill your health care journey at KevinMD.com/careers.
VISIT SPONSOR → https://kevinmd.com/careers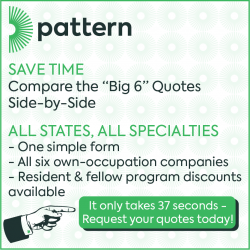 Discovering disability insurance? Pattern understands your concerns. Over 20,000 doctors trust us for straightforward, affordable coverage. We handle everything from quotes to paperwork. Say goodbye to insurance stress – visit Pattern today at KevinMD.com/pattern.
VISIT SPONSOR → https://kevinmd.com/pattern
SUBSCRIBE TO THE PODCAST → https://www.kevinmd.com/podcast
RECOMMENDED BY KEVINMD → https://www.kevinmd.com/recommended
GET CME FOR THIS EPISODE → https://earnc.me/aWcRJM
Powered by CMEfy.