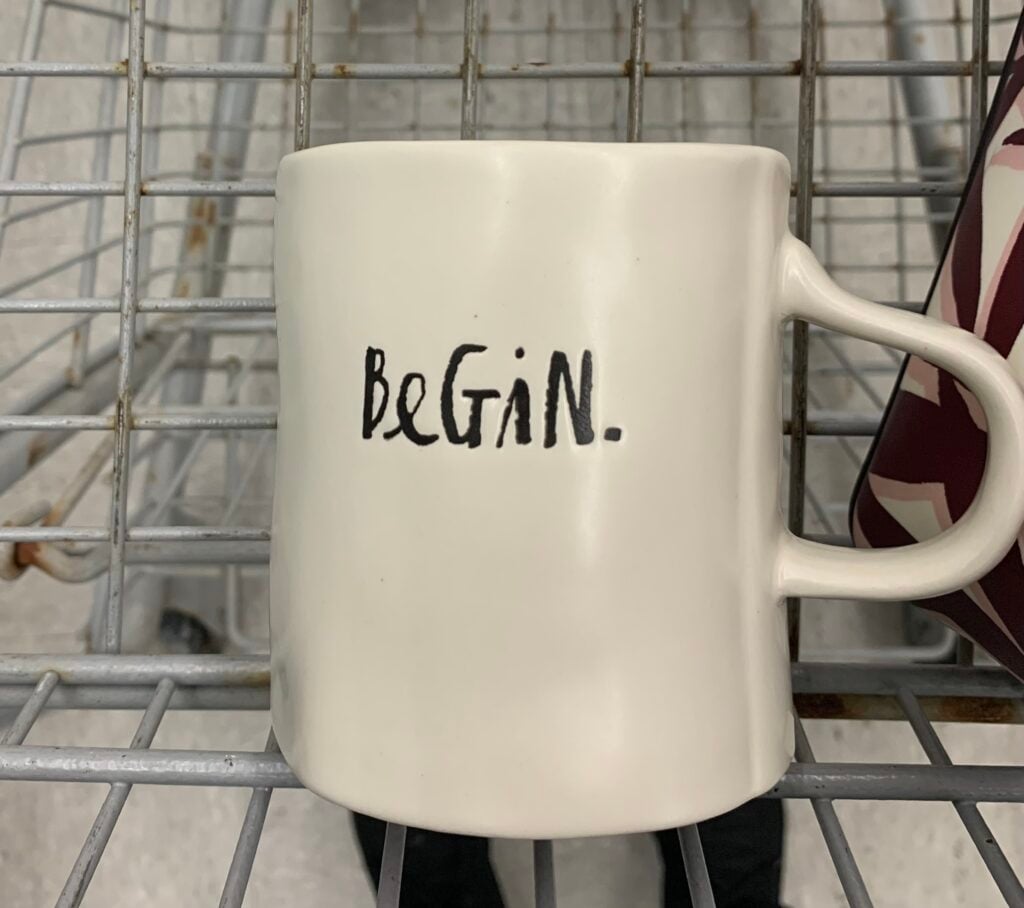 I like to thrift shop. Aisle after aisle weaves a story of people and their lives. Pieces of trinkets I'll never need. But I can feel the hidden simple beauty, and then I have to have it. My children can line my gravesite with the thousands of collectible pottery… those awkward, strange gems I know I can't take with me.
And then there it was. A simple coffee mug with a simple message: Begin. Of course, right then and there, I had to reflect and contemplate.
I'm in the fall season of my life. After 46 years of being a nurse, I finally called it a day. ICU nursing was my favorite. Intense. Daring. Strategic. Saving lives. And letting go. Forty-six years of clocking in and out. Many years of overtime to provide for my children. To provide happiness and a lifestyle that wouldn't leave them embarrassed or shy because of what they wore. Like me. To give them a healthy environment where we had fun and learned about life and people and respect for each other … for the love of books and traveling. Sadly, they had to learn of the darker side though. The tears, the fighting of me and their father. Begging for him to be faithful. Begging for him to find a different job that may pay more so I didn't have to work 60 hours a week. Another infidelity. Another discovery. Another forgiveness. And never a change.
Reflection.
I loved my life as a mother. I loved my life as an ICU nurse. I had good managers and bad managers. Good nurses, technicians, and respiratory therapists. A tight working machine. And then we had the bullies we had to muddle through.
We traveled and had nice vacations, always after I worked my overtime hours. Beach trips, different cities and states, countries, and cruises, many times bringing one of the children's best friends along. Our home was their home. Our door was open.
Reflection.
Soccer games and track and football and tennis tournaments and chorus and plays and proms and colleges and marriages and babies.
Reflection.
I hold the newest grandbaby boy in my hands. His perfect, beautiful self.
Though I made some bad decisions, I can't help but think God was always there to guide me and somehow protect me.
A sad childhood filled with neglect and verbal abuse. A sad marriage, fooled by breadcrumbs of love and charm.
But the aftermath. Our children. Happy and thriving, and keeping that eternal flame alive. Happiness for them. It's all I ever wanted.
So, this coffee cup that simply states: Begin. Well, I have begun. Every day I wake up. Every day that I realize I have a second chance to be nice to someone. To greet them with a smile, hold the door for them, and respect them no matter their race, creed, or culture.
There had to be a reason I was put here on Earth. I am not afraid of death. I made my mark, and I continue to do so. Every day is a new day. A new day to make good decisions. A new day to reinvent yourself.
Debbie Moore-Black is a nurse who blogs at Do Not Resuscitate.