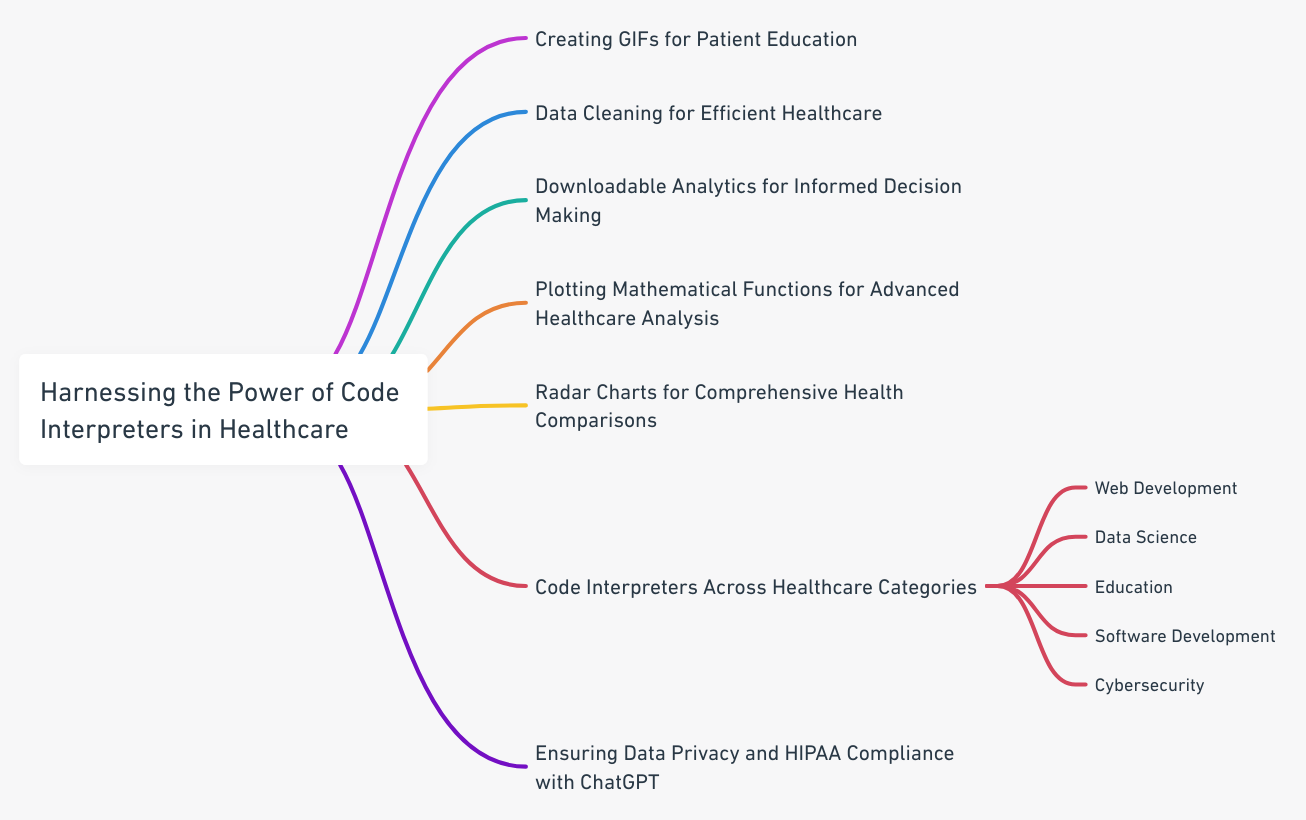 In the rapidly evolving health care landscape, artificial intelligence (AI) is making significant strides, transforming how we approach patient care, medical research, and health care operations. One such advancement is the introduction of code interpreters in AI systems, such as the one recently introduced in ChatGPT. This powerful feature opens up many possibilities, enabling health care professionals to leverage AI innovatively.
Creating GIFs for patient education
Medical professionals often use visual aids to explain complex health conditions to patients. With a code interpreter, health care professionals can create custom GIFs from static medical images, such as MRI scans or X-ray images. These GIFs can illustrate a patient's condition or demonstrate the effects of treatment over time, enhancing patient understanding and engagement.
Data cleaning for efficient health care
Health care data, often unstructured and sourced from various platforms like electronic health records, wearable devices, and lab results, can be messy. A code interpreter can clean and standardize this data, making it easier to analyze and derive insights. This streamlined process can improve patient care and more efficient health care operations.
Downloadable analytics for informed decision making
Analytics plays a crucial role in health care, tracking disease trends, evaluating treatment effectiveness, and predicting patient outcomes. A code interpreter can generate visual analytics, such as bar graphs or line graphs, from health care data. These downloadable analytics can be shared with other health care professionals, aiding in informed decision-making and collaborative care.
Plotting mathematical functions for advanced health care analysis
Mathematical models are integral to understanding disease spread, predicting patient outcomes, and evaluating treatment effectiveness. A code interpreter can plot these mathematical functions, providing a visual representation that can be easier to understand and communicate. This feature is handy for epidemiologists, health care data analysts, and medical researchers.
Radar charts for comprehensive health comparisons
Radar charts provide an overhead view of a product or service, highlighting differences or outliers. In health care, these charts can be used to compare the health outcomes of different patient groups or to track a patient's health metrics over time. For instance, a radar chart could compare the effectiveness of other treatment plans based on factors like symptom improvement, side effects, and patient satisfaction.
Code interpreters across health care categories
Code interpreters are not limited to these applications; they span across various categories within the health care sector:
Web development: Enhancing patient portals and health information websites with dynamic web content.
Data science: Executing scripts for tasks like analyzing patient data and training machine learning models.
Education: Assisting in online platforms to help medical students learn and practice coding in the context of health care.
Software development: Automating tasks such as sorting patient records and sending appointment reminders.
Cybersecurity: Executing scripts for tasks like penetration testing of health care systems and vulnerability scanning of medical devices.
Ensuring data privacy and HIPAA compliance with ChatGPT
As we explore the potential of AI and code interpreters in health care, we must remember the importance of data privacy and compliance with regulations such as the Health Insurance Portability and Accountability Act (HIPAA). HIPAA sets the standard for protecting sensitive patient data, and any entity dealing with protected health information (PHI) must ensure that all the required physical, network, and process security measures are in place and followed.
When using AI tools like ChatGPT in health care, it's crucial not to enter any data that could violate HIPAA regulations. HIPAA identifies 18 specific identifiers that must be treated with utmost care. If you're planning to use patient data with ChatGPT, it's essential to take measures to de-identify this data before input. One standard method is data scrubbing, also known as data cleansing. This process involves removing, modifying, or anonymizing personal identifiers to prevent the data from being traced back to an individual.
In conclusion, code interpreters are revolutionizing the way we approach health care. The new code interpreter feature in ChatGPT is a significant advancement, opening up many possibilities for health care professionals. As we continue to embrace AI in health care, every line of code brings us a step closer to a healthier future. Let's continue to push the boundaries and revolutionize health care together while ensuring we uphold the highest standards of data privacy and security.
Harvey Castro is a physician, health care consultant, and serial entrepreneur with extensive experience in the health care industry. He can be reached on his website, harveycastromd.info, Twitter @HarveycastroMD, Facebook, Instagram, and YouTube. He is the author of Bing Copilot and Other LLM: Revolutionizing Healthcare With AI, Solving Infamous Cases with Artificial Intelligence, The AI-Driven Entrepreneur: Unlocking Entrepreneurial Success with Artificial Intelligence Strategies and Insights, ChatGPT and Healthcare: The Key To The New Future of Medicine, ChatGPT and Healthcare: Unlocking The Potential Of Patient Empowerment, Revolutionize Your Health and Fitness with ChatGPT's Modern Weight Loss Hacks, and Success Reinvention.