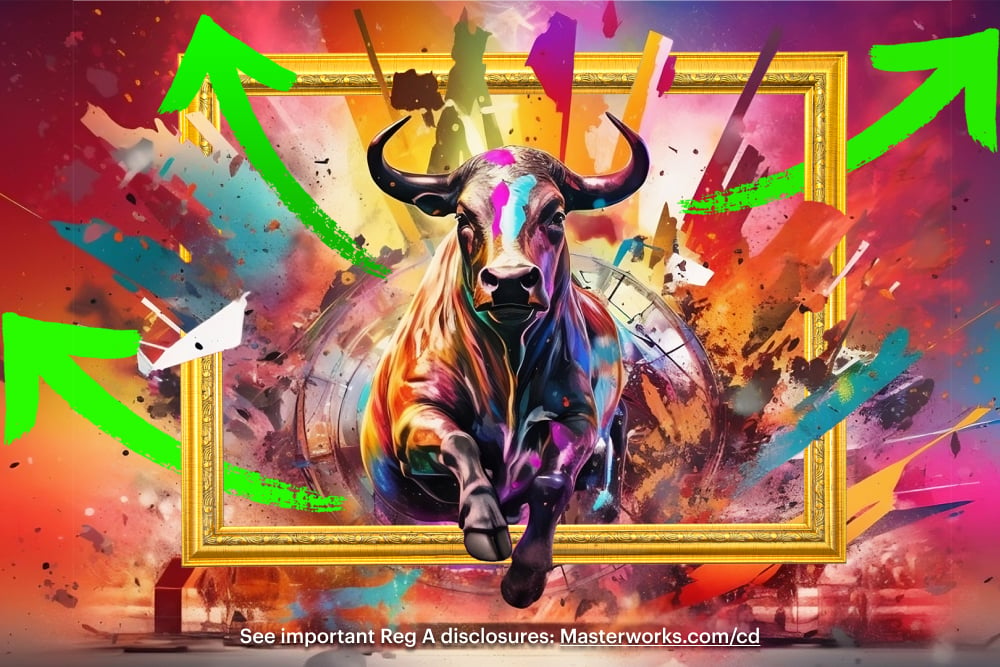 This article is sponsored by Masterworks, the art investment platform.
Right now, there are millions of physicians standing at a crossroads.
More than 40% of active physicians are expected to reach retirement age over the next ten years, and according to Fidelity, the average physician needs about $2.4 million to retire comfortably.
While you're most likely maxing out your IRA and investing in traditional assets like stocks and bonds, a recent study out of Goldman Sachs shows there could be a better way.
In short, they discovered that putting up to one-third of your portfolio into alternative assets can provide higher returns with less volatility than a traditional stock and bond portfolio.
And they're not the only major investment firm recommending higher allocations in alternatives.
BlackRock, the world's largest asset manager with $10 trillion in assets, advises their clients to put up to 20% into alternatives. CalPERS, the California Public Employees' Retirement System, one of the country's largest pension systems, allocates 30% to alternatives. With $41 billion in assets, Yale University's endowment fund invests 60% in alternatives.
The one alternative asset to watch in 2023 and beyond
A recent study by the IMF showed the ultra-rich have been able to grow their wealth three times faster than the average investor because they allocate a greater percentage of their wealth to alternatives.
And while many physicians have probably looked into investing in alternatives like gold or real estate, one alternative asset has outpaced both of these assets by more than three to one over the past 26 years.
In fact, this asset even outpaced the S&P 500 by 131% over the same time period.
I'm talking about blue-chip art.
And while most people probably think investing in art is only for the ultra-rich, recent regulatory changes have made investing in this exclusive asset class easier than ever.
Art can help you "create a lasting legacy."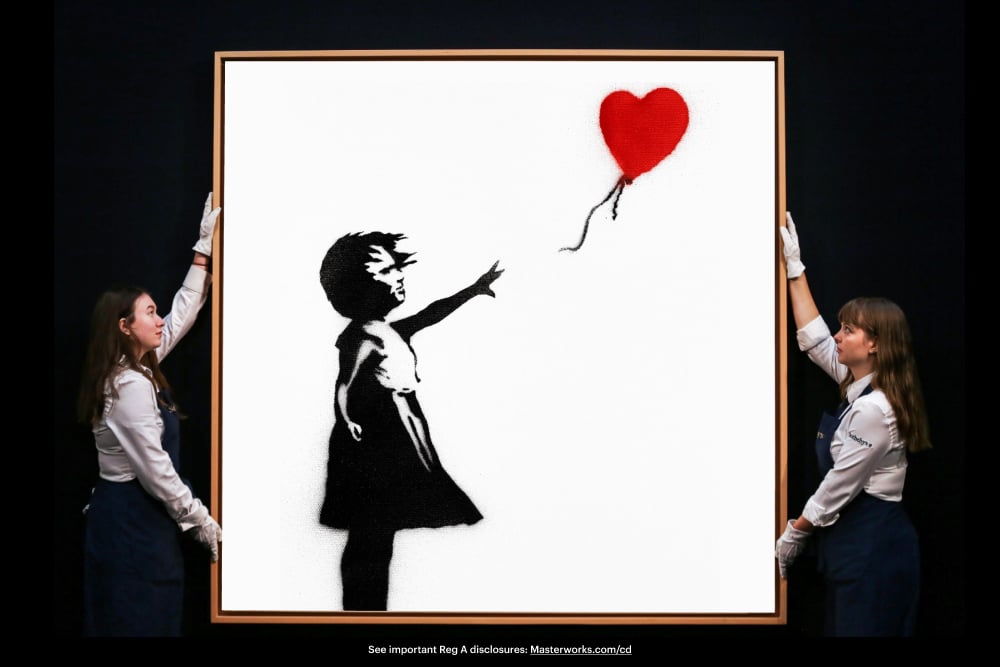 JP Morgan says art is a "powerful financial asset" that can help you "create a lasting legacy."
Which can be true, especially when it comes to artwork from iconic artists like Banksy and Picasso.
For example, take Banksy's Girl with a Balloon painting, which originally sold for $1.4 million in 2018.  Three years later, the same painting sold for $25.4 million, a 1,800% increase in just a few short years.
You don't have to be an art expert to understand that these are impressive returns. And while this particular painting is an outlier, the long-term trend is clear.
From 2003 to 2022, Banksy's record price at auction* for his works saw an average growth of 67.1% a year, an impressive return for any asset class.
Unfortunately, most investors don't have a million or more to purchase a single iconic piece.
But thanks to one NY fintech called Masterworks, you no longer need to have millions to own a piece of history.
Diversifying your portfolio with art
Masterworks has made it their mission to make art more investible.
Masterworks offers fractional investing in multi-million dollar paintings from famous artists like Picasso, Banksy, and Basquiat at a fraction of the cost of buying the entire painting.
With over $600 million under management and over 200 paintings already offered, Masterworks is revolutionizing the art investing world.
By opening up this one private, secretive "billionaire's market" to investors all around the globe.
All you have to do is set up a FREE account, and in just 15 minutes, you could be on your way to investing in this blue-chip art alongside the world's most elite hedge fund managers, entrepreneurs, and celebrities.
They've already built an impressive track record.
Masterworks has a world-class research team, led by a Harvard data scientist, that's built a proprietary database that helps them find "excess alpha" in the art markets. This tool gives them a quantitative edge in this very exclusive market.
So far, the results have been impressive.
Since 2019, Masterworks has exited 13 artworks, all of them profitable, with 8 of the 13 artworks delivering 20%+ in net annualized returns.
That includes nine successful exits in 2022, with the last three delivering +10.4%, +13.9%, and +35% in net annualized gains, when nearly every other asset class was crashing.
To date, Masterworks has sold over $45 million in artwork and returned the proceeds to investors.
Masterworks makes art investing easy.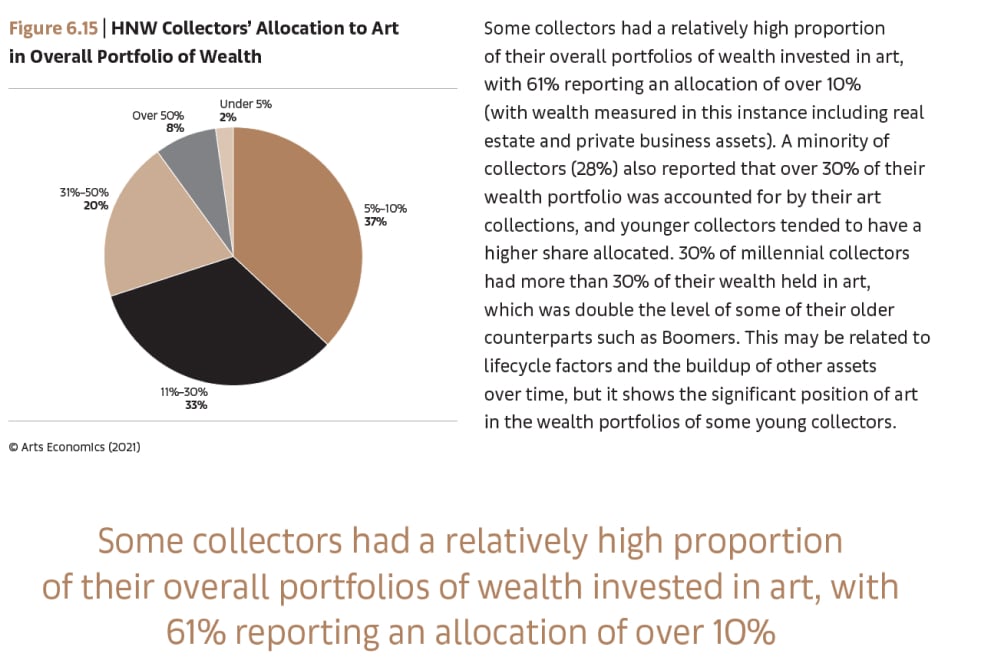 According to UBS, 77% of ultra-rich collectors are bullish on art in 2023, and 61% already allocate at least 10% of their portfolios to art.
Jeff Bezos, Bill Gates, and Oprah Winfrey all have collections valued in the hundreds of millions. And the "hedge fund king," Steve Cohen has amassed a collection worth over $1 billion.
Don't you think it's time to consider investing at least 5% of your portfolio into art?
Getting started with Masterworks is simple. Click this link, and it will take you to a short application page that should take you less than two minutes to complete.
Once you're finished, a qualified financial advisor will reach out to help you finish setting up your investor profile.
As soon as you're approved, you'll get access to all their latest offerings, which can include paintings from iconic artists like Banksy and Picasso.
What are you waiting for?
Masterworks is unlocking an asset class that was once only available to the ultra-rich, and they're inviting readers to open a free, no-obligation account today.
It only takes seconds to apply, and new offerings are added every week. But with over 700,000 members and counting, these offerings can sell out quickly.
But KevinMD readers can click here to skip the waitlist and invest in multi-million dollar paintings.
P.S. Masterworks has launched a new fund-like product called the "diversified art portfolio," or the "DAP" for short. The DAP lets you invest in a pool of 60 to 80 paintings that their team handpicks for you. But you have to be an accredited investor to access this feature.
* A "record price" reflects the highest hammer price (excluding auction house buyer's premium) achieved at a public auction for any artwork by a particular artist. The art market considers the progression of record hammer prices to be an indication of an artist's market momentum and growth rate.
This article is provided for informational and educational purposes only. It is not intended to be investment advice and should not form the basis of an investment decision.
Masterworks is the first platform for buying and selling shares representing an investment in iconic artworks. Build a diversified portfolio of expertly-vetted works curated by our industry-leading research team. Please review Masterworks' disclosures and see important Regulation A disclosures at masterworks.io/cd.