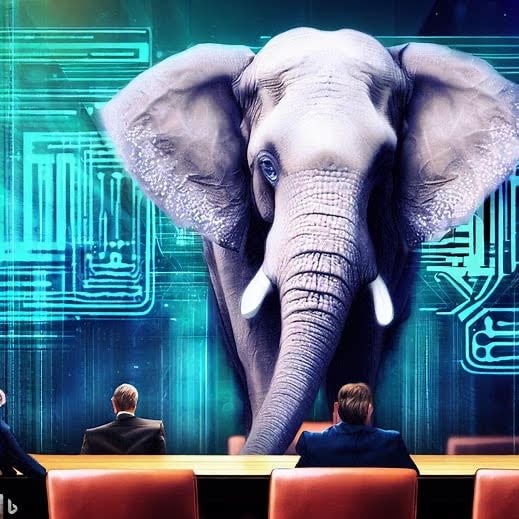 In recent years, the health care industry has undergone a significant transformation, and one of the main drivers behind this change is artificial intelligence (AI). As the adoption of AI continues to accelerate, it is becoming a topic that cannot be ignored. However, despite its potential to revolutionize health care, it remains the elephant in the board room – a topic often discussed but not yet fully embraced by decision-makers. In this article, we will explore the opportunities and challenges of AI in health care and discuss why it is essential for industry leaders to address the elephant in the room.
The promise of AI in health care
AI has the potential to revolutionize health care in various ways. Some of the most promising applications include:
1. Diagnosis and treatment: AI algorithms can analyze vast amounts of data to identify patterns and help clinicians diagnose and treat diseases more effectively. For example, AI-powered tools can analyze medical imaging to detect early signs of cancer or recognize subtle changes in a patient's condition.
2. Personalized medicine: AI can help tailor treatments to individual patients based on their genetic makeup, lifestyle, and medical history. This approach can significantly improve patient outcomes and reduce the trial-and-error nature of traditional medicine.
3. Drug discovery: AI-driven drug discovery has the potential to accelerate the development of new treatments by identifying promising drug candidates, optimizing drug design, and predicting drug efficacy and safety.
4. Virtual health assistants: AI can power virtual health assistants that help patients manage their health, provide personalized health information, and offer remote monitoring and support.
Challenges in implementing AI in health care
Despite these promising applications, several challenges hinder the widespread adoption of AI in health care:
1. Data privacy and security: AI requires access to massive amounts of patient data, raising concerns about privacy and security. Health care organizations must navigate complex legal and ethical frameworks to protect patient data.
2. Bias and fairness: AI models are only as good as the data used to train them. Inadequate, biased, or unrepresentative data can lead to biased algorithms, resulting in unfair or inaccurate patient outcomes.
3. Integration and interoperability: Integrating AI tools into existing health care systems can be challenging due to a lack of standardization and interoperability among data sources, electronic health records, and software systems.
4. Regulatory and legal issues: Regulatory frameworks for AI in health care are still evolving, and navigating these uncertainties can challenge health care organizations.
Addressing the elephant in the boardroom
To fully embrace and benefit from AI in health care, industry leaders must address these challenges and invest in building a robust AI infrastructure. Some key steps include:
1. Establishing data governance: Health care organizations must develop strong data governance policies to address privacy, security, and ethical concerns. This includes implementing robust encryption and anonymization techniques and ensuring data quality and representativeness.
2. Investing in education and training: Clinicians, administrators, and decision-makers need to be educated about AI and its potential applications in health care. This will help them make informed decisions about adopting AI-based solutions and mitigating potential risks.
3. Collaborating with stakeholders: Health care organizations should work closely with technology providers, regulators, and patients to develop AI solutions that are safe, effective, and transparent.
4. Developing standards and best practices: Industry-wide standards and best practices for AI implementation in health care can help address integration, interoperability, and regulation challenges.
Conclusion
AI in health care is no longer a futuristic concept; it is a reality already reshaping the industry. The opportunities for improved patient care, cost savings, and increased efficiency are immense. However, to fully embrace AI and maximize its benefits, health care leaders must address the challenges and invest in the necessary infrastructure.
Harvey Castro is a physician, health care consultant, and serial entrepreneur with extensive experience in the health care industry. He can be reached on his website, harveycastromd.info, Twitter @HarveycastroMD, Facebook, Instagram, and YouTube. He is the author of The AI-Driven Entrepreneur: Unlocking Entrepreneurial Success with Artificial Intelligence Strategies and Insights, ChatGPT and Healthcare: The Key To The New Future of Medicine, ChatGPT and Healthcare: Unlocking The Potential Of Patient Empowerment, Revolutionize Your Health and Fitness with ChatGPT's Modern Weight Loss Hacks, and Success Reinvention.