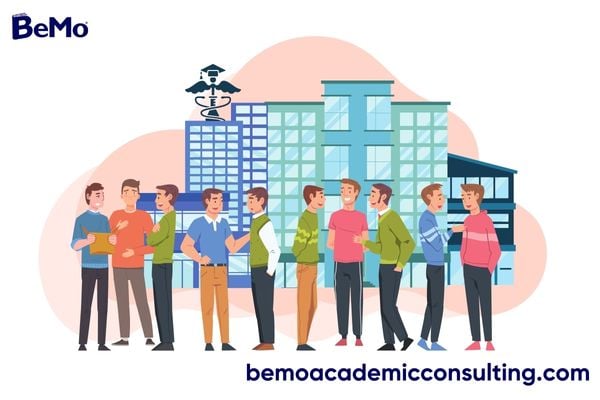 This article is sponsored by BeMo Academic Consulting, one of the most sought-after academic consulting firms for helping applicants with admissions to highly competitive programs and its staunch advocacy for fair admissions.
It is no secret that it is incredibly hard to get into medical school, even the easiest medical schools. It may seem like the low medical school acceptance rates and this extremely selective admissions process indicate the schools' wish to uphold high standards. Still, the admissions process is constantly under attack for promoting bias and the status quo associated with a lack of diversity in the medical profession. Some physicians and educators are calling to change the criteria used, and we couldn't agree more.
Many of the current medical school application components seem odd and unfitting for the profession these candidates are pursuing. Ok – we can maybe see why the GPA would be reviewed or why some extracurriculars would be valued, but why would applicants need to submit an overwhelming number of long-form and short-form essays, such as the medical school personal statements for AMCAS, AACOMAS, TMDSAS, and even OMSAS? As well as medical school secondary essays for different prompts and questions, or school-specific essays such as the University of Toronto medical school brief personal essay, and so on? Is all this writing really necessary to tell us about a student's aptitude for being a doctor?
Or why would candidates be subjected to multiple situational judgment tests (SJTs) like the MMI, AAMC PREview, and so on? Many medical schools in the U.S. and Canada require students to complete not just one SJT but multiple! After all, the value these tests claim to bring to admissions is that they evaluate skills and behaviors that are hard to acquire and detect via other admissions practices, such as diversity secondary essays or traditional medical school interview questions. This practice is questionable since it's been shown that the skills these tests assess are easily coachable with the right prep strategies. The creators of these tests claimed that their examinations could identify the right people for the medical profession. In other words, people who have these professional qualities almost inherently. An in-depth discussion of the bias of this position may be outside of the scope of this article, but a brief mention of it here provides a glimpse into the kind of tools currently used in the admissions process: you have to be born and raised "right" to be able to do well on these tests.
Using the GPA and MCAT score in tandem is another contentious topic in medical school admissions. Not only are they considered to be the top indicators of your academic readiness for medical school by the establishment, but they are often used to weed out the increasing number of applicants. This means that your application may be thrown out even before the admissions committee looks at other medical school requirements, such as your ACMAS Work and Activities section, your medical school recommendation letters, or all the essays you spent months writing. So, your suitability for the multidisciplinary career of a medical doctor is narrowed down to these two numbers whether you are applying to MD or DO schools.
There are many additional problems with using a student's GPA and MCAT score as the only measure of their academic abilities. Firstly, the MCAT format is truly a hurdle. The ability to do well on a test like the MCAT is not necessarily an indicator of your knowledge – it's an indicator of your ability to apply your knowledge to the difficult MCAT format. No doubt, that's a useful skill for an MCAT-taker, but it's not an indicator of one's academic readiness for medical school. You might have all the knowledge needed, but if you cannot apply it to the MCAT format, most allopathic and osteopathic medical schools in the U.S. and Canada will not consider you a competitive candidate.
Secondly, the strength of your GPA is relative. Your GPA may differ significantly based on which schools you are applying to. Some only consider science prerequisites, some use a cumulative GPA of 4 years of your undergrad, some use only a select number of your undergrad courses, and some may or may not include your master's or PhD GPA you worked on in your special master's program or post-bacc. Your GPA will be different depending on your school list – it's not an issue overall, but you can see how subjective the assessment of academic preparedness can be based on the schools' GPA requirements. For example, a student may be a wiz in biology, chemistry, and other science courses but have abysmal grades in English or social sciences. If this is so, they will most likely apply to medical schools that look at science GPA only. Does this mean that they are strong academically? In certain areas, surely, but it's all relative.
On the other hand, medical schools that look at overall 4-year GPAs continue to promote a faulty notion that students should know exactly what they want to do upon starting their higher education. But this is simply not so. Most students have no idea what kind of career they want to pursue when they enter college. Many do poorly in their courses in the first and even second year before they find their passion and take courses they excel in. Should these students be punished for not knowing what they wanted to do at 17, 18, and 19? Some medical schools may truly believe so. This helps them perpetuate the unrealistic standards we have set for pursuing medicine and applying to medical educational institutions, making them more prestigious, elite, and richer, of course.
Does that mean that we at BeMo advocate for no selection criteria? Does this mean we think that academic readiness is not important for medical school? Do we think that professional behavior is not of consequence regarding medical school applications? Certainly not. We are simply pointing out that the hurdles applicants are asked to overcome to attend medical school often misrepresent their abilities and suitability for becoming a doctor. It's in the interest of the medical school admissions process to make itself as unattainable as possible to as many people as possible. Diversity and inclusion seem to be the last thing on its mind. And while the latest AAMC data reports a slight increase in matriculants' diversity, inclusion and equity remain a constant uphill battle for the medical community.
BeMo Academic Consulting is one of the most sought-after academic consulting firms for helping applicants with admissions to highly competitive programs and its staunch advocacy for fair admissions.
Image credit: BeMo Academic Consulting