Damar Hamlin, Buffalo Bills safety, collapsed on the field during the Monday Night NFL game against the Cincinnati Bengals with nearly six minutes left in the first quarter. The incident rattled sports fans and left everyone emotionally distraught. The game was postponed and subsequently canceled. CPR (cardiopulmonary resuscitation) and AED (automated external defibrillator) were used as part of resuscitation efforts. It is gratifying to hear the good news that Hamlin made an extraordinary recovery within one week. In our opinion, this recovery is due to the excellent treatment by the first responders and the medical staff who initiated resuscitation.
Hamlin's sudden cardiac arrest (SCA) is far from an anomaly. In fact, according to the Sudden Cardiac Arrest Foundation, there are over 356,000 out-of-hospital SCA annually in the United States, making it the largest cause of natural death in the United States.
Unlike Hamlin's incident, which occurred in a stadium full of 65,000 fans and broadcast to millions of viewers, thousands of cases of SCA often go unnoticed. In addition, bystander CPR and utilization of an AED are often delayed or not initiated despite their ability to save lives. Surveys amongst adults conducted by the Cintas Corporation and Cleveland Clinic indicate that roughly 63% and 46% of respondents don't know how to perform CPR and use an AED, respectively. In comparison, less than 15% understand the proper technique. Moreover, information from the American Heart Association (AHA) reports that while 65% of adults received CPR training, fewer than 20% are up to date with it – a metric that depicts the gap in understanding the need for continued education in order to be prepared for SCA emergencies. Another study by Circulation Research highlights that only around 2.4% of the US population is trained in CPR annually.
More than 7,000 children of age less than 18 years suffer from SCA, and, per the National Center for Education Statistics, children spend around 180 days and undergo 1,000 hours of instruction time in schools. It is important to note that children are frequently around older adults (within and outside school) who may be at a higher risk for SCA. Despite the benefit that CPR and AEDs provide, there remain inadequacies in legislative policies that mandate CPR and AED training in schools. As of 2017, a study published in the Journal of American College of Cardiology showed that only 17 out of the 50 U.S. states require AEDs in schools. Furthermore, a survey by Cardio Partners reports that a mere 38 states mandate students to get CPR training.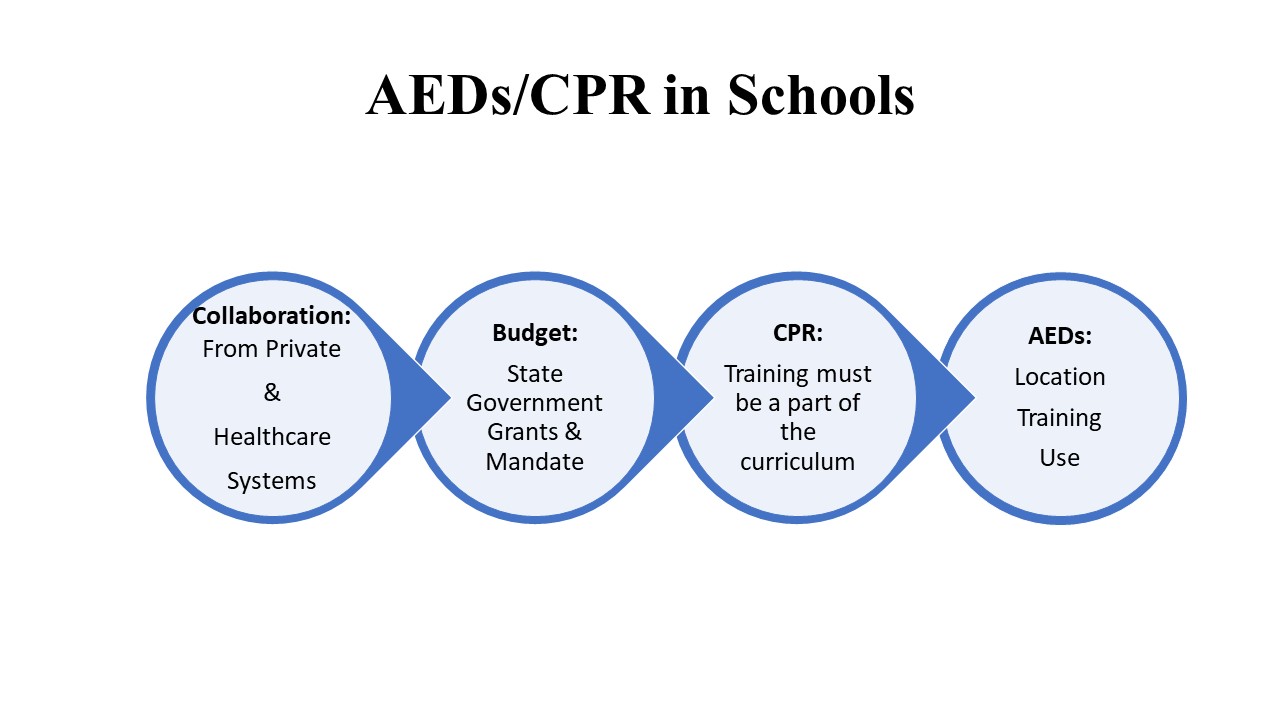 The facts about CPR and AED's effectiveness in improving survival are indisputable. The Cleveland Clinic report asserts that without CPR, SCA causes neurological damage within five minutes and could result in a fatality in around eight minutes. The chances of survival decrease by 10% for every minute CPR is not received, as shown by research from the Postgraduate Medical Journal, further bolstering the importance of CPR and AED in their ability to double or triple a person's chances of survival.
There are several online and in-person courses that offer training to become CPR and AED certified. For example, organizations such as the American Red Cross, the American Heart Association, and local hospitals and community centers offer these sessions. The cost is not prohibitively high – courses can be as low as $15 for CPR certification. AEDs are designed for easy use with voice instructions, and non-medical personnel and the youth can be trained to use them effectively.
Unfortunately, the affordability of AEDs remains a major barrier to utilization in schools. According to the study published in the Journal of American College of Cardiology, only five U.S. states offer full funding to public schools for buying AEDs. AEDs are expensive, with a purchase cost of over $1,000 each, excluding yearly maintenance costs. While the technology is expensive, the long-term returns are undeniable. Collaborating with private industry and health care systems to develop community initiatives focused on school districts might help solve the budgetary constraints.
The U.K. government declared that every school would have an AED by the year 2023. In the U.S., the time to act is now. Setting aside funds by state governments and advocating for regulation that all schools in the U.S. must have CPR training and AEDs is key. Encouraging teenagers, adults, and the community to take a more proactive stance in learning these life-saving skills is pivotal in averting tens of thousands of deaths.
Ketan Tamirisa and Jonathan Jose are students. Ronak Patel is a cardiologist.