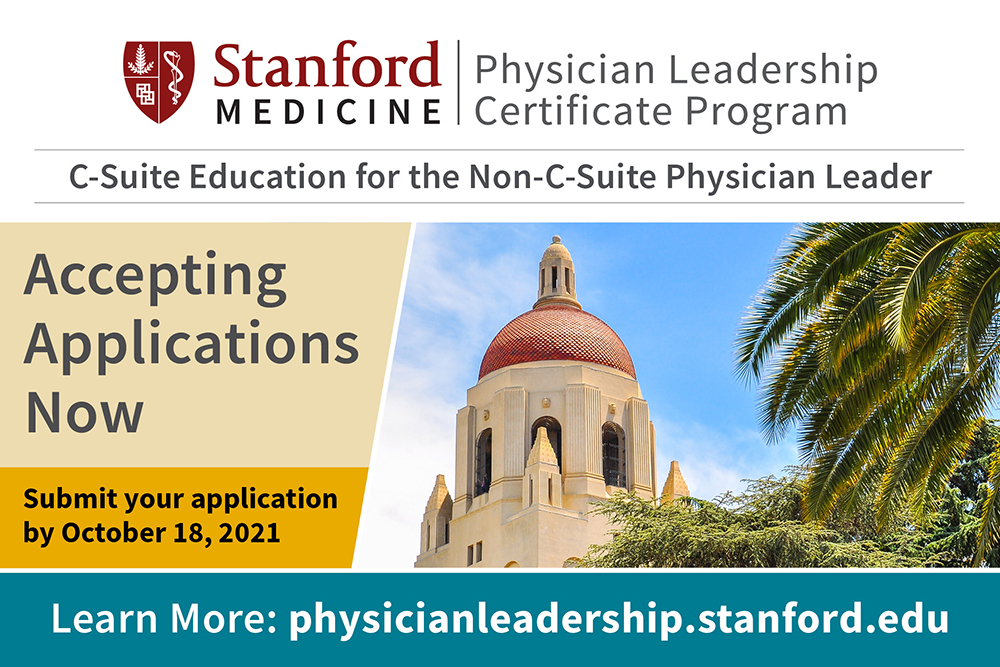 This article is sponsored by the Stanford Medicine Physician Leadership Certificate Program.
In William Shakespeare's often-quoted speech from As You Like It, we are advised:
All the world's a stage,
And all the men and women merely players;
They have their exits and their entrances;
And one man in his time plays many parts …
Indeed, the "one man in his time" and the "one woman in her time" practicing as a physician play many parts as a member of a community, a family, a practice, a hospital/health care system—AND particularly when taking on the exacting role of physician leader.
Daryl Oakes, MD, associate dean, post-graduate medical education/clinical professor, persuasively puts forth the argument, not unlike Shakespeare's, that:
As physicians, we are highly trained in the specifics of medical science, but most of us have had little or no training to navigate the complex professional organizations in which we work.  The challenges, and sometimes frustrations, physicians experience as they work to "get the right things done" for their patients and to advance in their professional environments is a significant contributor to burnout in our field.  The Stanford Physician Leadership Certificate is designed for early career and aspiring physicians and provides a C-suite level leadership training experience to enhance your effectiveness and satisfaction in your professional work.
Dr. Oakes announces the launch of Stanford's Physician Leadership Certificate Program (SPLC), a unique 6-month cohort-based foundational learning experience.  Through live and self-paced online experiences, the program will focus on enhancing competencies and behaviors needed to train and support leaders. The first class will be comprised of a cohort of not more than 40 participants.
Why pursue physician leadership studies in a certificate program?
Simply put, how will participating in the Physician Leadership Certificate Program impact my career as a physician?
Whether you are just entering the world of medicine as a first-time physician, or a physician a few years into an established practice with leadership aspirations, or are already on a physician leadership trajectory, your leadership skills and abilities play a pivotal role in your own success.
While you have become an expert in your area of medical practice and your specialty, the one area where you may struggle is your ability to practice and cultivate effective interpersonal, management, and leadership skills.
At Stanford Medicine, we recognize the need to foster physician leaders in health care. That is why we developed the Physician Leadership Certificate Program. Our 6-month cohort-based program includes live virtual sessions, self-paced learning modules, professional coaching, a capstone project, and much more. This certificate program offers C-suite education to the non-c-suite physician leader.
Leadership plays a critical role in the life and career of a successful physician.  But many physicians lack the fully developed leadership skills and strategies needed to maximize their level of success in the medical and health care fields.  We know from research that leadership is an acquired skill.
You will increase your competence, enhance your confidence, and acquire strategies in the Stanford Physician Leadership Certificate Program, as well as expand your network of fellow physicians actively striving to grow their physician leadership skills portfolio.   Program graduates will serve as a professional network that could far outlast the 6-month course over the physicians' lifetimes.
Why apply to join the first cohort of the Stanford Physician Leadership Certificate Program?
Stanford designed the SPLC program with busy physicians in mind. You are a busy physician!
This selective, 6-month cohort-based learning program respects your valuable time and pays you back with invaluable experience.
The SPLC provides evidence-based frameworks for:

Personal growth
Vital management
Leadership skills
Cultivating meaningful connections with your own teams
Deep connection with peers

All early career and aspiring physician leaders are encouraged to apply.
Faculty from the Stanford University School of Medicine, the Stanford Graduate School of Business, and notable industry experts from the leadership sector will teach courses on leadership fundamentals, team management, communication, conflict management, and other topics.  Participants will practice and cultivate effective interpersonal, management, and leadership skills.
Faculty preview

Yvonne (Bonnie) Maldonado, MD
Senior Associate Dean, Faculty Development and Diversity
Taube Professor of Global Health and Infectious Diseases
Professor of Pediatrics (Infectious Diseases) and Epidemiology and Population Health
Course: Diversity Equity and Inclusion

Matthew Abrahams
Lecturer
Graduate School of Business
Course: Communication

Karen Frush, MD
Adjunct Clinical Professor, Emergency Medicine
Course: Team Development and Dynamics
How will the course be delivered?
Our 6-month cohort-based program utilizes a robust variety of learning experiences, in the context of a holistic support for the participants to understand, practice, and cultivate effective interpersonal, management, and leadership skills.   These skills will be taught completely online utilizing learning formats that include, but are not limited to:
Live virtual sessions
Cases and simulations
Evidence-based readings
Small group/cohort virtual meetings
Self-paced learning modules
Peer and professional coaching
Planned capstone projects
What content will the curriculum cover over the six months?
(Click to enlarge)
In summary, this C-suite Physician Leadership Certificate Program includes:
8 LIVE Virtual Sessions
ten 60-to-90-minute self-paced learning modules
4 small group monthly meetings. These include interactive discussions to help with the facilitation and application of program materials and knowledge.
two 90-minute professional coaching sessions
Capstone projects that include: Personal Leadership Vision and Plan-to-Plan Leadership Journey (an organizational project for the sponsored track)
45 to 60 total hours in length
Participants will also complete several psychometric tools that shed light on personal competencies and facilitate each participant's leadership development plan.
Apply now at physicianleadership.stanford.edu
Application Deadline: October 18, 2021
What is the cost of the Stanford Physician Leadership Certificate?
The overall comprehensive program fee is $5,800.  This registration fee includes all course materials, certificate of participation, and access to recorded presentations.
The Stanford Physician Leadership Certificate Program will also offer CME credits – which means you can use your professional development funds to register.
Accreditation statement
In support of improving patient care, Stanford Medicine is jointly accredited by the Accreditation Council for Continuing Medical Education (ACCME), the Accreditation Council for Pharmacy Education (ACPE), and the American Nurses Credentialing Center (ANCC), to provide continuing education for the health care team.
Credit Designation
American Medical Association (AMA)
Stanford Medicine designates this other activity (synchronous and asynchronous sessions) for a maximum of 33.5 AMA PRA Category 1 Credits.  Physicians should claim only the credit commensurate with the extent of their participation in the activity.
Are you interested in more information about the Physician Leadership Certificate Program? Contact us at [email protected]
Learn more and apply: physicianleadership.stanford.edu
Application Deadline: October 18, 2021