No player received as much media-generated attention heading into Super Bowl LIV as Kansas City Chiefs quarterback Patrick Mahomes. All eyes were on him and, when it mattered most, the young signal-caller came through, bringing his team back from a 10-point deficit to win it all.
Mahomes, 24, could teach American health care a valuable lesson about living up to the hype against high-level competition. For decades, self-described "breakthrough" medications, "premier" hospitals and "game-changing" surgeries have flooded billboards and airwaves. These claims are often untested and unfounded because, in health care, performance and effectiveness are rarely subject to scrutiny.
Here are three recent examples of the health care system failing to match its own hype.
1. Self-funded health insurance is all sizzle, no steak 
In 1980, health care spending accounted for 9 percent of the gross domestic product (GDP). Today, that number has nearly doubled.
"This disturbing trend will not change regardless of who pays these costs – government or the private sector – unless we can find a way to improve the health of our citizens," wrote Steven A. Burd in a 2009 Wall Street Journal op-ed.
Then CEO of Safeway, Burd believed he had cracked the code on lowering health care costs. The national grocer became one of first big U.S. businesses to design and introduce a "self-funded" employee health-insurance program.
Self-insured companies contract directly with providers, customize their own employee-wellness programs, and assume more risk than with traditional insurance. The basic idea is that these companies can cut costs by eliminating the middleman (the insurance company). And, with direct access to proprietary medical data, they can implement "disease management programs" to meet the specific medical needs of employees and their families.
Self-funding has caught on in a big way. According to the Employee Benefit Research Institute (EBRI), nearly 40 percent of private-sector businesses offer at least one self-insured health plan, up from just 26.5 percent in 1999.
However, there's no evidence self-insured companies are actually saving money.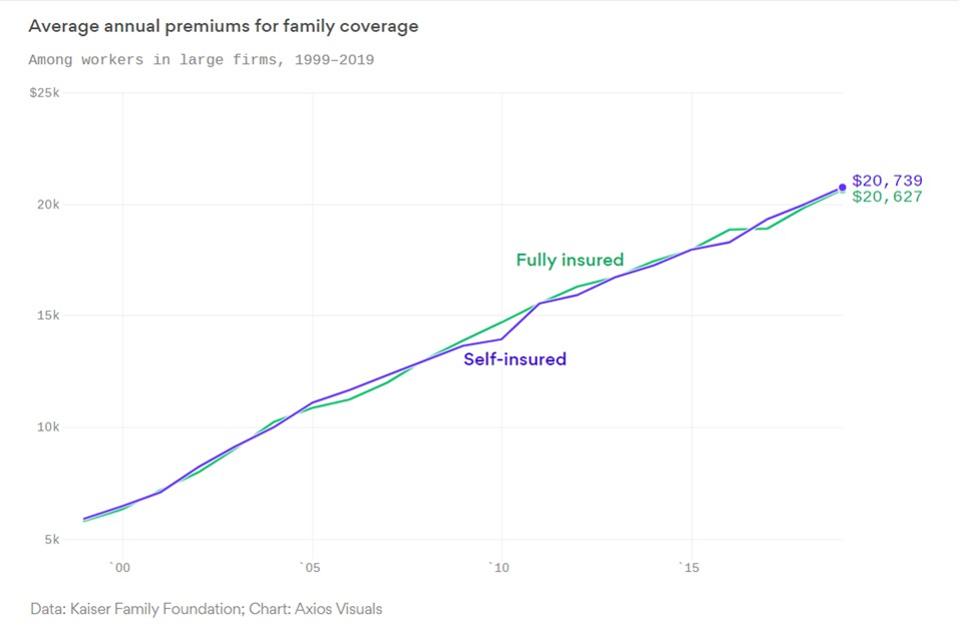 Self-funded businesses have fallen victim to a classic misconception that their employees are unique and have special health needs. Once you control for employee age, which tends to be industry-specific, and geographic differences, which vary in predictable ways, the distribution, and prevalence of diseases among people are roughly the same no matter their line of business. As a result, many of these companies are wasting time and money sifting through data, customizing wellness programs, and tinkering with their network of physicians and hospitals.
For all the hype and headlines over the past 15+ years, self-insured companies have been no more successful at lowering health care costs than companies using traditional insurance options.
2. Hospital hype falls short of hospital performance 
Last month, several high-profile hospitals were financially penalized by the government-run Medicare program for reporting high rates of infection and injury among patients. In fact, 21 of the hospitals in the bottom quartile of Medicare's patient-safety report were also featured in the U.S. News Best Hospitals Honor Roll.
"Best Hospital" rankings are flawed. Sometimes, the hospitals with the best clinical results get selected. More often, it's a popularity contest that comes down to hospital reputation. Hospital honors and awards typically reflect the skill of the hospital's PR and advertising department, rather than objective outcome data. Though many promote themselves as the best in the nation, they fail to demonstrate excellence when it comes to keeping patients safe.
Kaiser Health News reached out to several hospital leaders for comment on the new Medicare safety data. Interestingly, some teaching hospitals that were penalized claimed their patients were sicker than patients at other hospitals. One hospital blamed poor scores on its own "thoroughness in identifying infections." And yet, facilities like the Mayo Clinic in Rochester, Massachusetts General Hospital, and Penn Presbyterian Hospital haven't been penalized in any of the six years Medicare has published hospital-safety results.
Are we to believe these other academic institutions aren't treating some of the nation's sickest patients, also? Would any penalized hospital really suggest these facilities are hiding their complication rates? Of course not.
It is hard to think of an industry that has as much data as health care and as little transparency. Hospitals have long been reluctant to volunteer performance data. Most refuse to be subjected to the type of public scrutiny Mahomes and his Chiefs faced heading into Super Bowl Sunday.
Because health care lacks transparency, patients who are contemplating surgery can't find the answers to simple questions like, "How many operations did my surgeon do last year compared to others in my area?" or "What is my surgeon's average rate of complication per year?"
3. Many medications and procedures provide no added value for patients 
Here's an indisputable fact: American patients trust and treasure their physicians. In fact, when asked to name the companies, institutions or people that consumers trust to do the right thing "a lot," respondents selected their "primary doctor" as No. 1 from a list of more than 2,000 options, which included Amazon, Oprah, teachers, Tom Hanks, the military, Google and the police.
Here's another fact: Doctors don't always do what's right or best for their patients.
A comprehensive review of more than 3,000 randomized clinical trials concluded that hundreds of current medical recommendations across various disciplines may be unnecessary. This finding comes just five years after a review of all articles published in the New England Journal of Medicine (NEJM) from 2001-2010, which determined one-third of "established medical practices are found to be no better than a less expensive, simpler, or easier therapy or approach."
To win the Super Bowl MVP trophy, Mahomes had to outperform all other elite players on the field. By contrast, pharmaceutical manufacturers wanting to sell new and expensive medications are under no obligation to test the effectiveness of their drugs against existing (and often less expensive) products already on the market.
It's only when independent researchers do the comparisons (often years later) that we find out the more expensive option is no better. Of course, by that time, the hype has achieved its objective. The highly promoted drug has proven successful, financially.
If football were like American health care, teams wouldn't play each other in the Super Bowl. They'd have their advertising firms create 60-second TV spots and award the Lombardi trophy to the team that gets the most fan votes. Unlike the tried and tested Patrick Mahomes, health care companies and providers prefer to compete and be judged based on marketing and PR, not on the merits of their achievements.
The only way to separate reality from hype in health care is to require drug makers, hospitals, and insurers to compete and prove their worth "on the field."
Robert Pearl is a plastic surgeon and author of Mistreated: Why We Think We're Getting Good Health Care–And Why We're Usually Wrong. He can be reached on Twitter @RobertPearlMD.
Image credit: Shutterstock.com