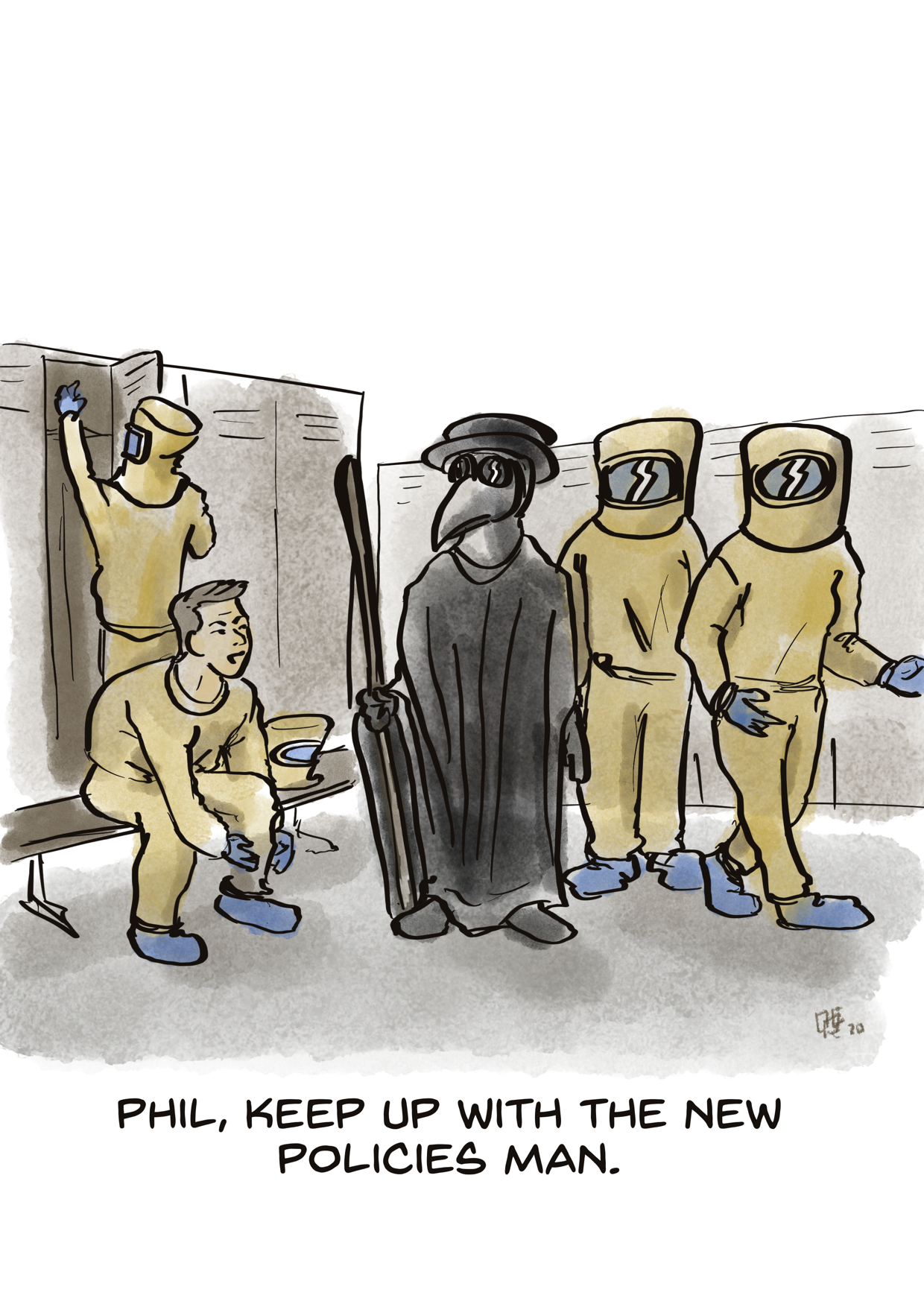 Physicians are leaders.  As leaders, we are focused on how to ensure safety for our coworkers while also acknowledging a need for stewardship of scarce supply of resources, namely, personal protective equipment (PPE).
I have a particular interest in this topic since I am an emergency physician with a high-risk newborn at home (who spent time in the neonatal ICU just a few weeks ago for respiratory issues).  The motivation to protect my family, our staff, and myself has led to my continued research into this topic.  There are many news stories of institutions with policies around PPE that are based on a lack of supply and our complete lack of preparedness in this country.  The unfortunate truth is that we simply do not have the supplies we need to create policies that allow for optimal protection.
However, resorting to panic and anger is not productive.  As physicians, we must advocate in an evidence-based manner for policies that protect our frontline staff.  We can use our voices and our experience to impact change.
Recently, the New York Times released a sobering video of the state of the emergency department (ED) in NYC. COVID-19 has become so ubiquitous that any and all patients should be assumed to have it.  Car accident victims, abdominal pain, and other non-respiratory complaints later are found to have COVID-19, and the lack of PPE used in their initial evaluation resulted in the rapid depletion of frontline health care workers due to exposure.
Dr. Atul Gawande discussed the evidence for using surgical masks for all patient-facing staff. Many hospitals, such as those affiliated with Harvard, have since instituted a universal masking policy for all staff and patients. However, there is still concern regarding the aerosol transmission of COVID-19.  A recent New England Journal of Medicine article concluded, "that aerosol and fomite transmission of SARS-CoV-2 is plausible, since the virus can remain viable and infectious in aerosols for hours and on surfaces up to days."
Despite the controversial tidbit about using bandanas for protection, the CDC recommendations state that "Health care providers should use N95 respirators when caring for patients under airborne precautions for infectious diseases including COVID-19." Some hospitals ration N95s for frontline health care workers.  It should be noted, however, that continuous use of an N95 is better protection than donning/doffing for particular patients. We must protect our workforce of health care workers as much as possible.  In Ohio, the statistics show that 16 percent of COVID-19 cases are health care workers.
Evidence shows that we ideally need N95s for protection when caring for COVID-19 patients, but lack of testing prevents us from knowing which ones have it, and lack of adequate supplies requires us to have more judicious use of these scarce resources.  We can use evidence to influence our institutional policy discussions.
The Occupational Safety and Health Administration (OSHA) recommendations include allowing alternative use respirators during PPE shortage.  Namely, if health care workers have their own respirators that are not supplied by the employer, they should be allowed to wear them.  This is supported by the American Academy of Emergency Medicine position statement on self-supplied PPE.  Hospitals across the country that are refusing to let employees supply their own PPE are not only losing frontline staff but are also being sued with OSHA lawsuits.
Simple cloth masks, like those being sewn by the public, are not adequate protection for health care workers, and in previous studies have been shown to increase transmission of infection.   Cloth masks with a filter may have some utility, and plain cloth masks may be helpful to place over an N95 to preserve its use.  Cloth masks could also be given to patients as a barrier measure, but they should not be considered protective for health care workers caring for patients.
If employees would like to provide their own PPE, they should also have access to fit testing to ensure that they are actually protected and not having a false sense of security.  They should also be provided education about how to properly don and doff as well as clean reusable PPE to prevent the unwanted consequence of fomite transmission.
We need to continue to explore evidence-based and novel ideas for cleaning and reuse of non-medical respirators.  Duke University has released information about novel ways to clean and reuse N95 respirators.
We should continue to explore alternative ways to craft protection for coworkers.  For instance, Boston Children's Surgical Innovation Fellowship created a "new respirator that can be produced for about $3 each, and health care workers can produce them quickly using inexpensive, readily available medical supplies that most hospitals already have in stock: an anesthesia mask, ventilator filter, and elastic straps."
These are extremely challenging times.  Anxiety and fear are high, COVID-19 cases are rising, and we simply do not have optimal supplies to ensure the level of protection we want for our coworkers.  We must remain open-minded and creative to new solutions while also keeping an evidence-based approach to the use and conservation of PPE.
In summary, we as physicians should feel empowered to advocate for:
Surgical masking for all patient-facing employees.
When N95s are supplied, the policy of using N95 protection continuously instead of donning/doffing for each possible COVID-19 case.
Allow self-supplied PPE and provide education and fit-testing for the proper use of reusable PPE.
Continue to research evidence-based information for cleaning and reuse of disposable N95 respirators.
Consider novel and creative solutions to create protective equipment for frontline health care workers with materials available in the hospital.
As physicians, now is the time to step up and lead.  We cannot be paralyzed and allow policies to be created for us without having a seat at the table.  We must be passionate about finding creative solutions in this challenging time and vocal in our advocacy.
The author is an anonymous physician.
Image credit: anonymous