"You're 27-and-a-half weeks pregnant."
As I lay on the exam table, time froze.
How can this be? I wondered dazedly. I'm a second-year medical student. I've just completed a course in female reproduction and endocrinology. How could I have missed the signs?
I attribute my obliviousness to the surgery I'd gone through only months before: the removal of a 27-pound, mucus-filled ovarian cyst. My lack of menstrual periods was nothing new; they'd been irregular for years. My recent abdominal bloating must, I'd thought, be the cyst recurring. I hadn't worried about it because, frankly, I'd always put my health and personal life second to my future career as a physician.
"Do you need a prescription for prenatal vitamins?" the doctor asked. "Do you have any questions about what to expect during the third trimester?"
I couldn't answer. Too many thoughts were running through my head.
I'm pregnant! Single! In medical school!
After being discharged, I walked home, hugged my mother, and began to sob. What was I going to do?
Two days later, at 9:27 p.m., sharp cramps gripped my abdomen and back. Like every medical student, I'd learned to interpret symptoms to reach a diagnosis. Trying my best to put "labor" far down the list, I scrolled through the possibilities: Kidney stones? Appendicitis? Stomach flu? But as the cramps quickened and intensified, I could no longer deny the truth: I was in labor.
This can't be! I thought desperately. It's too soon. I'm not ready. The baby isn't ready.
I began picturing worst-case scenarios: Will the baby's lungs be mature enough? Will there be neural-tube defects? I didn't take folic acid! What about drinking? I've had a few drinks this semester, to celebrate completing my classes — will my baby have fetal alcohol syndrome?
My mother and I rushed to the nearest emergency room, and I was taken to labor and delivery.
"Who's your OB/GYN?" the nurses asked. "How has your prenatal care been? How has the pregnancy been? When was your last appointment? How far along are you?"
I couldn't answer. I was terrified, shocked, in pain — all I could do was to scream and writhe. I didn't know what was happening to me or what to expect. I was no longer a medical student: I was the patient.
Luckily, my mother was by my side. She explained my situation to the nurses.
When she'd finished, the care team stepped outside to confer. Their smug remarks floated in from the hallway: "Her story doesn't make sense … Her mother says she's in medical school, how could she not know she was pregnant? … Did she take something to get rid of the pregnancy?"
I've never felt more vulnerable. Medical school does not prepare you for role reversals — and being in active labor definitely didn't give me the perspective or peace of mind to feel any sense of control over the situation.
I wanted to scream.
Instead, I began to cry. How can they pass judgment on me when they've only just met me? Aren't they supposed to be taking care of my pain and making sure that my baby is OK?
After that, everything was a blur. The next thing I remember is seeing my three-pound, 11-ounce baby boy take his first unassisted breath. This was followed by the first of many healthy screams.
In spite of my lack of prenatal care, and his premature birth, my son Christopher has grown to be a healthy, handsome, loving little guy. He turns 19 months this month and already has lots of personality. He loves Mickey Mouse, french fries and climbing on furniture. His smile can light up the room, but he's also not afraid to express upset when he doesn't get his way.
Having Christopher has changed my perspective on so many aspects of my life and career.
I had intended to go into emergency medicine, a highly demanding specialty whose practitioners work under tremendous pressure. But I realized that it lacked something — something I hadn't known that I needed. I began to feel that it's vital to be able to follow up with my patients and that if I don't offer them, and myself, that emotional comfort, I'll be doing all of us an injustice.
I also began to see that both my career and my family life are important — and that I can have both, as long as I prioritize.
When I leave the hospital, it's time for family. I spend as much time as I can with Christopher, with my mother — the superhero of this entire story, since her daily care for Christopher enables me to continue attending medical school — and with my dog Blaze.
When I'm at work, I have to focus on the tasks at hand and prepare for exams and board examinations. The entire process of self-discovery has been made easier by Christopher's father, who has shared with me the responsibilities, joys and challenges of parenting.
Being a patient taught me a lot about my previous mistakes as a medical student. I learned that, as caregivers, we should never deny our patients their dignity — and that the expression "The walls can talk" is truer than you'd think. I hope to use my experiences to improve the care that I'll give my future patients.
I know now that, at times during my career, I'll be forced to step out of my role as medical student, resident or doctor. Like every other person, I'll experience pain and losses that will make me vulnerable; I myself will be the patient, or will be the one visiting an ailing loved one or friend.
When I picture myself in those situations, I also try to imagine the person I'd like to see standing across the exam table from me. I would want someone who's confident but cautious, innovative but discerning, strong but compassionate, wise but also humble.
The person I'd like to see on the other side of that table is the person I aspire to be.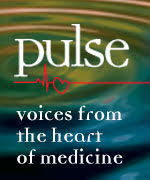 Christine Loftis is a medical student. This piece was originally published in Pulse — voices from the heart of medicine. 
Image credit: Shutterstock.com