Sometimes referred to as "right-to-die," "physician-assisted suicide" laws make it possible for terminally ill patients to use prescribed medications to end their lives instead of facing a protracted death. The latest state to pass legislation allowing terminally ill patients to end their lives was New Jersey. The law will go into effect on August 1.
The topic of physician-assisted suicide and right-to-die is incredibly complex and emotionally charged. I'm not going to attempt to persuade you one way or the other, but this topic is certainly worth discussion.
New Jersey is now the ninth jurisdiction to allow physician-assisted suicide. The others are outlined in the map below. The New Jersey law states either a psychiatrist or psychologist must determine that the patient has the mental capacity to make the decision. The prescription is a series of self-administered pills that can be taken at home.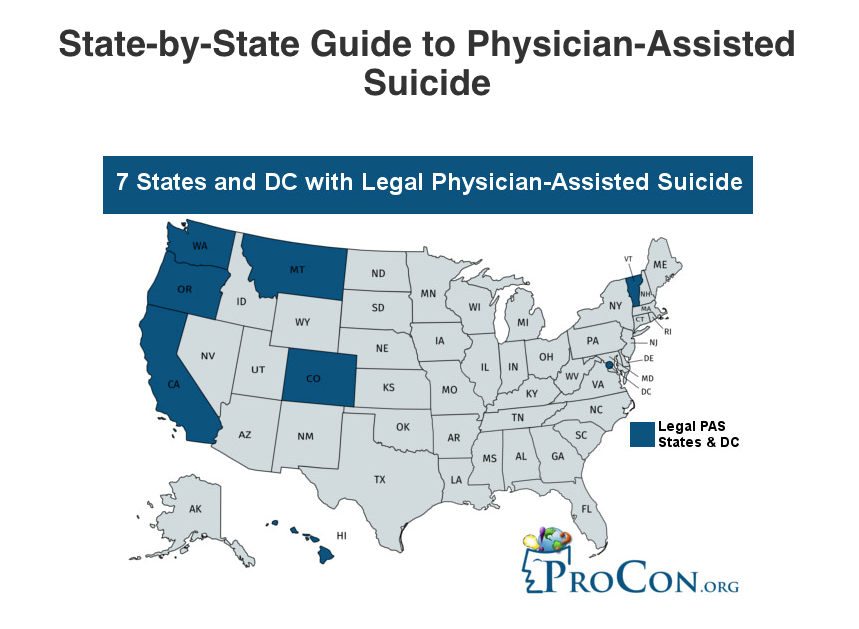 The origin of right-to-die legislation in the United States began in Oregon in 1997. Washington state followed in 2008.
Most have modeled their laws off Oregon's. To obtain a prescription for a life-ending medication, two doctors must determine a patient has no more than six months left to live and is mentally competent to ask for the medication. There is also usually a waiting period of 15 days between the first and second doctor's approval before a medication is authorized.
According to data from 2018, 1,749 Oregon state residents have taken their lives with a legal prescription since the law went into effect. In 2016, 133 ingested lethal medication. An overwhelming number of these patients were elderly (80%) and most had cancer (79%).
In my home state of Indiana, right-to-die bills have been introduced and discussed, but no legislation has passed.
Naturally, not everyone is in support of such legislation.
One argument is that a physician's estimation on how long a patient will live can never be exact; thus the six-month timeline is mostly arbitrary. On the other hand, physicians are very good at recognizing when someone is nearing the end. Therefore, palliative care medicine is argued to be the best medicine, not assisted-suicide. Palliative care is an interdisciplinary approach to specialized medical and nursing care for people with life-limiting illnesses. It focuses on providing relief from the symptoms, pain, physical stress and mental stress at any stage of illness.
The American College of Physicians (ACP) has come out strongly in their opposition to assisted suicide. In Annals of Internal Medicine in October 2017, ACP President Jack Ende wrote that "the focus at the end of life should be on efforts to prevent or ease suffering and on the often unaddressed needs of patients and families. As a society, we need to work to improve hospice and palliative care, including awareness and access."
On the other hand, there are many advocacy groups in favor of right-to-die. An example is Death with Dignity, a non-profit organization dedicated to promoting legislation and educating the public on the topic.
Periodically, there are cases of assisted suicide that make the mainstream media. For example, I can still recall the case of Brittany Maynard, a 29-year old who was diagnosed with stage IV brain cancer in 2014. She moved to Oregon because, at that time, her home state of California didn't allow assisted suicide. She wanted to die with dignity and not suffer. Another case involved Betsy Davis, a 41-year woman from California who had ALS. Instead of suffering a slow and painful death, she threw a farewell party for her friends and family and then took a dose of lethal medication.
Not all agree with this approach, however. One particularly outspoken physician was published shortly after the death of Brittany Maynard.
Ira Byock, chief medical officer of the Institute for Human Caring of Providence Health and Services, spoke loudly against the practice.
"'When doctor-induced death becomes an accepted response to the suffering of dying people, logical extensions grease the slippery slope," he wrote in a New York Times op-ed. He cited statistics in Holland, where the practice is permitted, that claim more than 40 people sought and received doctor-assisted death for depression and other mental disorders. "Even the psychiatrist who began this practice in the '90s recently declared the situation had gone "off the rails."
For the sake of transparency, even if Indiana eventually passes a law making right-to-die legal, I will not prescribe the lethal medication. That doesn't mean I'm insensitive to the pain and suffering these patients face and I certainly understand both sides of the argument. I just could not, with a clear conscience, participate in physician-assisted suicide.
I've dedicated my life to alleviating suffering, and I took an oath to "First, do no harm." How does physician-assisted suicide fit into that paradigm? I don't think it does. But I also know others disagree with me.
I'm also a Christian, so I care very much about what the Bible says about death, dying and suffering. Of course, a patient need not share my religious beliefs, or believe in God at all, for me to treat them with respect and honor their wishes. I do this every day as a physician. But doesn't that obligation change when a physician is asked to help kill someone? I certainly think so.
Suffice to say, the topic of doctor-assisted suicide is extremely complex and emotionally charged. I suspect we will see more states pass legislation making this practice legal and we should continue to respectfully discuss the ramifications.
Kevin Tolliver is an internal medicine physician who blogs at My Medical Musings.
Image credit: Shutterstock.com