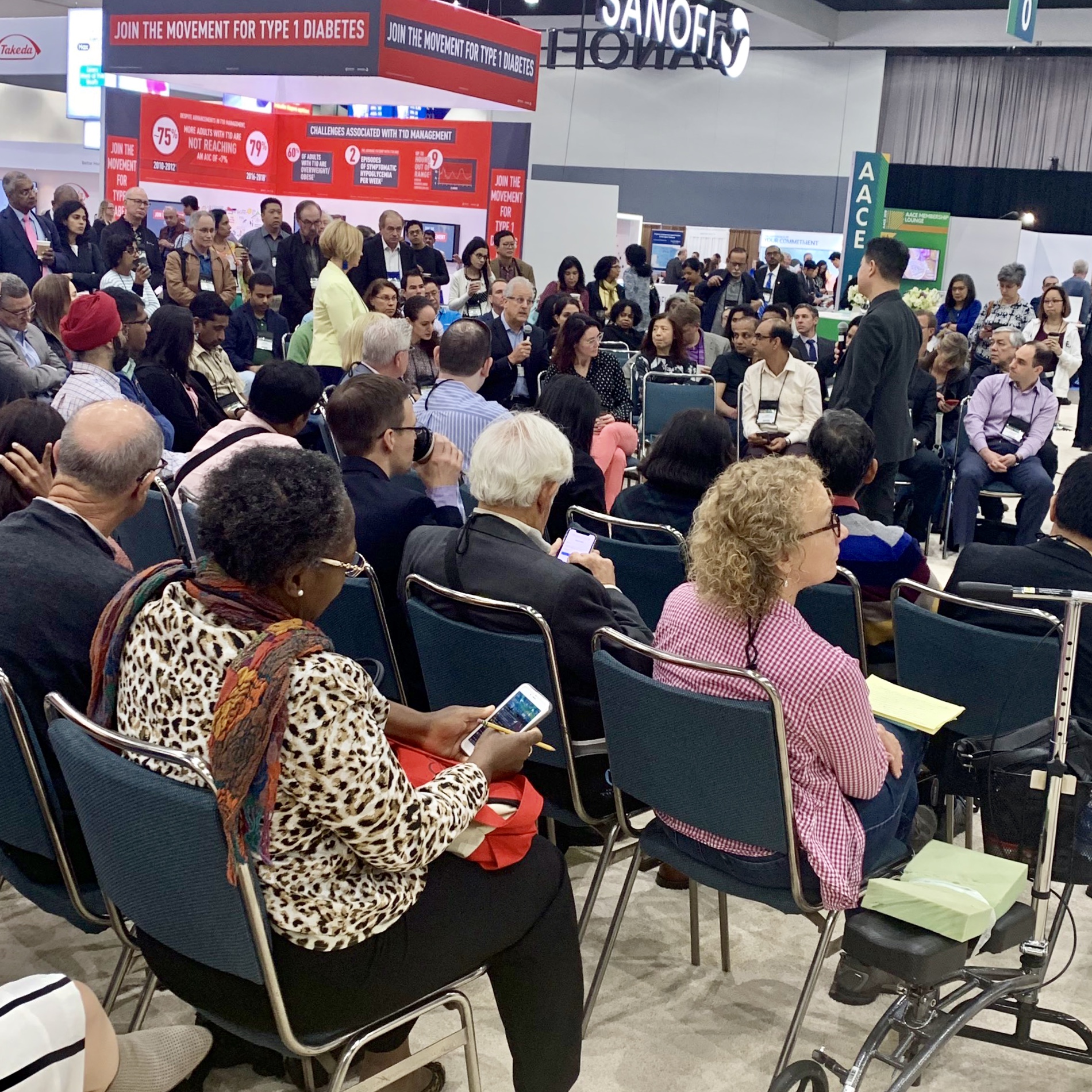 Thank you to the American Association of Clinical Endocrinologists for the honor of keynoting AACE 2019 this weekend. The picture above was the Q&A session in the exhibit hall after the keynote. As you can see, there continues to be tremendous physician interest in navigating the health care-social media intersection.
Next weekend, I'll be in Chicago keynoting Becker's Health IT + Clinical Leadership + Pharmacy 2019, and in May, Pri-Med West in Anaheim, CA.
I'm currently considering keynote opportunities in 2020. Please also consider my exclusive speakers bureau, Physician Speaking by KevinMD, if you're looking for acclaimed physician keynote speakers to highlight your event. One of those speakers, Dr. Lipi Roy, is the closing keynote speaker of TexMed 2019.
Here's what people were saying about yesterday's keynote. Your event could be next:
@kevinmd keynote at @TheAACE was amazing. Physicians need to create their own story online, promote the science and help patients understand medical data; have heard many talks on this topic, his was the best by far!! Suggest as topic for 1 hour Med School curriculum @OHSUBrain

— Dr. Maria Fleseriu (@MariaFleseriu) April 29, 2019
Another great lecture by @kevinmd that ties so well with previous talks by @JonathanLeffert @ENDOUNO at #AACE2019 Don't blame the internet…. blame the filter https://t.co/Yz0h4eI4E3

— Joumana Chaiban (@JoumanaChaiban) April 27, 2019
#AACE2019 Excellent presentation by @kevinmd calling for positive and stronger evidence based social media engagement by physicians #fakenews #pseudoscience

— Nisha Nigil (@nishanigil) April 27, 2019
Wonderful and inspiring talk by @kevinmd . Physicians need to make our voices heard through online presence and connect with our patients beyond the exam room. #EndoTwitter #AACE2019 #physicians #MedEd pic.twitter.com/LLC2GxvgEQ

— Shira Eytan MD FACE (@shiraeytanmd) April 27, 2019
Thank you @kevinmd for an inspiring keynote! Our #aace2019 attendees learn how to be the change in improving our healthcare system one small action at a time. #endotwitter let's embrace change in #healthcare ???? pic.twitter.com/8EczGqYgEl

— AACE (@TheAACE) April 27, 2019
Amazing keynote address at AACE 2019 on how physicians need to embrace social media to educate, enhance and claim online identity and make our voices heard..Thanks @TheAACE for a phenomenal conference and Dr @kevinmd for sharing your knowledge/experience ???????? #AACE19 #SocialMedia

— Soham Patel, MD, FACE, DipABLM (@plant_endo) April 27, 2019
Thank you so much @kevinmd for focusing on our responsibilities especially to the patients #AACE2019 https://t.co/Ng6dIuo52s

— Paul Markowski (@PA_Markowski) April 27, 2019
Image credit: American Association of Clinical Endocrinologists