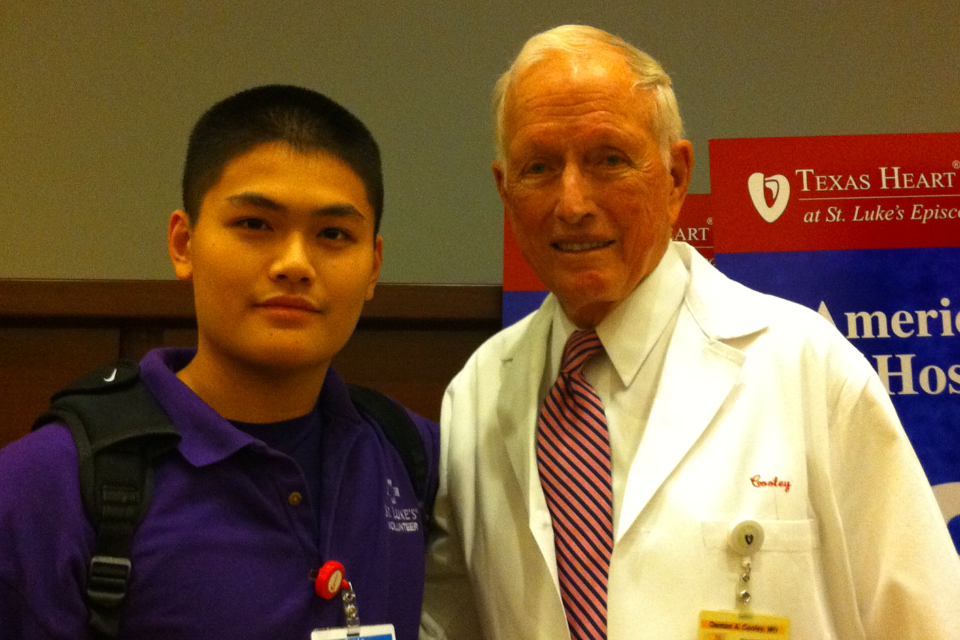 Back in the 70s, Dr. Denton A. Cooley would do eight or so heart operations a day often on babies and children with heart defects. One day, he operated on four babies. Three of them died. It was around eight o'clock at night, and as Dr. Cooley walked down the hall with his team, he said, "Today was a bad day, but tomorrow will be a better one."
Twenty years later, Dr. Cooley and Dr. Bud Frazier, a protégé of his, were talking together about a case. Dr. Cooley said, "Well, this reminds me a lot of Stacy Jones" who was one of the three babies who died. He said, "Remember when Baby Jones died? This is exactly what happened." Twenty years later, he still remembered every detail of the case. Dr. Cooley never forgot because it meant so much to him, but he always moved forward. He persevered and became the stuff of legend.
***
I first heard an iteration of this story as a volunteer at St. Luke's Episcopal Hospital (now Baylor St. Luke's Medical Center) from Dr. Frazier himself when he visited a group of us at the main office. We had just seen an open heart surgery in a private room, with see-through glass covering much of the floor, directly above the operating room. A decade later at my alma mater, myself and several pre-med students were told this story by Dr. Todd K. Rosengart.
Rewind to July 2010, I had the honor of meeting Dr. Cooley after he spoke at the 20th Anniversary of the Texas Heart Institute at St. Luke's Episcopal Hospital. At the time, St. Luke's was ranked number four in the nation for heart & heart surgery. Eugene Andrew Cernan, a patient of THI where he had his heart surgery done by one of Dr. Cooley's colleagues, was the last person to walk the moon. As Dr. Cooley was introducing Mr. Cernan, he made several light comments that made the entire audience laugh. I was sitting in the very back row, just in awe that I was in the presence of giants.
I remember after the ceremony concluded, I slowly made my way up to the stage where you were standing. I was wearing my short sleeve volunteer shirt, and khaki pants with my Nike backpack slung over my back. My St. Luke's badge was clipped to my shirt at chest level. I saw your badge too, nestled neatly outside your white coat pocket. Above it, "Cooley" was etched in maroon red cursive. I shook your hand, and up until that moment, no one has ever shaken my hand with such strength as you did.
I remember our conversation like it was yesterday.
"Hi Dr. Cooley, my name's T.J., it's an honor sir."
"Nice to meet you T.J. Are you a volunteer?"
"Yes, I am."
"I notice the purple shirt anywhere, are you a pre-med student?"
"I am. I will be a senior this fall at DeBakey High School for Health Professions."
"Good for you and you're going to a great school. Dr. DeBakey was a great man and dear friend to me, and medicine is a noble path you're on."
"Thank you so much, Dr. Cooley."
"Do you want a picture?"
He didn't need to ask me twice, and I pulled out my iPhone 4 from my back pocket.
Dr. Cooley passed away at the age of 96 on November 18, 2016. When I heard the news, it was hard for me not to cry. He was a great Texan, and moreover a Houstonian. He was the first ever to perform an implantation of a total artificial heart. He was the mastermind behind the Texas Heart Institute. He and his team performed over 100,000 open heart surgeries, the most in human history. Through decades of medical practice and innovation, he impacted the lives of millions: patients, friends, family members, medical staff, and students.
Today, every so often I remember Dr. Cooley's words to me and the photo we took together.
I promise to always persevere and dedicate my life to the patients that I will care for as Dr. Cooley did for his.
Ton La, Jr. is a medical student and student editor, The New Physician.
Image credit: Ton La, Jr.