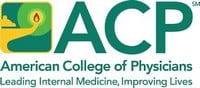 A guest column by the American College of Physicians, exclusive to KevinMD.com.
When reading (or writing) blog posts, it's easy to be left with a mostly negative and often depressing view of the current state of medicine.  This is completely understandable as people usually write on topics and issues about which they feel strongly, and that (sometimes profoundly) affect their personal lives as physicians and their ability to care for patients.  On more than one occasion I've had to refrain from simply pounding out an angry and unconstructive screed about one or more of the many frustrating and angering things I encounter daily as a doctor.
Yet in the midst of much of this negativity, I think it is helpful to periodically pause and think about our own personal journey in medicine, and specifically why we chose to pursue this challenging path in the first place.
The reasons underlying our personal decision to become doctors – the values, hopes, and inspirations that drive us on a daily basis – in other words, our mission – are central to who we are as individuals and professionals.  They form the foundation of our identity as physicians and motivate us to do the difficult work of caring for patients.  Yet, it is easy to lose sight of these core aspects on which our personal and professional lives are built when dealing with the daily challenges associated with our work.
As we move through the holiday season and into a new year, I figured now would be an opportune time to reexamine why I personally decided to enter medicine, but also felt that seeking an understanding of why others made this same choice might be helpful in thinking about my own mission.  So in addition to my own deliberations, I asked my colleagues, both older and younger and at different stages of training and experience, to reflect on those things that led them to become doctors.
What did I find?  The specific reasons for entering medicine certainly differed for each, although several themes emerged that are recognizable in most of us and are worth restating and contemplating.
A universal observation is that virtually everyone entered medicine with a mission-driven and altruistic spirit – a commitment to helping people that seems for many to be as much a "calling" as a career choice.  This is what drives them to care and work as much and as hard as they do, based on the belief that the importance of patients' health and well-being transcends the daily grind that is an inevitable part of being a doctor.  However, it is also what pushes them to push through the (often unreasonable) day-to-day challenges associated with the practice of medicine, even at great personal sacrifice, for the benefit of their patients.   It is unfortunate that under current circumstances, for many physicians these challenges obscure this sense of calling they possess and inevitably lead to the loss of joy in medicine.
And then there are the people – specifically, our patients and our relationships with them.  The intense and intimate nature of the patient-physician relationship represents a unique bond between humans built on trust and mutual respect that can be incredibly meaningful to both patients and doctors.  The willingness of patients to entrust us with issues, problems, and thoughts that they find difficult to share even with their intimate partners and closest relatives is at times striking, and even my most experienced colleagues still marvel at the power and significance of this relationship.  Many commented that what comes from these interactions is a source of great personal satisfaction and well-being and is one of the main reasons why they chose medicine as a life's pursuit.  More than one stated that if they could just be left alone with their patients without the administrative burdens and other intrusions into these relationships, their professional lives would be so much more fulfilling.
And there are others.  Relationships with colleagues; valuing the ability to understand the science underlying medicine, grasping the majesty of the human body with both humility and awe; the personal fulfillment that comes from having the ability to diagnose and treat disease; and the opportunity to affect the health of others on a larger scale.
As I reflect on my own journey in medicine, I see that I am also driven by each and all of these same things, and perhaps a few more.  And what is also clear from my own reflections and those of others is that even with all the years of hard work, experiencing the incredible highs when patients do well and the deep lows when they do not, and struggling at times with the pressure, responsibility, and occasional agony of engaging with patients as they live and die, I can think of no other life's path I would choose to take.
There is no question that our daily work sometimes depletes us not only physically, but also emotionally and sometimes morally.  And reflecting on why we do what we do certainly doesn't solve or even begin to address the real issues and problems associated with practicing medicine in this day and age, nor minimize the high rates of unhappiness, burnout, and even suicide among physicians.
But taking time to reflect on our own personal mission in medicine can help us reframe and reinvigorate us in the work we do and help us maintain a sane perspective as we confront and seek to fix the major problems confronting our patients and medicine as a whole.
At the bottom line, being a doctor is a rare privilege, and the practice of medicine remains among the most fulfilling of human endeavors.
So take some time to ask yourself – what is my mission in medicine?
Philip A. Masters is vice-president, Membership and International Programs, American College of Physicians. His statements do not necessarily reflect official policies of ACP.
Image credit: Shutterstock.com