For some reason, social media does a good job with sculpting our lives into perfectly organized displays that are available to look at during every breathing second of our lives thanks to the revolutionary invention called the smartphone. I look at pictures of people studying with beautifully organized desks, smiles, intricately designed planners and captions about how wonderful their day at home was with those planners.
And I completely understand and appreciate the positivity. I follow these pages to find inspiration and motivation for myself. But sometimes I often find myself feeling like the world of social media is lacking a lot of reality. Maybe it's because we're scared to expose our vulnerable times to the world or because the world is better off seeing the brighter days. But here is what my desk looks like during my "neater" times: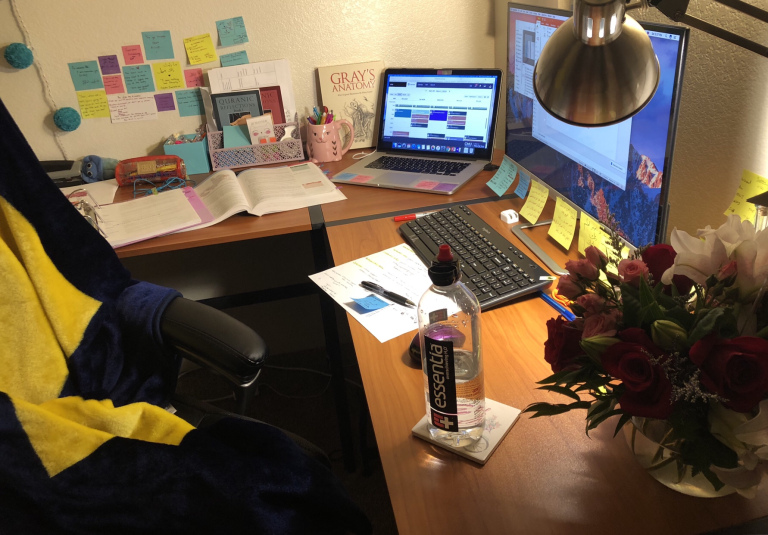 The only reason why I have beautifully blooming flowers on it is because they were a delivered birthday present from a loved one miles away from me — I was spending the weekend studying alone on my birthday. The only social interaction I had that entire weekend was a snowman I came across while taking my trash out.
I crave to learn and read every waking second of my life. If I'm not studying, then a huge part of me is overwhelmed with guilt and anxiousness that I'm missing a detail that will probably help me save someone later in my life. But just because I absolutely love it, doesn't mean every day is a breeze. I chose this career because it's what I've wanted to do ever since I was nine, but sitting here for over 12 hours a day with only books and a computer make it so difficult to see the light at the end of the tunnel. I know it's what we all have to go through in order to become deserving of the MD title, even after the four grueling years of our stressful pre-med bachelor's degree, trying to do an enjoyable major while fulfilling stressful prerequisites, extracurriculars, research, remaining in the very top of our classes, MCATs and AMCAS applications.
So here's a reality check for everyone who's dreading spending your life studying: It's not always perfect as the aesthetically-pleasing Instagram pages make it out to be — despite how much I love scrolling through those. But, it helps to know that every single one of us in this field is going through similar feelings and experiences. We're all missing out on special family events, weddings, deaths, birthdays, etc. We're the ones our friends often call out as "fashionably late" when it was actually due to school/clinical responsibilities. But we're doing it together, and we will get through it together.
Someday someone will tell you that you changed their life and they won't be a standardized patient for a clinical skills course. They'll be your patient who you treated using your own knowledge and expertise from these endless and tiring years. And that's the reality that we all anticipate and work hard for.
Batoul Harissa is a medical student who blogs at With Beautiful Patience.
Image credit: Shutterstock.com