On the porch.
It's that time of year again, when we escape from the heat of New York City summers, and head to New Hampshire, to the Central Lakes District, where my wife's family has had a house perched out over the clear waters of Newfound Lake for over 120 years.
It's a small wooden house, with barely enough room for all of us squeezed in, painted bright yellow and orange, with a beautiful porch that allows for perfect viewings of the sunset on the lake beyond the mountains across from us.
Despite being empty-nesters this year, my wife and I had planned to come up for the week to rest, relax, recharge, bringing our dog Winchester with us.
When our children heard we were coming up without them, they arranged conveniently to have their summer jobs end right at the time we were scheduled to come up, so they could join us from their respective cities (Portland and Chicago).
We have things we like to do every summer, physical and emotional touchstones we like to get to each year, hikes we like to take, swimming in the lake, restaurants and favorite bakeries or coffee shops that we remember, that we've been coming to for at least 20 years.
But mostly it's that chance to unwind, to sleep a little late, to eat a little too much, to drink a lot of coffee, and even have a glass of red wine on the porch watching the sunset.
With all of us sitting on the porch, Winchester usually finds a place to park in between someone's legs or on the old couch, and take in all the stimulation that he, as a city dog, doesn't get through most of the year.
One of the things that baffles him the most is ducks.
Several times during every session we have on the porch, whether eating breakfast, lunch, or cocktails before sunset, a small group of ducks will come floating by the house, looking for fish or breadcrumbs.
At this point, the ferocious hunter in him comes out, and he becomes apoplectic trying to get at them.
He is, after all, a terrier, bred to hunt, bred to chase down ferrets and rats and badgers into holes under the barn, and the idea of some wild creature coming close to his territory sends him into a genetically predetermined rage.
His entire body quivers with rage, and he's desperate to get at them. Unfortunately, he is afraid of the water. He struggles to get at them, barking and barking, his back legs shaking, waiting to propel him forward, but he is restrained by three things: the porch railing, the fact that we are 20 feet above the water, and the fact that he's afraid of the water.
He stands, shoulder deep with his head between the porch railings, barking with fury until the ducks swim peacefully out of sight.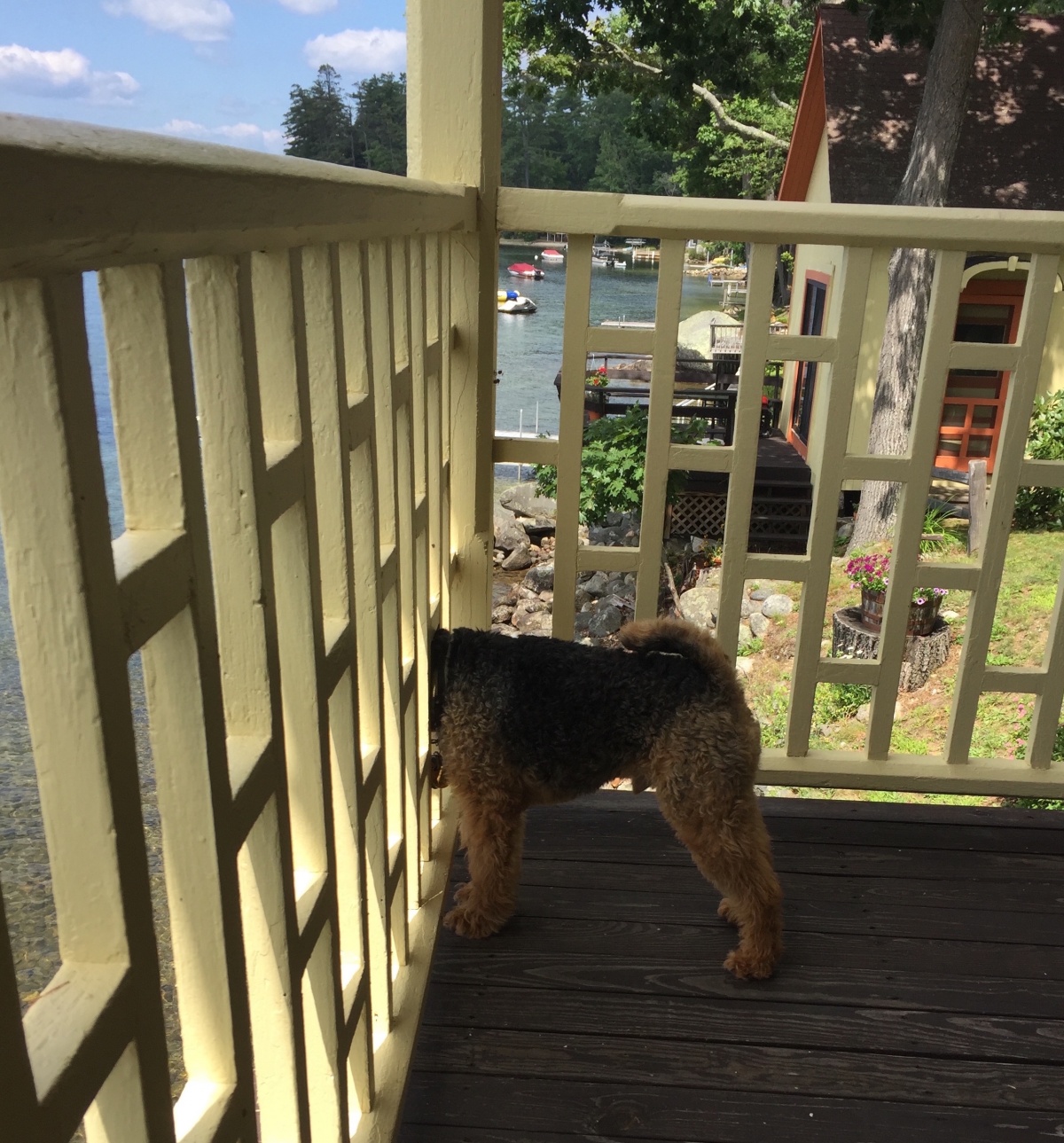 We often joke about what it would be like if he could fit through the porch railings, if he could leap into the waters below, if he liked to swim, and then what he would do with the duck once he got it.
This is how I think about where we are with our battle to change the health care system in our country.
We have railed against the injustices, the inequality, the fractured care, the bureaucratic nonsense, the electronic health record that gets in our way, so many things that we want to be better, to help us better take care of our patients.
But how far have we moved towards actually making a difference, actually fixing all of these things?
Every incremental change we make, every new idea, every pilot project, every change in our workflow, every redesign of the team, seems to inch us incrementally along the path towards a truly better health care system.
But, like Winchester, I think we are held back by the fact that we are afraid to turn our shoulders to the side and slip through and past the railings, to leap through the air to the water below, to swim after the ducks and to finally catch them.
In the year ahead, as we continue to work on creating a more patient-centered health care system, I think we need to continue to try and fix what's broken, piece by piece, finding better ways to do things, finding better ways to bring back the joy of practicing medicine to those of us on the front lines, across all fields of health care.
But we need to bravely think about slipping our shoulders through the railings, leaping off the porch, diving into the cool waters below, and swimming after the really big prize of the health care system our country deserves.
Fred N. Pelzman is an associate professor of medicine, New York Presbyterian Hospital and associate director, Weill Cornell Internal Medicine Associates, New York City, NY. He blogs at MedPage Today's Building the Patient-Centered Medical Home.
Image credit: Shutterstock.com