Recently, Twitter exploded with angry commentary directed at the American Diabetes Association (ADA) after the organization actively attempted to censor what was posted on Twitter during their annual sessions in San Diego. The fiasco began when an attendee posted a picture of slides on Twitter — in an attempt to "live Tweet" during a session on the recommended #ADA2017 hashtag. The @AmDiabetesAssn Twitter feed then began to post tweets instructing individual attendees to take down specific tweets that involved photography. In fact, the ADA Twitter feed at one point was dominated by their repeated requests for attendees to delete tweets. Quickly, the censorship became the focus of the hashtag — not the science. Comparisons to George Orwell's "thought police" from his novel "1984" were made on social media platforms including Twitter.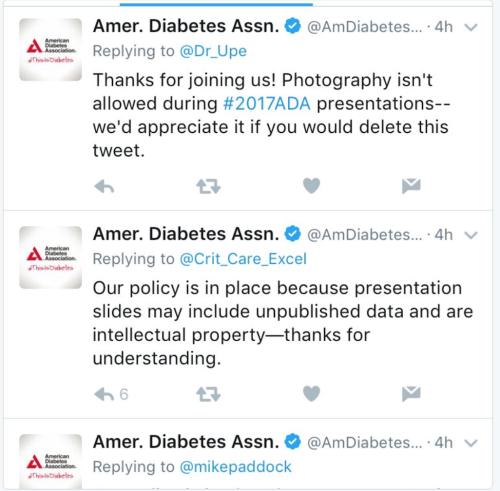 What followed was nothing short of "Twitter outrage." Twitter has become one of the most important tools in scientific information sharing in modern medicine. For many, meeting attendance is not always possible — some physicians have to stay back at their respective institutions and care for patients. Others who are based in another country may not be able to afford the time and cost associated with travel to the United States. There has been a huge push by most academic societies within my specialty of cardiovascular medicine to actively participate in the meetings from a virtual platform and guidelines for virtual participation have been published in Forbes. Many of us in cardiology are very active on Twitter, and we began to debate the merits of such an outdated and restrictive policy. After a matter of hours, numerous leaders in the cross section of Social media and medicine, such as Dr. Michael Gibson (@CMichaelGibson) became the most influential members of the #ADA2017 hashtag.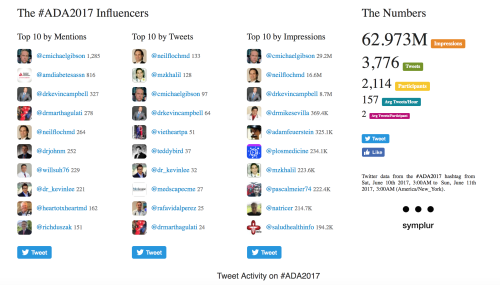 (Screenshot image via Symplur.com Healthcare Hashtag Project)
Most societies have worked diligently to engage members online and have promoted "live Tweeting" at their respective Annual Scientific Sessions. In fact, at the Heart Rhythm Society (@HRSonline), we actually provided attendees with a special "Social Media Guru" ribbon to add to their name badges to recognize active engagement. Next year, we plan to add Twitter handles to the registration process so that they appear on badges along with the attendee's' name and institution. The American Heart Association, the Society for Angiography and Intervention (@SCAI ) as well as the American College of Cardiology (@ACCinTouch) all actively promote live tweeting from their annual scientific sessions and have seen increased engagement online as a result of these policies.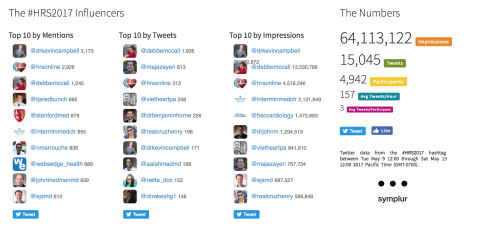 (HRS 2017 Analytics via Screenshot from Symplur)
What are the benefits of live Tweeting?
1. Immediate and widespread dissemination of information. The average Twitter user expects a response in less than 15 minutes. When new findings and ideas are tweeted live from a meeting, a wider swath of clinicians will have access to new and potentially impactful information right away. Rather than only having 300 attendees hearing the late-breaking clinical trials presentations, hundreds of thousands more can benefit from new treatment insights in real time when live tweeting is promoted.
2. Collaboration and engagement. When we actively discuss newly presented data and treatment applications, we often begin to debate the merits and validity of new research. This process can sometimes take years. In the digital age, the debate can occur in "real time," and clinicians from all around the world can participate in the discussion. These discussions often become mini "think tanks" and can lead to new applications and treatments for patients. At the very least, these collaborations and new online engagements lead to new (and in some cases) lifelong friendships.
3. Spur discussion that may lead to new research questions. When we discuss new data with a larger group of physicians, many perspectives and opinions can be considered. In many cases, there are differing opinions as to how best to apply research findings in the clinical arena. When there is disagreement and debate, new research questions and ideas are created. By engaging online around a particular subject, experts from around the world can build new studies and work together to solve clinical problems.
4. Sharing data may lead to faster advancement of therapies. One of the biggest problems with medicine today is that we all seem to live in our own silos — many scientists remain resistant to data sharing. Now that we are in an age of digital innovation and real-time data generation and dissemination, there is no reason we should not be sharing data. Rather than duplicating success and failures, if we foster cooperation, we will certainly significantly decrease the time it takes to produce new and potentially life-saving treatments for our patients. Social media and digital can play a huge role in data sharing and should be encouraged rather than censored. There is no longer a role for data hoarding in modern medicine.
What can we learn from the #ADA2017 fiasco?
1. Medicine is now digital, and any effort to change that will be poorly received. After years of gaining momentum, the digital world is now intertwined with medicine. As Dr. Eric Topol (@EricTopol ) has said in his book The Creative Destruction of Medicine: "The digital world has been in a separate orbit from our medical cocoon, and it's time the boundaries be taken down … The problem is that it takes physicians so long to accept a radical change. And the lag is unacceptable." No longer can we work and live in separate academic silos — the digital world is a part of medicine, and this will not change — our patients' lives depend on it.
2. Societies and their leadership must be flexible and respond to changes in membership needs and priorities.  In short, listen to your members. The way societies are functioning is changing. Physicians and researchers have a choice when it comes to where and how to present their findings and novel research. Societies that are restrictive and put forward Draconian policies will see their numbers dwindle. No longer can an academic society survive solely on their previous reputation. Physician members are increasingly digitally engaged and expect innovation and forward thinking from their societies. It is vital that the "old guard" who has led our societies for decades makes way for the new digital physician — in short, "adapt or get out of our way."
The American Diabetes Association has had a difficult weekend. Due to the lack of preparedness for a digital audience and a lack of connection with their members who are engaged in social media, the society's academic sessions and all of the presented science has been overshadowed by a Twitter controversy. This has been a disservice to physicians, attendees and most importantly, the patients the society and its members tirelessly serve.
Kevin R. Campbell is a cardiac electrophysiologist who blogs at his self-titled site, Dr. Kevin R. Campbell, MD. He is the author of Women and Cardiovascular Disease.
Image credit: Shutterstock.com