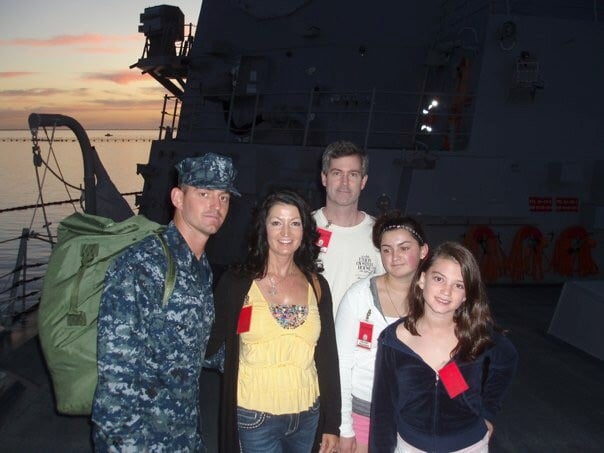 The impact of the opioid crisis struck home within the Missouri physician community on Dec. 15, 2014. That's the day when, just two months shy of his 30th birthday, Derek succumbed to an opioid overdose.
The news was devastating for his mother, Kelly O'Leary, a longtime volunteer with the St. Louis Metropolitan Medical Society Alliance, and her husband Timothy O'Leary, MD, a radiation oncologist at Mercy Jefferson Hospital near St. Louis. Since then, Kelly has become an outspoken advocate against the prescribing of opioid painkillers. She has shared her story with Alliance audiences, various community groups and most recently to the Missouri Psychiatric Association.
"He was a good kid. He was very smart, and didn't want this to happen," Kelly said. "His death was completely unnecessary."
By normal standards, Derek was well-accomplished for his age. He had graduated from college, earned an MBA, and served for five years in the U.S. Navy. He was engaged to be married. But, over the last 12 years, he had also struggled off and on with opioid addiction.
First painkiller prescription
Derek's involvement with opioids began innocently. In 2002, after breaking his arm playing high school football at age 17, he was prescribed Oxycontin as a normal course of pain relief. Then, playing football a year later, he broke his arm in the same place. He was prescribed Oxycontin again.
At the time, Kelly and her family — and most people — didn't know the risks. "Purdue Pharma marketed Oxycontin to physicians as safe. Actually, it is nothing but legalized heroin," Kelly said. "If you give an opiate to anyone under the age of 25, the risk of addiction is much higher. The brain is still developing."
Derek had described to his mom how, beyond pain relief, the Oxycontin made him feel different.
After high school, Derek attended the University of Florida where he earned a bachelor's degree. But Kelly could see things were not right. Following college, the family urged him to enter outpatient treatment. Kelly recalled: "He had been drinking a lot and abusing prescriptions. They found Vicodin in his system. He had liver failure at age 22 from Vicodin."
Fortunately, the outpatient treatment was successful. Derek worked for a year and then joined the Navy where he handled radar and sonar. In the Navy, sailors are drug tested regularly, Kelly noted.
"He loved the Navy. My son was himself again," she said. Derek took courses and earned his MBA while in the Navy.
But in his fifth year in the Navy, he ran into bad luck and injured his knee. Navy surgeons performed an experimental surgery. Unaware of Derek's history or in spite of it, they prescribed Oxycontin. The addiction returned. Derek continued to get prescriptions from the nurse practitioner.
"He was still receiving Oxycontin four months after surgery. They gave him anything and everything he wanted," Kelly said.
Eventually, the Navy did realize he had a problem, and got him into treatment which he continued after his enlistment ended. "Unfortunately, the Veterans Administration did not handle the situation well. He was released too soon and relapsed," according to Kelly.
Eleven months after leaving the Navy, Derek was living in Toronto with his girlfriend. They planned to marry and move to St. Louis.
But the addiction took over. Derek was found dead in his apartment that December. The toxicology report showed his system had fentanyl, the high-potency synthetic form of heroin. They also found five prescription medications he was obtaining through the VA as a disabled veteran.
Living with loss
"After my son died, it was the absolute lowest point in my life," Kelly said. "You don't imagine seeing your child in a casket." The entire family worked through the grief process together. Kelly and Dr. O'Leary also have two daughters, ages 17 and 19.
She joined a grief support group specifically for survivors of loved ones lost to substance abuse. She continues to attend the group every Sunday.
Now, she warns others about the dangers. "After my son died, I needed help. Many people were there for me. Now, I am trying to give back to others."
Besides telling her story to Alliance and physician groups, she has spoken to patients at the Harris House Treatment and Recovery Center in south St. Louis. She also volunteers for the St. Louis office of the National Council on Alcoholism and Drug Abuse (NCADA). She appears in a video produced by Mercy and the Greene County Medical Society Alliance (available on YouTube).
Kelly is passionate about preventing others from falling into addiction. Physicians should avoid prescribing these highly addictive drugs, and patients should refuse the prescriptions if offered.
For physicians, she says, "Think about the consequences of these drugs before writing prescriptions. Opioids are a tragedy that causes lifelong pain. Physicians have the power to prevent exposure to these drugs with their prescription pads."
Physicians should screen patients for family histories of addiction before writing prescriptions for opioid painkillers, she added. The Navy had failed to check Derek's prior addiction history when prescribing the painkiller.
For patients, she says, "The best way not to become addicted is not to take opioids. When my daughters were given prescriptions for Vicodin by a pediatrician and an oral surgeon, we did not fill them. The girls got by on Advil instead."
She also reminds people that if they have unused prescription medicines, to safely dispose of them at a site such as NCADA or various pharmacies and police stations.
To help those who are addicted, she would like to see more long-term, residential treatment programs. "It takes five years to fully recover from addiction. In Germany and the Netherlands, they have five-year programs where the patient stays at the facility while working in the community."
She warns, "We were so naïve. People think this will never happen to them."
Jim Braibish is managing editor, St. Louis Metropolitan Medicine and principal, Braibish Communications. Kelly O'Leary is a volunteer, St. Louis Metropolitan Medical Society Alliance.  This article originally appeared in Missouri Medicine and St. Louis Metropolitan Medicine.
Image credit: The O'Leary family