Imagine that you are gasping for breath, literally on the verge of death. Then someone injects you with a medicine and — miracle! — you are perfectly healthy again.
Would you pay $300 for that injection?
The treatment is epinephrine; your illness was a life-threatening allergy. And that $300 price? That reflects a six-fold increase from a couple of years ago. It's one thing for medications to be expensive. But why does the same medication become more expensive over time?!
Americans are justifiably angry about rising prices for drugs that have been on the market for years.
Many medications come to market at high prices, in part because it is expensive to identify, develop and test new drugs. First, there's the basic research. Admittedly, much of this work is funded by the federal government, but sometimes pharmaceutical companies pour significant money into such efforts too. Then there's the cost of clinical trials — often hundreds of millions of dollars to test one drug, with no guarantee that the molecule being tested will work. When the trials go well, companies spend money and time (and remember: time is money!) jumping through regulatory hurdles, marketing their drugs, ramping up production facilities — this all adds up. It shouldn't be surprising that pharmaceutical companies want to charge high prices for their products.
But what explains the frequent price increases that occur after drugs are already on the market, increases that far exceed the rate of inflation?
Take Sunitinib (trade name Sutent), a chemotherapy drug. In 2007, not long after it came to market, Sunitinib cost around $7,000 for a 30-day supply. By 2013, it's price had risen to almost $9,000, a 25% increase over a period in time when inflation rose only 12%. The same drug (you'd think) would have become more efficient to produce; yet the company raised the price at double the rate of inflation!
Here is a picture of Sunitinib's prices over that time, from a study by Caroline Bennette and colleagues: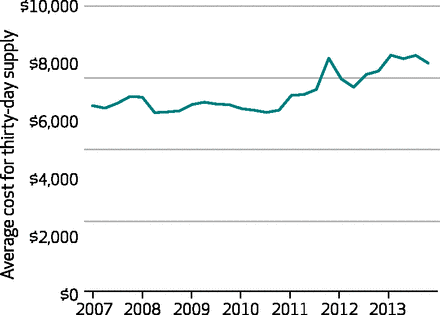 The news has been filled, of late, with stories of companies that make old drugs — like the EpiPen — and then jack up the price huge amounts to maximize their profits. On a smaller scale, this pattern is occurring over much of the pharmaceutical industry. Bennette focused on 24 cancer drugs and found that their prices increased 5 percent per year above the rate of inflation.
The pharmaceutical industry deserves to profit from its labors. But these kind of price hikes, years after drugs come to market? It's almost like pharmaceutical executives are begging for price regulation.
If pharmaceutical companies don't restrain themselves, someone else will.
Peter Ubel is a physician and behavioral scientist who blogs at his self-titled site, Peter Ubel and can be reached on Twitter @PeterUbel. He is the author of Critical Decisions: How You and Your Doctor Can Make the Right Medical Choices Together. This article originally appeared in Forbes.
Image credit: Shutterstock.com