"Why do you want to go into family medicine?" my internal medicine preceptor asked.
It was an innocent enough question. I'd known from day one of medical school what I wanted to do, so I answered with confidence, and perhaps a bit of a chip on my shoulder.
"I love being with people and getting to know them," I said. "I've always been this way, so it makes sense that's what I would do for my career. I'm looking forward to having the long-term relationships and seeing where they go."
A raised eyebrow, followed by his knowing Irish brogue: "I applaud that. My own father was a GP in Ireland. But I'm afraid you won't find much of that in one month on the wards. This will be a chance, however, to learn your medicine well."
With that, he was off. Knowing that he was a master of the clinical exam, I believed that he was referring to learning to appreciate the difference between crackles and wheezes, knowing how to manage a diabetic crisis, or maybe even doing something as complicated as interpreting the dreaded blood gas.
Yet on this rotation, as on every other, I felt determined, first, to suck the knowledge out of that specialty for later use in my career; and, second, to achieve my own goal of offering a family medicine style of care to every patient. Even as a third-year student, I'd seen how my family medicine mentors could meet patients where they lived, look at their illness within the bigger picture of their lives and families, and offer a comforting voice or gesture at the right time. I refused to let down the giants of my soon-to-be profession by focusing just on "the medicine."
And so a challenge to that end was dropped into my lap. Literally.
John was a large man. Not necessarily obese or fat, but simply thick all over. Lifting up his leg felt like lifting a soggy log. I've never figured out why some people seem heavier than others who weigh the same, but I know it to be true.
In the emergency room, I was called over to meet my new patient just as he began to spill out of his stretcher. My timing was spot-on: Rushing over, I used my body to pin him against the side of the stretcher, averting a catastrophic fall.
I soon learned John's history from his mom. At seventy-five, Mrs. Taylor had spent a lifetime devoted to her only son. She'd outlived her husband, so the effort was all hers now.
Born forty-eight years earlier with Down syndrome, John had not been expected to live a long life, she told me.
"I would have none of that talk," she added. "John was my baby, and he was strong. He's been a handful, but I knew he'd get through it." She paused. "Until now."
Her last two words hung in the air. It would have been easy to plow ahead, obtain his past medical history and his family and social history, and complete the admission. However, a mentor of mine had always said, "Let the story go where it wants to go, or you'll miss the important stuff; you can always come back for the details."
"Until now, ma'am," I said. "What do you mean?"
"What you young doctors don't understand is that when a child with Down syndrome survives childhood and makes it to this age, Alzheimer's is the cruel reward," she answered. "John can't do anything for himself anymore, and I'm too frail to do it for him. He hasn't been right for months, and now here we are. I don't know what you can do."
Hours later, it became clear that John had pneumonia. Over the next few days, I enjoyed talking with John; his infectious smile lit up his face, and his giggle made it even more delightful.
"John, you make me smile. You're too much," his mom would chide.
"You're much too much yourself," he'd reply with a grin.
As the days turned into weeks, it became apparent that being bedridden in an unfamiliar place was only making John's condition worse.
Even as he gradually stopped talking, I grew more attached to this mother-son duo. I felt touched to see John's mom wash his hair and clip his finger- and toenails: John wouldn't lose his dignity on her watch. As he slipped into a coma, she read to him every day and held his hands lovingly at night.
I spent far too much time sitting with them each afternoon. I had labs to track down and notes to write; I had "medicine" to learn, with x-ray reviews and chief-resident pimping sessions. But as I look back now, I know that everything I use in providing care day to day, I learned at John's bedside.
"I don't know how I'll ever know enough to be a good doctor," I told a family medicine preceptor. "I just can't cram it all into my head. The other day someone was talking about a basal skull fracture, and I realized I knew nothing about that."
"What did you do?" he asked wisely.
"I ran to look it up."
"And that's what you'll do in the future. These aren't my words — Dr. Francis Peabody said them — but I think they're true: 'The secret of the care of the patient is in caring for the patient.' You'll look stuff up; you'll offer comfort; you'll spend extra time with the patient if you have to. Be wary of the doc who knows everything about a basal skull fracture; he might not do those other things that will make the difference."
As I sat with John and his mom and talked and listened, I knew my preceptor was right.
I think it was the extra time I spent that led Mrs. Taylor to open up to me one evening as I got ready to head home.
"He's not going to wake up, is he?" she asked, stroking John's thick gray hair.
"I'm pretty worried that you're right. He's had all the antibiotics, fluids and tests, yet he's not coming around."
"I'm so grateful for your care this past month. I know you tried your hardest." She paused. "Do you know what I struggle with most?"
I shook my head.
"That this is a good thing for John and me." Another pause. A tear. Another tear.
"I've worried for almost fifty years about what would happen if I died before John. Who would take care of him? Of course, I didn't want anything bad to happen to John. We've had a special life together — no one will ever understand that. But his dying will relieve my worry. His dying will mean that he'll be OK, actually."
I'd never heard someone say something so complicated and yet so true.
"It's time," she said.
We offered John morphine. He died twenty-four hours later — one day before the end of my rotation.
I'm not usually someone who hugs strangers or patients, but I hugged Mrs. Taylor before she left the hospital. I'd said goodbye to John the night before. It was the second time I'd cried in medical school. It would not be the last.
"Well, Silk, you proved me wrong. I'm a big enough man to admit it," bellowed my Irish preceptor. "You learned more about continuity of care this month than I thought you would."
I grinned.
"But," he added, "I still think you learned a lot of medicine."
As I got onto my bike to ride home, I had a thought: For me, learning a lot of medicine had absolutely required that my care for John should include long conversations with his mom at the bedside. And that was the kind of family medicine I knew I needed to practice.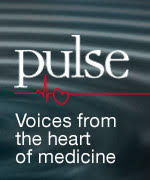 Hugh Silk is a family physician. This piece was originally published in Pulse — voices from the heart of medicine. 
Image credit: Shutterstock.com