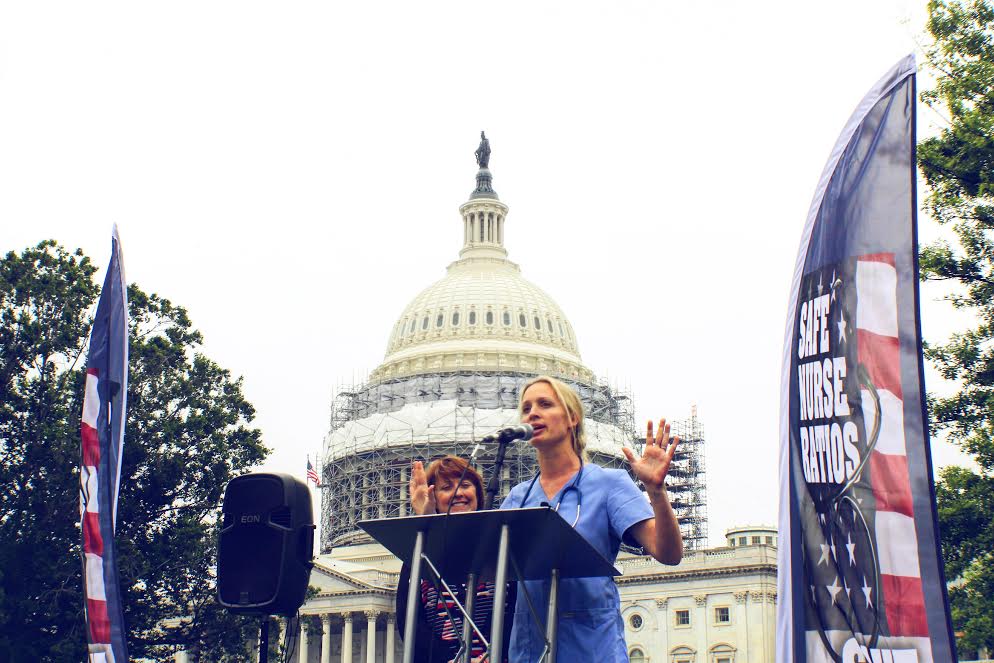 When nurses stand on the steps of our nation's capital, it is a warning that something is seriously wrong in health care. Much like a canary in the coal mine, nurses are the barometer of the health of our hospitals, nursing homes and health care facilities.
On May 12th 2016, nurses from around the United States convened on our nation's capital for the first time in 20 years to call for safe staffing.  This event was not organized by any nursing union: It was organized by regular nurses from grassroots nursing organizations like Show Me Your Stethoscope, Nurses for National Patient Ratios, and Voices for Nurses Now.  They came on their own volition and finances to call for safe staffing to save patient lives.
The conditions in our nation's hospitals, nursing homes and health care facilities are demanding that nurses take more patients with fewer resources than nurses can safely manage in the name of profit over care.  Nurses are being forced to carry eight patients on medical surgical floors (12 over the course of their shift between admissions and discharges), four patients in the ICU, 40 patients in long term care units and the numbers are growing daily across the United States in every health care facility, hospital, and nursing home.  Nurses are constantly being asked to do more with less.  The result is patients are dying.
Medical errors are the third-leading cause of death in the United States. Without significant change and attention to this problem, more people are going to die due to medical errors and unsafe staffing.
Currently, there are two bills in Congress to address safe staffing limits that model California's nurse staff ratios (the only state in the United States that mandates safe staffing ratios for nurses to patients.
Please call and write your federal representatives and ask for their support of H. R. 1602 and S. 864.
Nurses Take DC 2016 was a wonderful success and just the beginning: Nurses Take DC 2017 is already scheduled. Please follow at Show Me Your Stethoscope.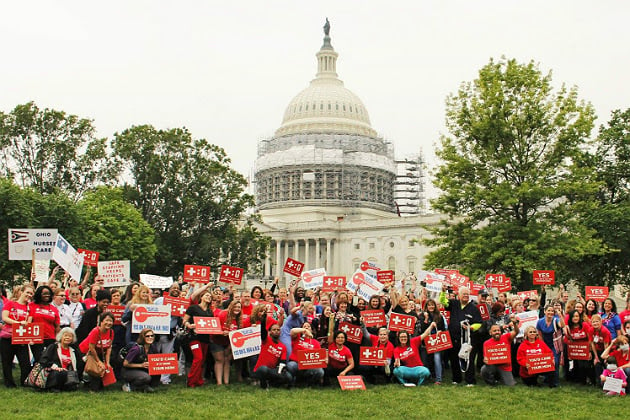 A special thank you to the nurses who took the lead on organizing this event: Janie Harvey Garner, executive director, Jalil Johnson, national director, and P.J. Allen Thomas, graphic designer, Show Me Your Stethoscope; Melissa Brown, Cathy Stokes, and Doris Carrol, Illinois Nurses Association  (the only nursing association to sponsor the event); and Andrew Lopez of Nursefriendly.com
Nurses took to DC because we can no longer do our jobs as nurses to safely, effectively and responsibly care for those who are sick and infirmed.  We need the public's help to change the future of health care. Please stand with nurses. Support us in our fight to protect the lives of patients. Call your federal representative today.
Rebecca Love is a nurse. 
Image credits: Rebecca Love, David Miller