In a few weeks, thousands of medical students find out where they have matched for residency. I still remember the excitement and anxiety of peeling back that envelope and hoping I would see my top choice. My medical school had a tradition of putting each 4th year's name in an old doctor's bag. One by one, our dean would pull out a name, the student would contribute $1 to the bag and, in exchange, be given their envelope at the podium. Cheers, tears, champagne would flow as one announced their fate, and the last student called up to the microphone would get money as consolation for the long wait. In retrospect, it had that "Harry Potter sorting hat" type of flair to it that was both nerve wrecking and magical.
After the parties, celebrations, and last-minute 4th year getaways is when the real work begins! In honor of this upcoming Match day, I sifted through piles of index cards, scribbled notes, and signouts, to reflect on my first year of learning to be a doctor, also known as that formidable intern year of residency.
When you are at the bottom of the totem pole, there is no shortage of work. I worked over 3,000 hours during intern year, with approximately 5 days off per month. By comparison, the average full-time American employee works about 1,700 hours annually, with 8 days off per month. I worked most federal holidays and even after explaining to my mom several times over the years, she still gets bewildered when I tell her, "Yes I AM working Thanksgiving … no, hospitals DON'T close just because it's Christmas."
"A typical day" in the life of an internal medicine intern consists of rising as early as 5 a.m. (while on an inpatient hospital wards rotation with a full census of patients) or as "late" as 7 a.m. to head to clinic or didactics.

On average, I worked 11.1 hours each day: 8.46 hours per day if I was on scheduled shift work such as in the emergency department or urgent care and 12.93 hours per day if I was on Inpatient Wards. Since I spent 9 out of 12 months of the year doing inpatient rotations, this translated to approximately 60 to 80 hours per 6-day workweek for most of the year. The longest I worked consecutively without a day off was 15 days.
During this time, I was responsible for the care of over 869 patients, aged 17 to 99 ("over" because I stopped counting at some point).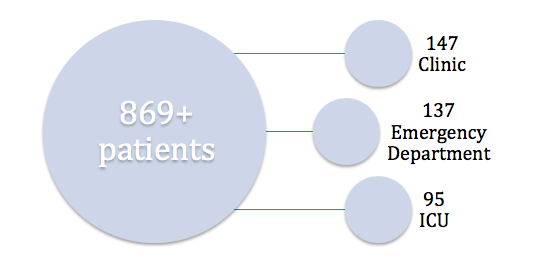 In my primary care office, I saw 147 patients across 18 clinic days (36 half days), not including a no-show rate of 11.9 percent. Evidently, my patients preferred to see me in the summer and right after the holidays.
Clinic show-up rate by month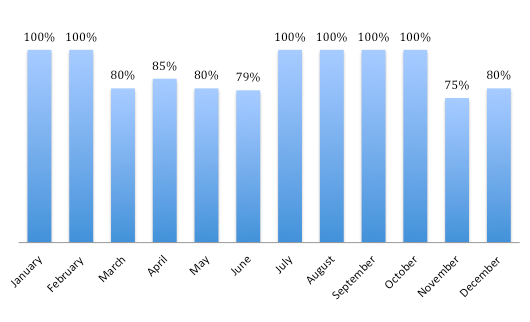 At the hospital, I was the primary provider for 95 critically ill patients in the ICU. I had 5 patients who died, 3 on hospice, 1 in the ICU from mixed septic and cardiogenic shock, and 1 in the ICU from multisystem organ failure while awaiting liver transplant.
Breakdown of my time in the hospital versus clinic:

Segmenting by location, I spent the majority of my intern year at the academic hospital, both in terms of months and absolute hours worked (48.9 percent of the year). The complexity and diversity of diseases were the greatest at the academic hospital, with a high number of patients with end stage liver or renal disease, sickle cell crisis, and transplant or chemo-related complications.
UCSF Moffitt Hospital admissions: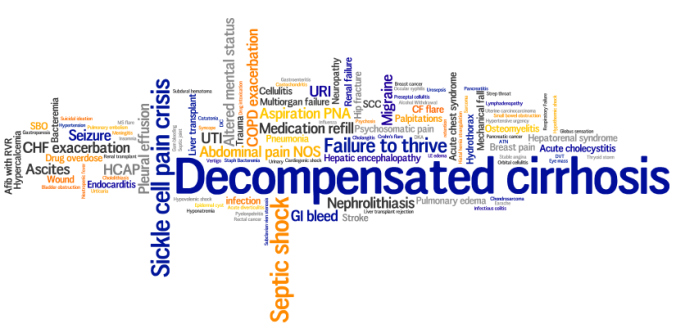 The mix of patients I saw is partly due to the hospital's "open ICU" system, where I was the primary provider for all Medicine patients, regardless of whether they are admitted to the ICU or to a regular Medicine ward (as opposed to a "closed" system where the ICU team is the primary provider). The academic hospital also had high acuity patients because it treated many pre and post transplant patients with complicated medical histories. Furthermore, it was not uncommon for patients to travel far to seek specialty care at the academic hospital given the hospital's reputation as a research powerhouse. I remember one week, where I had 4-5 cystic fibrosis patients on my service, none of whom were local.
While the patients were complex at the academic hospital, the county hospital (the only level 1 trauma center in the area) was where I saw some of my sickest patients, coming in with shock and respiratory failure. Although I managed a fair share of fractures and traumas, I also saw some of the most medically interesting infectious disease cases here, with a robust number of HIV/AIDS patients coming in with sequelae of being immunocompromised.
San Francisco General Hospital admissions: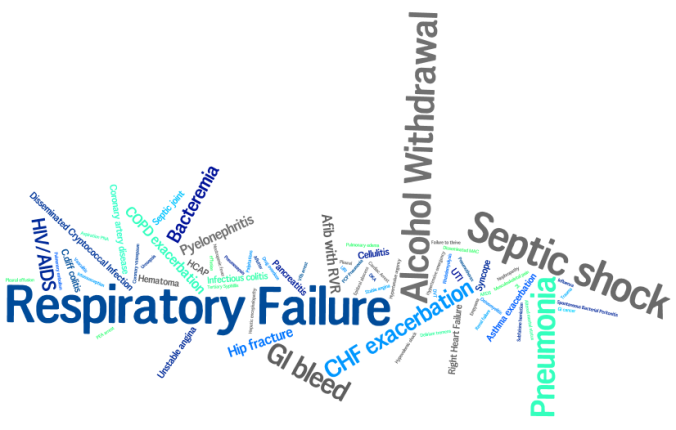 I worked the most night shifts at the County: 4 weeks covering the entire hospital's Medicine or ICU census from 8 p.m. to 7:30 a.m., during which I was the only MD available for a few dozen patients to upwards of 70 or 80 (average 60s). Yet this was cake compared to the week I spent covering 60 to 120 ICU and ward patients overnight at the academic hospital. Many people do not know that nighttime is the hardest time to get 1 on 1 attention from a doctor. When I say "1," I mean the ratio of doctors to patients is 1 of me to 60 to 100 patients whose care I am responsible for during the night.
With so many patients, the pages are plentiful. I watched an intern recently and timed the number of seconds between her pager beep going off before she would get another page and it ranged from almost immediately (1 second) to 7 minutes over the course of an hour. The pages were coming in so quickly that she sometimes did not have time to call one back before more pages came in. The fewest number of pages I received in a given night was 43 (I remember because it was so rare and remarkable) and the most was upwards of 150.
Number of times I had to replace or exchange a broken pager: 3
Distribution of pages on a typical overnight shift: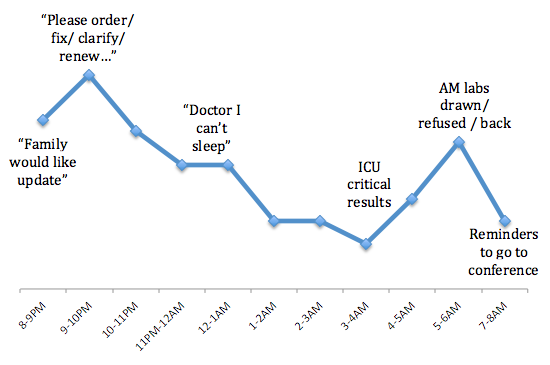 Please note the bimodal distribution, with a peak number of pages occurring around 8 to 10 p.m. when most nighttime medications are administered to patients, "sitters" start to expire from when the patients were agitated the night before, or inquiries are made regarding whether patients need dextrose with their IV fluids because they are NPO for the night. A 2nd wave is predictably common between 4:30 to 6:30 a.m., when many lab results start to trickle in requiring "MD aware." As the morning approaches, several morning report reminders will appear for every intern whose pager I am still covering.
At the VA (Veterans Affairs) Medical Center, days are usually quieter with the exception of right after the holidays when many vets come in after urgings from their friends and family. Many had not seen a doctor in a long time. As a result, I had a high number of failure to thrive admissions, where we sought long-term placement for our veterans who could no longer care for themselves. Placement to a skilled nursing facility or other venue could take weeks, so it is no wonder that my average length of stay at the VA was 9.3 days, compared to 4.4 days at the academic hospital.
San Francisco VA Medical Center admissions:
The VA was also where I saw the highest proportion of classic "bread and butter" Medicine cases like CHF and COPD exacerbations.
Overall, these cases, along with alcohol withdrawal, pneumonia and GI Bleed where among the most common presentations I encountered during intern year. Gems such as tertiary syphilis, disseminated cryptoccocus, or new diagnosis of Waldenstrom macroglobulinemia (while still memorable to me now) were clearly zebras, not horses.
Types of cases seen by specialty and hospital system: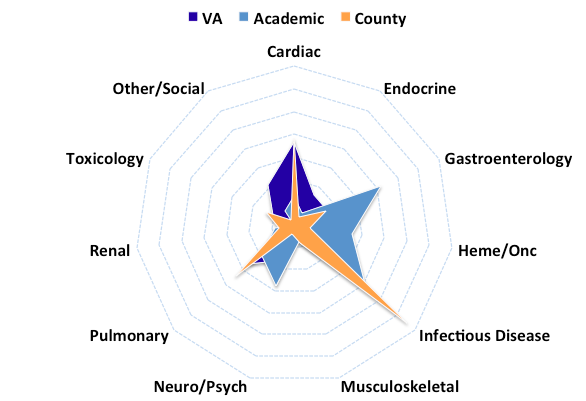 Our formalized educational schedule was similar at all hospital sites and consisted of the following:
daily 1 hour morning reports
daily 1 hour noon conferences, including a weekly M&M
monthly 1 hour grand rounds
10 "intern-half-days"
1 full-day intern retreat
I was able to make it to 8 of 10 intern half-days, where we had 4 hours of protected didactic time thanks to senior residents who covered our work, and I worked nights during the remaining 2 sessions. Otherwise, I regret that I did not keep track of how often I was able to attend other conferences, but it varied greatly depending on my patient census.
With so much to do and learn, a good night's sleep was a luxury. Per my wrist monitor, I used to wake up 7 to 10x per night during medical school, and during intern year this increased to approximately 15 to 18x each night, with the occasional 27 to 29x. I slept anywhere from 4 to 9 hours, averaging approximately 6.5 hours on an good night at home.
Here is my sleep pattern for a typical night: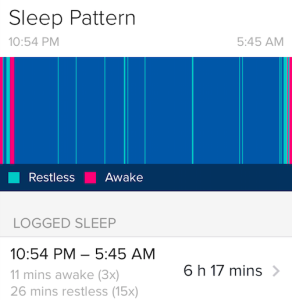 I tried to monitor my exercise activity as well, but gave up after 2 months of wearing my pedometer because I routinely walked upwards of 5 miles or over 10,000 steps around the hospital by mid-afternoon (our academic hospital has 15 floors). This annoyingly required constant recharging since my battery would die after 1 to 2 days.
Financially, I was salaried and felt secure, but by no means did I have the luxury to skip budgeting, particularly as resident physician salaries have not changed in 40 years. Per day, I earned approximately $121.80 after taxes (this includes a generous housing stipend that my program provided to offset our cost of living in an expensive urban city). Assuming a standard 11.1-hour workday, this put me at a little under $11/hour, which is probably better than some of my surgical colleagues who are known to have long shifts.
Fortunately, "while the days are long, the years are short," and intern year went by all too quickly in retrospect. I had patients who touched me with their warmth and sincerity — thank you to the veteran who routinely offered me a snack off his carb-controlled meal tray, "in case you forgot to eat." I had patients who made me laugh with their impressions — the best impression was from a patient with Granulomatosis with polyangiitis who had grown familiar with the clickity-clacks of "interns' heavy shoes." I had passionate co-interns, residents and attending physicians who inspired me with their enthusiasm, work ethic, and intellectual curiosity. No other time in your life can you find a resident room buzzing at 2 in the morning because "Guys! I think this guy has PV … have you seen this smear?!"
There were plentiful opportunities to learn, but also to meet new friends, travel and have a life outside of work. For the year, I had 21 days of paid vacation, 6 days off during either Christmas or New Year's Eve made possible by effectively working "double" or covering for another resident's work for the other 6 days, and 10 days of unpaid vacation at the end.
I spent that time training for and running my first half marathon, painting and upcycling furniture, and celebrating with friends and family.
Number of weddings I was able to attend:

I discovered hikes, restaurants, and learned the local secrets of my new city. I traveled domestically and internationally.
Number of cities visited: 10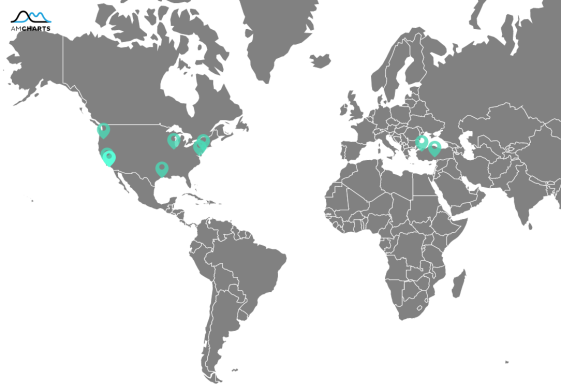 To say intern year was a memorable year is an understatement. It is one of the most challenging years of a physician's training because of the steep learning curve, the demanding work schedule, and the feelings of inadequacy that you cannot help no matter how prepared you are; but at the end, it is also one of the most rewarding experiences, enhanced by the knowledge that you are sharing this journey with your fellow co-interns.
Peggy Bui is an internal medicine resident who blogs at Page Me Maybe.
Image credit: Shutterstock.com, Peggy Bui