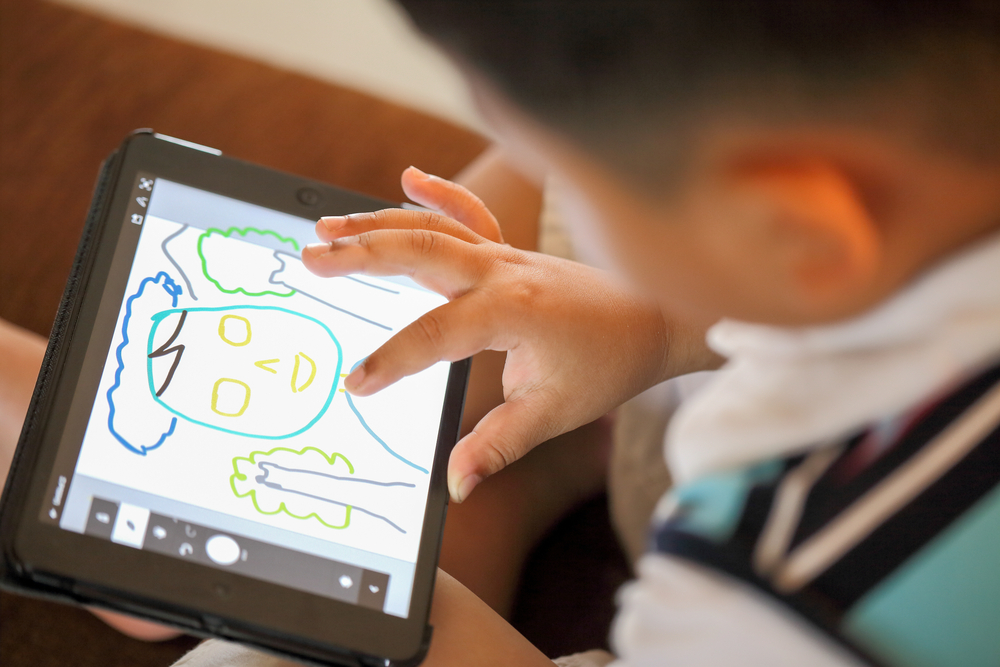 This past March, thousands descended on Austin, TX, home to the famous and much celebrated South by Southwest (SXSW®) conferences and festivals. This year, I decided to attend the education-focused festival, SXSWedu®, a relatively new addition to the SXSW® family of events.  A four-day conference chocked with interactive workshops, panel sessions, and even play summits, SXSWedu® is designed to showcase the creativity and innovation happening in the education space.   Thousands of teachers, administrators, researchers, vendors, and others gathered to learn, share, and inspire.
So, what was a pediatrician doing at a conference like this?  I wasn't presenting a research poster or paper, and I didn't have a platform presentation, as is typical for the kinds of conferences physicians attend.  But, it was just the type of cross-disciplinary exposure I needed to hone my ideas about meaningful screen time experiences that truly support children's learning and development.  I thought, what does this flurry of tech-based innovation in the education space mean for the growing challenge of limiting children's entertainment screen time?  How can child healthcare providers best support children's cognitive and socio-emotional development in this complex and rapidly evolving media landscape?
The trouble with the current entertainment screen time recommendation
The American Academy of Pediatrics recommends that children older than 2 years of age consume no more than 2 hours of entertainment or recreational screen time per day.  Excess screen time (i.e., greater than 2 hours daily) from traditional sources like television has been linked to ADHD, obesity, poor sleep habits, and other problems in children and adolescents. However, multiple sources suggest that many families are struggling with these recommendations, particularly as access to new media devices grows even among young children.  For example, one nationally representative survey of parents found that 3 out every 4 children ages 1-5 years are watching more entertainment or recreational screen time than what the AAP recommends. Another survey found that mobile device ownership among children 0 to 8 years of age increased from 52 percent to 75 percent, between 2011 and 2013.
While screen time at home has been the focus of these recommendations, U.S. students generally spend over 30 hours per week in school, and additional time at home, in libraries, and other places completing homework.  More computers and tablets are becoming integrated into children's learning both inside and outside of the classroom. The current trend is in the direction of increasing, not decreasing access to technology-based tools for learning.  While there is a deep digital divide among schools in higher-income districts compared to lower-income districts, the Obama administration has committed to closing that divide with its 2013 ConnectED initiative.  With less than 30 percent of U.S. public schools reporting adequate Internet access, the initiative aims to expand high-quality broadband access to 99 percent of America's public school students by 2018. As the current AAP recommendation stands, educational content would not count towards screen time—but here's where things get complicated.
At SXSWedu®, there were literally hundreds of education technology vendors and exhibitors featuring cutting-edge products and curricula for use both inside and outside of the classroom.  The understanding at the conference was that learners will need these essential, digital skills for the present and the future.  By 2023, it is estimated that more than 80 percent of jobs will require digital literacy skills, and education technology firms are working feverishly to churn out products that support this increasingly critical skill set among children, and in fun and engaging ways.
Thus, the line between educational and recreational content is only getting blurrier; this is where the current entertainment screen time recommendation becomes particularly problematic.  Consider the wildly popular Minecraft, for example.  Is it just a sedentary activity like most video and computer games?  Or is it an educational tool where children can learn skills like coding and strengthen executive functions like planning and execution?   It appears, then, that pediatrics is waging a war against entertainment screen time quantity that it is bound to lose — that is, unless we can partner with families, schools, and leaders in the education technology and children's media industries to define what entertainment or recreational screen time truly means.
What child health care providers can do
For child healthcare providers, the question becomes, how do we balance our responsibility to support children's preparedness for the digital future, with our responsibility to support their healthy growth and development in other domains?
We can help define and promote content that's interactive rather than passive, or that provokes exploration of the world outside of the screen.   If we know of a few of these kinds of programs or digital experiences, we can suggest them in order to help parents make better screen time choices for their children. Common Sense Media is wonderful online resource for helping parents identify programs with a strong educational basis.  Also, Maker and Do-It-Yourself digital experiences are highly popular examples of how screen time can be used to spur curiosity and build other important skills like generating and testing hypotheses, creativity, and problem solving.
We can support initiatives that help children and adolescents develop media literacy and manage social media engagement in healthy ways.  Media literacy equips individuals with tools to question and discern messages in media content; for instance, it is well known that programming, music, and advertising prominently featuring risk behaviors like alcohol consumption and substance abuse influence these behaviors in adolescents.  While some school districts across the country have already implemented media literacy education into their curricula, a number of advocacy groups are pushing to expand media literacy in other states and school districts.  Also, initiatives that provide children and adolescents with strategies to manage human relationships in the digital age will become increasingly important.  Healthy socio-emotional development in the era of Facebook and Snapchat includes competencies like knowing when to take peer-to-peer conversations offline, and how to resolve conflicts in-person instead of through social media channels.
SXSWedu® taught this pediatrician that the future will likely have lots of screens in it.  Screen-based technologies are playing larger roles both inside and outside of the classroom, and in children's lives overall.  The prevailing public perception of the AAP's current recommendation seems to be that there is too much emphasis on screen time quantity, with relatively little discussion of how high-quality experiences could positively impact children's learning.  This perception threatens our relevance in this critical conversation.  To change this, we must promote and work towards cross-disciplinary understanding to build solutions that truly work for families, and that prepare children for the future.
April Khadijah Inniss is a pediatrician.
Image credit: Shutterstock.com