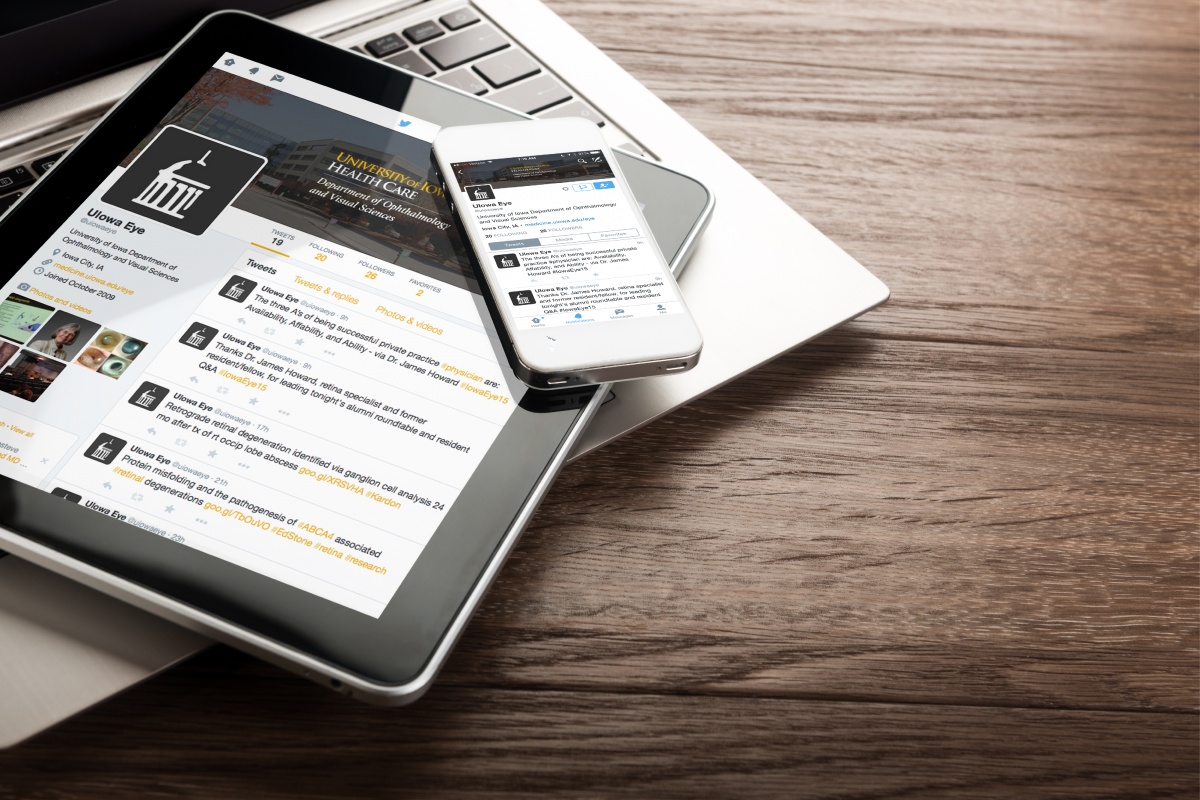 Ever since I began residency, I have been encouraging, prodding, and at times, persistently pestering department leadership of my belief that our ophthalmology department should have a dedicated Twitter feed. After months of persistence combined with good timing and supportive leadership, the Twitter feed was launched on June 1, 2015 for the University of Iowa department of ophthalmology and visual sciences, with the Twitter handle, @UIowaEye.
Let me explain why academic centers and departments should join Twitter.
In recent years, the use of Twitter within medicine has increased significantly, and its uses are as varied as the persons and personalities who use it. For some physicians, Twitter is a method to connect with patients and for others, it provides an method to connect with and share research, insights, and anecdotes with professional colleagues worldwide. Furthermore, Twitter has become a powerful tool for the sharing of information at medical conferences via live-tweeting, and is even used in virtual journal clubs discussing new research or live twitter chats debating hot topics within health care.
In social media, just like in academia, content is king, and academicians are the kings and queens of high-quality content. One of the keys to success within social media (and within academics, research, branding, publishing) is to develop high-quality content. As Twitter users decide whether or not to follow a Twitter feed, the main question they ask themselves is, why should I follow you? What are you adding to my daily Twitter reading? You must offer high-quality as you seek to gain followers, and academic departments are consistently creating more high-quality content than they realize. Content is king, and when it comes to content, no one in medicine creates more high-quality, peer-reviewed, critically acclaimed content than academicians.
Research. Every year, faculty members of our ophthalmology department contribute to nearly 200 peer-reviewed journal articles. These articles represent months or often years of research efforts and sometimes undergo dozens of article revisions before they are submitted for publication. Once an article is published, its content has passed through the peer-review process, representing the most stringent tests of research quality and writing clarity. Each article is a masterpiece of its own, yet, once published, its readership is limited to a small subset of individuals who happen across the printed journal or whom are seeking that specific content via subsequent literature searches. Twitter provides an additional tool to reach a previously-unavailable online audience worldwide.
Medical conferences. These meetings, attended by literally tens of thousands of physicians and researchers each year, are made up of content consumers and content contributors. The consumers are largely private practice physicians seeking to maintain their knowledge of new treatments and updates within their field. The contributors are those that are presenting posters, leading symposia, and participating in expert panels on hot topics in their specialty. To a large extent, the content contributors at academic meetings are the physicians and researchers within academic medicine, often discussing their innovative research and new ideas. These individuals are recognized thought leaders, and their insights are not only appreciated by conference participants, but by many others who can benefit from, learn, and utilize the information that can be shared at these conferences via Twitter.
Grand rounds. These meetings, occurring in academic departments on a frequent basis, either daily, monthly, or quarterly, or at some other regularly scheduled interval, represent a mini medical conference within the academic department. The information shared at these meetings is usually limited only to those in attendance, yet the potential audience is much, much larger. In a recent survey at my institution, alumni identified our daily, morning rounds, wherein challenging cases and innovative research are discussed among faculty and residents, as one of the things they missed the most since completing their training and leaving the department to embark on new career opportunities. Grand rounds represents yet another potential forum for academic departments to share content via social media and Twitter, as demonstrated in recent articles by Alex Djuricich and the department of pediatrics at Indiana University.
Alumni and philanthropy. Academic medicine departments go to great lengths to maintain relationships with former residents and faculty. Quarterly or annual reviews, with research and clinical highlights from the department, are published in high-quality, high-glossy, high-expense publications sent to alumni to keep these alumni current on department news, maintain strong relationships with these referring providers, and enable the department to display/demonstrate/(show off) how cool they are when soliciting alumni for financial donations, scholarships, grants, and endowments. If the department is already going to the effort to create this content, why not share this information online via social media, reaching alumni who may not read the glossy magazine and potential philanthropic donors who may be drawn to the innovative and exciting news and updates from the department.
Patient care. Academic medical centers are known for their status as a referral center for a large subset of patients, often with rare diseases, interesting clinical courses, and incredible stories. The stories from these patients are often shared via case-reports or department publications (with permission) to allow others to learn and be inspired by their story. Twitter can be used by these academic medical centers to further share these powerful stories with patients, physicians, and other interested readers worldwide.
Steve Christiansen is an ophthalmology resident who blogs at EyeSteve.  He can be reached on Twitter @EyeSteve.
Image credit: Erika Christiansen