Anyone considering attending a Caribbean or any foreign medical school should do due diligence. An Internet search is step one. If the school does not list residency match statistics, that could be a red flag. It would not be easy to accomplish, but try to speak with some current students or recent graduates of any schools you are thinking about.
If the school won't give you any names, use caution, and remember, they are not likely to give you the names of dissatisfied students or alumni.
If a school does not require Medical College Admission Test (MCAT) scores, I would advise extreme caution. That suggests they probably take all comers.
Here's a look at some match data from offshore schools. The list of schools is by no means comprehensive as there are about 25 med schools in the Caribbean area. I attempted to find results from the 2015 match for the following schools: Ross, St. George's, American University of the Caribbean, Caribbean Medical University, St. James University, University of Medicine and Health Sciences, and American Global University.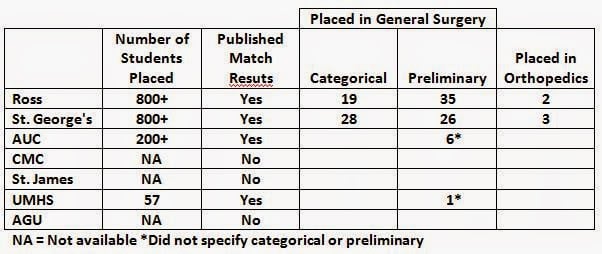 I used the word "placed" because that term is what one of the schools used, and I believe students who obtained positions in the Supplemental Offer and Acceptance Program (SOAP) after the main match are included.
The orthopedic results are shown to give you an idea of the chances to find a surgical position in any surgical specialty other than general.
For all of the schools that published lists, the overwhelming majority of students obtained positions in family medicine and internal medicine.
The number of unmatched students is not stated, but U.S. schools don't publish that information either.
It is not completely hopeless because if you look at the NRMP's Advance Data for the 2015 match, you can see that 243 (20 percent) of the general surgery positions and 40 (5.7 percent) of the positions in orthopedics were filled by non-U.S. grads.
Finally, here's a portion of an email I received last week.
I am a US-IMG, who recently matched into a categorical surgery residency at a university program. I graduate in a few weeks from a school in the Middle East. I rotated in my 4th year at some really prominent institutions that many foreign grads don't have access to, and I believe this helped tremendously.

I was definitely on the high end for a foreign grad in terms of interviews in my class. I was very lucky. A lot of people told me I would have to look into other things or didn't believe in me, but in the end, I took a risk for something I love.
Unless you want to be an internist or a family doctor, you will have to decide if you want to risk not being the lucky one.
"Skeptical Scalpel" is a surgeon blogs at his self-titled site, Skeptical Scalpel.