Cholesterol pills are one of the great medical advances I've witnessed during my professional career. I am talking specifically about a category of medications called statins, drugs like Lipitor and Pravachol. These drugs have prevented probably hundreds of thousands of heart attacks and strokes. Only one problem with these drugs, however: statins won't help people who don't take them. And according to a study in the Annals of Internal Medicine, when physicians prescribe trade versions of statins rather than generics, the extra cost dissuades many people from filling the prescription.
If physicians want to help their patients, they need to prescribe affordable versions of accepted medical interventions.
The study was led by Joshua Gagne, a pharmaco-epidemiologist (a person who lives and breathes hardcore data on medications and population health) at Harvard. Gagne and colleagues analyze data from Medicare patients who got their prescription benefits from CVS Caremark.
They looked at whether people received prescriptions for either generic or trade statins. And they analyzed how consistently these people filled out their prescriptions. (News flash, docs: sometimes patients don't fill out your prescriptions!) They found that most people filled out most of their statin scripts, regardless of whether they were provided generic or trade drugs. Nevertheless, people receiving generics were significantly more likely to fill out the scripts. Here's a picture of Gagne's results, showing the distribution of people – how many filled out all their scripts (those folks show up at the right end of the picture, with a propensity score of 1.0.)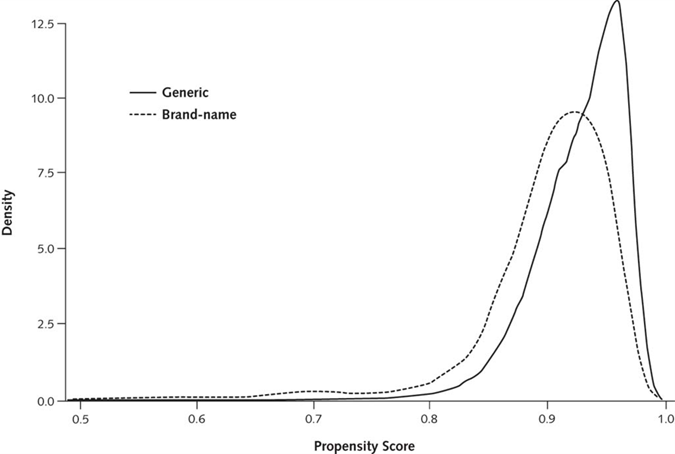 As the figure shows, when people receive prescriptions for generic cholesterol pills, they are much more likely to pick those pills up from the pharmacy and swallow them. That's why the curve for the people receiving generic medications is pushed further to the right.
High health care costs are not simply an economic problem. High costs harm people's health, by putting beneficial health care interventions out of their financial reach.
It is hard for people to swallow pills they can't afford.
Peter Ubel is a physician and behavioral scientist who blogs at his self-titled site, Peter Ubel and can be reached on Twitter @PeterUbel.  He is the author of Critical Decisions: How You and Your Doctor Can Make the Right Medical Choices Together. This article originally appeared in Forbes.